Akrapovic brings two exhausts for Aprilia RS660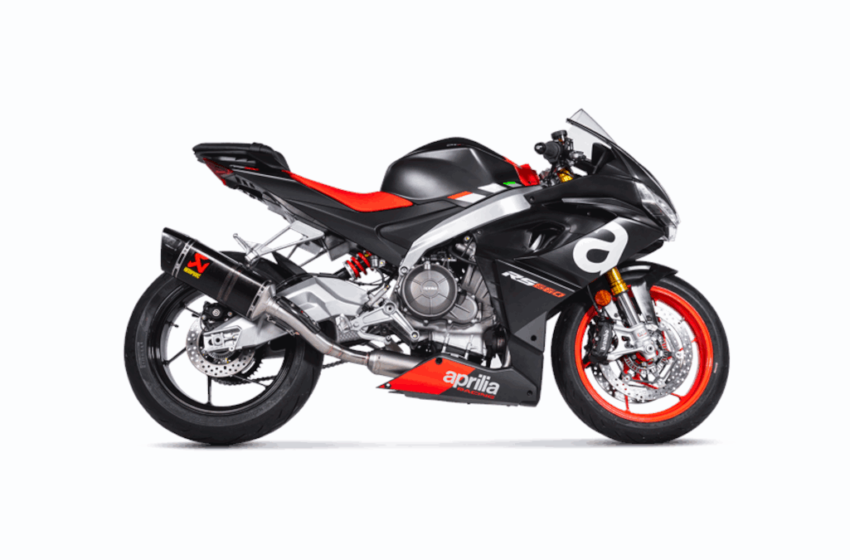 Akrapovic has come with two racing line exhausts.
 S-A6R1-APLC and

 S-A6R2-HAPC 
We are talking about S-A6R1-APLC.
The Racing Line represents a full step in the exhaust system tuning process and offers an outstanding balance between price and optimum performance.
S-A6R1-APLC
Racing performance exhaust systems comes designed for riders that demand maximum performance from their motorcycle. 
The system is lighter than the stock exhaust system and features exceptional production quality and increased engine performance combined with pure racing sound output. 
A combination of racing materials like carbon fibre for the outer muffler sleeve give these exhaust systems a racing touch.
When it comes to power specs, how does it help?
The S-A6R1-APLC improves power by +3.0 kW at 11200 rpm, and torque +4.9 Nm at 4500 rpm weight has gone down by -2.4 kg.
Technical Data
 
UNIT
STOCK
AKRAPOVIČ
MAX GAIN
max. power
kW
71.0 / 10800 rpm
72.6 / 10950 rpm
+ 3.0 / 11200 rpm
 
HP (m)
96.6 / 10800 rpm
98.8 / 10950 rpm
+ 4.1 / 11200 rpm
 
HP (i)
95.2 / 10800 rpm
97.4 / 10950 rpm
+ 4.0 / 11200 rpm
max. torque
Nm
67.3 / 10200 rpm
68.6 / 11700 rpm
+ 4.9 / 4500 rpm
 
lb-ft
49.6 / 10200 rpm
50.6 / 11700 rpm
+ 3.6 / 4500 rpm
weight
kg
6.8
4.4
-2.4
 
lb
15
9.8
-5.2
 
%
 
 
-34.9
noise
dB
/ rpm
103.7 / 5500 rpm
 
Inst. time
min
 
90
 
ECU remapping

No