The new Bugatti Bolide is the quintessential modern hypercar, defying the very notions of what it is to be a production car. Utilizing technology eons ahead of any vehicle, the Bugatti Bolide is nothing short of a revolution in automotive performance and capability.
Bolide
We understand Bugatti has been busy in recent years as it looks to continue the upgrade its range of high-performance vehicles. The company is not taking its foot off the pedal from the blue-ribbon winning Chiron supercar to the limited-run Divo hypercar.
And now, following a lengthy development process, it has finally unveiled the latest stage in its journey with the new production-ready Bugatti Bolide.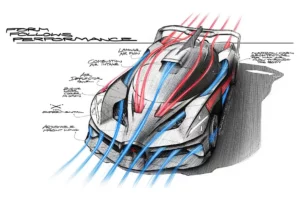 It's been a long wait, but the Bolide is finally here. Following Bugatti's decision to unveil the concept version of its next-generation hypercar nearly three and a half years ago, the company has finally taken the wraps off of the production-ready version of its new supercar — sporting a quad-turbo 8.0-litre W16 engine that makes 1,578hp and 1,180ft-lbs of torque, active aerodynamics, and numbers that are sure to impress.
Exotic
With a nearly identical design to its concept counterpart revealed in 2020, this unique exotic boasts a set of X-design LED headlights, a massive rear diffuser and spoiler, a patagium-style front overhang, and an aggressive quad-exhaust setup.
And though some things have been added to the car—the lights above and the final touches on its aerodynamic body kit—most of those aggressive lines are very accurately represented.
Performance
Regarding performance specs, the Bolide can achieve 0-60mph in just 2.17 seconds with a top speed of 310mph. Weighing close to 1451.496 kgs (3,200 lbs dry). Further, this cutting-edge hypercar has brakes that get unique carbon fibre covers to protect the car's 18″ centre-locking wheels.
Bolide's drive units is three times stiffer when compared with Chiron's. Limited to 40 pieces worldwide. The 2024 Bolide is priced at $4,392,000, close to €4,000,000.
Deliveries will start in 2024.
Source: Bugatti