KTM Brabus goes the extra mile with their new 1300 R
A few days ago. We came across a gaggle of photos showing the highly anticipated KTM 1290 Super Duke-based model based on the Husqvarna Vitpilen and produced by Brabus. 
We speculated the Motorcycle would slot into Husqvarna's lineup.But today we learned it would borrow its powerplant from the KTM 1290 Super Duke R and is Husqvarna Vitpilen 1301 hyper naked.
After months of speculation, the Brabus 1300 R on KTM were leaked. With the model scheduled to hit the market on February 11th, 2022. And the KTM website reveal coming through a brief error notice. Details about this limited edition vehicle finally emerged.
A quick search engine query will retrieve photos for the Motorcycle once featured on the KTM website.
A web page briefly leaked with the tagline" "Heart of a Beast, Soul of a Gentleman" goes with the 1290 Super Duke's aggressive attitude. The leak was from the Brabus company​. Which makes car performance parts, including the 1290 Super Duke. 
The Brabus 1300R
It would appear that KTM is working together with their Austrian counterpart to launch a slick new version of the current market's most popular hyper naked.
The Brabus 1300R will get a loaned 1,301cc V-twin, 180hp powerplant from Super Duke's 180. Further, it will also have the WP Apex front end. An electronically-adjusted WP mono-shock.
The new KTM Brabus 1300 R gets the Super Duke's headlight-mounted air intake for two carbon fibre intakes at both sides of the fuel tank.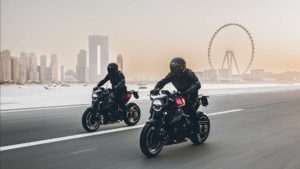 Both side-mounted radiators are flanked by CNC-milled footpegs that boast matching black anodized serrations on their outer edges. 
The bike features premium touches such as adjustable levers and a TFT-based dashboard display instead of the standard LCD one.
The leak gave us an early glimpse at the bike. And confirmed that only 77 units will be produced to mark Brabus' 1977 establishment date. And will arrive in Magma Red or Signature Black shades.
via Motorcycle