Pramac Racing unveils new 2023 MotoGP machines
The Prima Pramac Racing 2023 season officially commences. We shall be on the starting blocks of the MotoGP World Championship for the 22nd consecutive year, the second as a partner with tech company Prima Assicurazioni (the Team's title sponsor).
A season will feature the new Sprint Race on Saturday, bound to generate even more uncertainty and excitement for the competing brands.
The bearers of the Team's red-and-purple livery for their third year are Johann Zarco and Jorge Martín. The French Zarco is a two-time world champion in the Moto2 class and veteran of two decidedly impressive seasons, and the Spanish Martín, world champion in the Moto3 class and extraordinary talent who has gathered numerous key results in recent seasons, are ready again this year with the new Ducati Desmosedici Gp23. 
Both riders will ride the Ducati Desmosedici GP "factory" version.
Totalling eight podiums and seven pole positions last season, the two riders are preparing real surprises for the Team and all fans. In the 2023 season, Prima Pramac Racing aims to rank in the top three positions of the overall standings and to qualify for the Best Team Independent and Best Rider Independent titles.
In March, Johann Zarco and Jorge Martín will pre-season test the new bikes at the Algarve track in Portugal. The following April, they will race in Malaysia.
Kick off
Paolo Campinoti, Team Principal of Prima Pramac Racing: "This year's goal is the same as what we set ourselves at the beginning of every season − being the best Independent Team and giving all the Official Teams a real run for their money! 
The last few seasons have shown the world that our Team is a true MotoGP player, that our riders constantly seek top positions, and that the team members make us one of the most envied on the Paddock; as Team Principal, I couldn't ask for more. 
I'm proud of my guys and what we have become; collaboration with Prima has only given us an extra boost. We will be hitting the track soon for early season testing. I can't wait to see what this season will bring."
George Ottathycal, CEO of Prima Assicurazioni: "We are delighted at this chance to kick off the MotoGP 2023 season together with Paolo, the riders and the whole Team. The Team pleased us considerably last year in addition to sharing essential goals. 
Thanks to teamwork, the first year already proved a valuable opportunity for us to compare notes between two concerns that focus on technology and talent as sparring partners that grow together. We are real bike fans.
It's no coincidence that more than 1 in 10 motorcyclists in Italy are insured with Prima; we're here to cheer on the riders and Team, confident that they'll hold the flag high."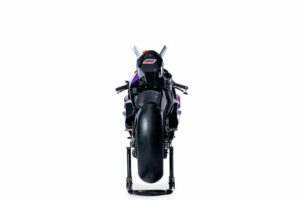 Gino
 Gino Borsoi, Prima Pramac Racing Team Manager: "We're looking to this season with great enthusiasm. For me, it will be a new adventure; I'd go so far as to say it'll be an important year. The 2023 Season will be my first with the Prima Pramac Racing team. 
I don't think it's a coincidence that '23' always has been a significant number for me, even when I was racing…let's hope it's a good omen. I already got to know all the guys and the riders for the tests in Valencia. My first impressions were very encouraging. I was delighted. You can take nothing for granted in this world − ever − but I'm sure we will do our utmost."
Johann
 Johann Zarco, rider for Prima Pramac Racing: "For the third consecutive year, I will be with Team Prima Pramac. I am happy to be wearing these colours for another season. We have a great team and bike, and Jorge and I get on very well together. I'd say we have all the ingredients for a great season, and maybe − who knows? − the win will come our way.
 Jorge Martín, rider for Prima Pramac Racing: "I can't wait for the action again with my Team. Last year was a special one, with tough moments too, but it served for me to grow and become stronger. I have big plans and real ambitions, and together with my Team, I know we can do great things. In Sepang, when I climb onto my Ducati, I'll know whether all the hard work of the winter pause was worth it. We're ready! I'm ready!"
via Pramac Racing