2023 Ducati Streetfighter V4 and V4 S prototype spied
The V4 has already drastically transformed the world of sportbikes, becoming a must-ride machine for any motorcyclist with an itch for speed and power. 
Fight Formula
We already knew the V4 was a class above everything else in the segment before we even saw it, but it didn't stop us from gawking at the groundbreaking machine during its debut at EICMA. And Ducati went one step ahead and added V4 to its naked Streetfighter, Fight Formula.
And if there's one thing Ducati does well, it's taking an already stunning bike and carving it down to fit into a class of its own. If you're a fan of the Panigale V4, you'll love the streetfighter version. And while the naked variation of the V4 was superbly brutal, this one takes the cake – with its compact chassis, low weight and devastating performance.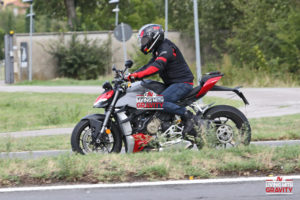 Pani V4
The Ducati Panigale V4 is one of motorcycling's latest trendsetters. And now, the Italian manufacturer wants to reshape the sector again with a Hyper Naked version. Ducati has designed the Streetfighter V4 and V4S for two types of riders: those who wish for all the excitement of naked bikes without compromising on power and those looking for more comfort at lower speeds.
The present Streetfighter is based on the Panigale V4 stripped of the fairings, with a high and wide handlebar, 178 kg on the scale, powered by 1100 cc Desmosedici Stradale delivering 208 hp kept in hand by biplane wings and a complete electronic package by biplane wings and a full electronic package. 
2023 Streetfighter V4 and V4S Spied with updates
We have the latest spy shots of the updated 2023 Ducati Streetfighter V4 and V4 S, which is expected to be launched at the EICMA later this year. The main change on the Streetfighter is the new tank. The V4 also gets small changes (grey parts on the prototype) in the fairing. On the V4 S, the cover on the engine (right side) has also been redesigned.
However, we will have to wait for more.