The KTM 390 Duke is one of the biggest success stories in the history of KTM. Since its launch, the motorcycle has received numerous updates to improve performance, styling, and comfort levels over the base model. 
These improvements were necessitated by the new entrants that came onto the market offering motorcycles, which catered to a similar audience as that of the 390 Duke. 
Read Also: 2023 KTM Super Adventure S
And we all know KTM is getting into the performance segment, and that's evident with the release of this new test mule — which, according to us, belongs to the 390 Duke.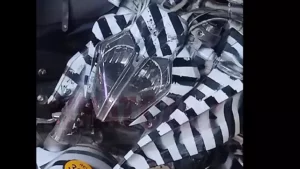 New 390 Duke Specs, Features
The bike has a lot going on visually regarding aerodynamics, and a few changes are being made to the powertrain. Let's check out everything on this new KTM streetfighter recently spotted.
The fact that the KTM 390 Duke is testing in India is exciting. And it has us stoked at the possibility of a new model debuting. That said, while we were recently able to spot the test mule in India. It's being covered by plenty of disguise material this time.
KTM's 390 Duke is one of the most successful street-faring motorcycles in manufacturers' history. Thus, it comes as a natural consequence that the newly-updated bike receives several visual updates, and this one in spyshot gets similar styling as Super Duke.
Like its elder sibling, the Super Duke, the new 390 Duke has large tank shrouds, a sharp LED headlight updated side panels.
Read Also: KTM to revive 790 Adv with multiple features
New 390 Duke price
We also hear that the new 2023 KTM 390 Duke will receive a large swingarm and mechanical updates. Further, the bike will get support from front USD forks and an offset rear mono-shock. 
Similar to the new RC 390, we will see a better braking strategy and light wheels on the new KTM Duke 390. A better reworked rear subframe and chassis will be this bike's highlight. As it is the test prototype, we will also see a few amendments to the engine.
KTM has been testing the final version of its next-generation 390 Duke in India, and it looks all set to be launched here in a few months. The new model is the fifth updated iteration in KTM's range of 390s and gets many updates. And with this, we will also see a price hike of around INR 30,000.
Image Source: Instagram