Eccentric Motorcycle Concept: Meet The Man who thought this concept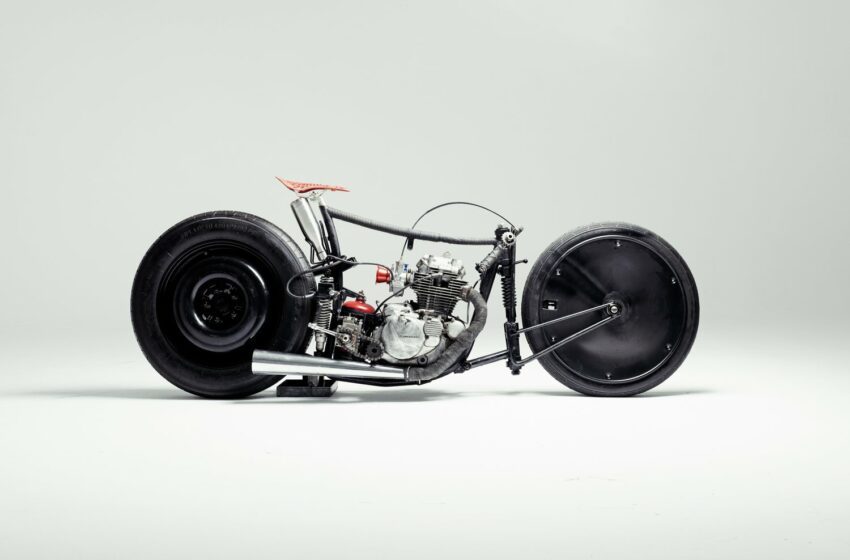 Concept vehicles push the design and execution of a product to the limit, coming up with entirely revolutionary concepts that may never make it out of fabrication. 
Most times, the designer needs to be more serious about turning the concept into reality. They want to push the boundaries and explore new possibilities.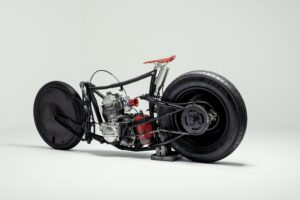 Simply put, this is a full-on, no holds barred and utterly ridiculous café racer. It's home-built and looks like it was built in someone's shed or backyard. It's the antithesis of the sleek and clean builds we tend to showcase here at LivingWithGravity.
Bonker project
What do you get when you take a Kawasaki KZ250 engine, add a car's spare wheel and bolt on a bicycle seat? You get one of the most extended and bonkers project bikes you're ever likely to see.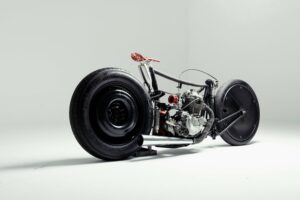 There is no way that this contraption could be considered practical, but it is utterly incredible. It's the work of Chinese-born Milan-based photographer and director Valen Zhou, who has created the bike as his homage to past project bikes he's featured here before, such as his instantly iconic '"SHADOW 26 – TRACK TRACK", which was based around a 1987 Kawasaki KZ250. 
His latest creation not only manages to be interesting to look at but also gives us tips on how not to build a bike. Let's face it—there isn't an experienced mechanic alive who wouldn't look at this thing and think, "why would you do that?" or "that's never going to stay together."
The idea
Valen says, "The idea started many years ago when I saw board track racing from the 1910s and 1920s. Because I've always loved vintage bikes and motorcycle history, I was fascinated. But I discovered drag racing, which made me feel the powerful charm."
"I thought that if I could make a board tracker crossed with a drag bike, it would be super cool—even if it might not be possible."
It's a bizarre concoction, but the very essence of creativity lies in its eccentricity. Originally, Valen wanted to have a structured approach in his mind. However, it did not work out, and he had another idea.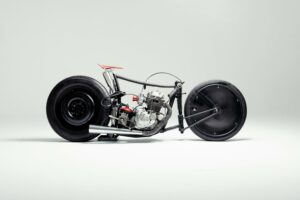 "The entire motorcycle is my imagination," he says. "It is my concept bike. I am not a professional engineer or a real designer, but because I love motorcycles, I want to realize my idea as a sprinter—and I hope everyone who sees it finds it super cool."
Custom components
It has a customized frame and components inspired by the urban street bike. The marking and wrapping on the frame are done to make it stand out in every crowd while giving it extra grip as you roll it around.
Valen himself has built the suspension. The front has a Honda CG125 hub, a standard motorcycle rim, and two aero bicycle wheel covers. With on single brake on the rear, the entire package receives support from a single-sided swingarm.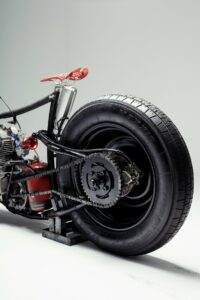 With a custom megaphone exhaust, the single-cylinder 246cc Kawasaki KZ250 stock engine makes 19 hp and 18 Nm of torque.
Storing fuel in your seat with a standard aluminium bottle is a neat idea, so why not take things one step further by mounting it behind the frame?
Something is reassuring about knowing how to look at a bike and that you can assemble it from start to finish, down to the finest detail. 
If a bike looks like it was conceived by a committee, sold with so many options, or filled with parts that don't register as "high quality," there's a chance you won't want to ride it-or worse, be embarrassed by it. 
When you see a clean build with simple lines, you get the sense that someone knew precisely what they wanted in this machine and aimed for that goal only. Sometimes less is more—especially when two wheels are involved.
The experience
In the world of custom motorcycle designing and building, especially among builders of the high-end variety, the bike is often thought of as a blank sheet—something to be painted and worked on and presented as the finished product. But from our experience, even this process requires an engineering mind.
Sometimes we make something that makes no sense. It can be stupid and pointless or something we get excited about. To us, it's how we learn and how we envision a product we make in the future. And the same happened when Valen built this Sprinter.
As this bike would never fit into a real-world product lineup, designer Valen let his imagination run wild and created some graphics to chase the ridiculousness of this concept. We sure know it is a good use of time as this experience will help Valen build another new bike.