In 1958, the Honda Super Cub was introduced to the world, pioneering the concept of the "super-motorcycle". The bike's simple yet sturdy step through the pressed steel monocoque underbone frame was a vast improvement over its competitors.
And it featured a smooth, lightweight four-stroke 49cc air-cooled engine that enabled its rider to travel great distances while achieving excellent fuel efficiency.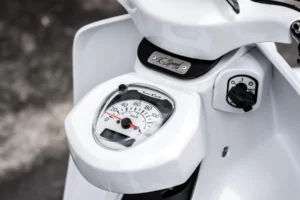 Super Cub
Since its introduction, using a Super Cub as a method of transportation has superseded owning a car in many locations around the globe.
In 2022, K-Speed, with 100 units, plans to build a next-gen Super Cub Combat model for emerging markets to modernise the classic Super Cub model following technological changes.
K-Speed is best known for its work to create an eighth-litre Honda Cub, which was built around the premise that it needed to be as comprehensive as possible while maintaining a visual appeal.
Back in June 2022, K- Speed built their prototype. The new COMBAT CUSTOM is based on Hunter Cub or CT125, also known as Trail 125.
The COMBAT CUSTOM gets an entirely redesigned tail cowl and rear fender combo from heel to flank that an Art Deco-style, streamliner-style front end punctuates.
All these radical alterations were performed to manage the notoriously lacklustre wind exposure. Indeed, it needed more than off-the-shelf components for these custom makers.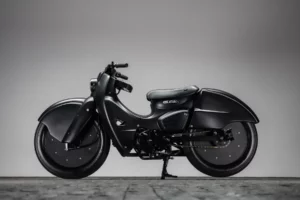 Limited Edition
So they installed low-profile chumps-style single-piece handlebars for more juice. We also see a sunken circular LED headlight with relocated instrumentation.
The Hunter Cub receives multiple components in-house Diablo parts like the reverse cone muffler and leather seat.
Before being wrapped in a set of sawtooth tread-pattern tires. The wheel sets come with aero-disc covers. Furthermore. We see a set of knurled foot pegs and a custom wrap-around license plate bracket.
The "K-SPEED CUB" badge shows the units' unique serial numbers and micro-LED indicators from Motogadget m-Blaze Pin.
Limited to only 100 units worldwide. This K-SPEED CT125 COMBAT CUSTOM arrives in two black and white shades and gets a price tag of $10,525 (including tax and shipping).
via K-SPEED