Keeway plans to bring a new bike in Auto Expo 2023 
The Indian two-wheeler industry is a vast market, with several segments catering to the needs of the country's millions of two-wheeler buyers. We've seen bikes that try to meet specific needs ranging from commuting to touring and high performance. 
One such segment is the modern classic motorcycles, inspired by (and still retaining some aspects of) the old-school classic vintage machines from decades ago, often offering a more relaxed and comfortable ride.
Also Read: Keeway MBP C650 V-Twin Cruiser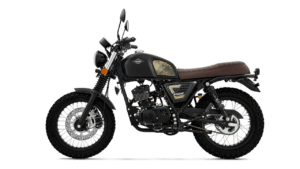 SR250
Keeway, the motorcycle manufacturer based in Hungary, recently established a small presence in India with the launch of its brand. Now, to make its entry more substantial, Keeway is all set to add a new contender to the highly-competitive modern-classic bike segment at the upcoming 2023 Auto Expo in Delhi.
And the Royal Enfield Hunter 350 is one of the most popular bikes in the market and one of the more successful. This bike has overtaken the market with its classic retro style and modern touch. 
It does give real competition to its rivals, costing more than it and is almost as good as them. But a new Royal Enfield competitor from Keeway is all set to give this motorcycle an even more brutal fight.
Also Read: Keeway brings SR125 to India
Competitors
An exciting story to tell. Put another way, Keeway is bringing its SR 250 to India, a modern-classic offering that arrives as the company's flagship model. It will rival Royal Enfield's Hunter 350. Both motorcycles are almost identical in their design approach but will target different consumers.
While little is known about this bike, it will get a single-cylinder, air-cooled, 250cc engine integrated into a five-speed gearbox. Further, we expect to have telescopic forks, dual springs, a single disc at both ends and a single downtube chassis.
The Keeway SR50 will compete with TVS Ronin, Kawasaki W175 and Royal Enfield Hunter 350.
It is interesting to note that Keeway currently has seven products in India that it sells through the same dealerships as Adishwar Auto Ride India, which sells Benelli bikes. 
via Bikewale