Legendary Dakar Rally celebrates its 45th edition in 2023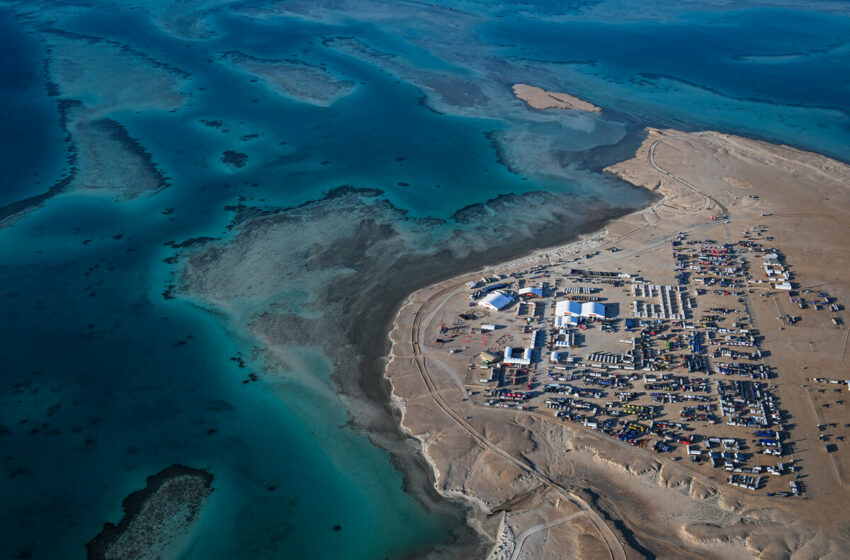 Held in the Middle East for the fourth consecutive year, the legendary Dakar Rally celebrates its 45th edition in 2023. Presenting a massive challenge to all riders right from day one, the event will be held over 14 complete stages of racing, with competitors covering a total distance of over 8,500 gruelling kilometres along the way.
Read Also: WSBK 2023 provisional entry list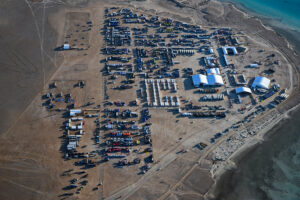 4,700 Kms
Around 4,700 kilometres will be raced against the clock in the 14 timed specials and single prologue qualifier, which make up the event. Following the first eight complete stages, riders will enjoy a well-earned rest day in Riyadh before taking on the final six stages leading to the rally finish at Dammam on January 15.

Taking part in his ninth Dakar Rally, Matthias Walkner arrives in Saudi Arabia after a year of recovering from his shoulder surgery. However, now fully fit and motivated to impress at the opening round of the FIM World Rally-Raid Championship, the 36-year-old Austrian has his sights set on claiming a second career win at the iconic event.
Matthias
Matthias Walkner: "Finally, the race we planned all year for has arrived. We train and test all year for Dakar, but now the training is done, and it's time to focus on the next two weeks of racing. I'm looking forward to my ninth Dakar, and while experience counts for a lot, no two events are the same, and you never know what you will face in the desert.
It looks like the 2023 race will be an interesting one – it's super long at 14 stages and a prologue. There are some rule changes for us all as well – we'll be facing new areas to race through, and of course, the team have made some changes to our bike that we haven't had the chance to use in a race environment yet. Hopefully, everything goes to plan for me, I'm feeling fit and fully recovered after my shoulder injury, so I can't wait to get started now."

Also coming into his ninth Dakar, Toby Price will be looking to make amends for the navigational issue that saw him fighting to make up for lost time right from the start of the 2022 event. With his strength, endurance, and ability to remain focused no matter the conditions, Price is well suited to long events like the 14-stage 2023 Dakar and aims to clinch his third motorcycle class win for himself and the Red Bull KTM team.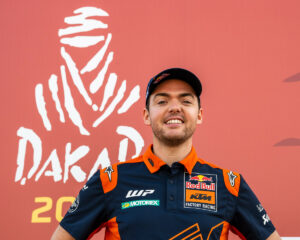 Read Also: Suzuki bids adieu to MotoGP with superb digital photobook
Toby
Toby Price: "I'm looking forward to getting the 2023 Dakar underway. 2022 wasn't so kind to me – I had a good pace, but after losing so much time early on, it was tall ask to claw that back. If anything, that only motivates me for this year, so I can't wait for the race to kick off and we can get stuck in. The usual goal is possibly even more important than ever with the event being so long this year – stay smooth, consistent, and be there right at the end. All in all, it will be tough, but let's make sure it's a good one!"

Kevin Benavides is looking forward to his second Dakar Rally with Red Bull KTM. Spending a lot of the 2022 season testing and developing the latest incarnation of the KTM 450 RALLY alongside the team, Benavides has also shown race-winning speed during the 2022 season and is hoping to carry the confidence gained from that into the 2023 Dakar. The 2021 winner knows precisely what it takes to come out on top at the world's most challenging rally raid.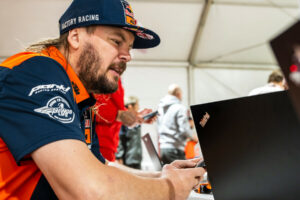 Kevin
Kevin Benavides: "It's been a long year of working hard, testing, and developing the bike with the team. But we're here now in Saudi, and I'm excited to start. I've been waiting all year for this moment, and now it's arrived. There have also been a lot of races through the past year, and after some auspicious results, I think I'm in a good place in terms of preparation and speed. The race will be long so preparation will be more important than ever. I will take the event daily and hopefully be in the fight for the win at the finish."

Following the short prologue stage on December 31, positions will be decided for day one of the rallies, which will see riders take on the 590-kilometre looped stage starting and finishing at the bivouac at Sea Camp. A 368-kilometre time mainly will give riders their first taste of the desert conditions at the 2023 event.
via KTM