Aleix is on the podium again in Le Mans… that makes 3!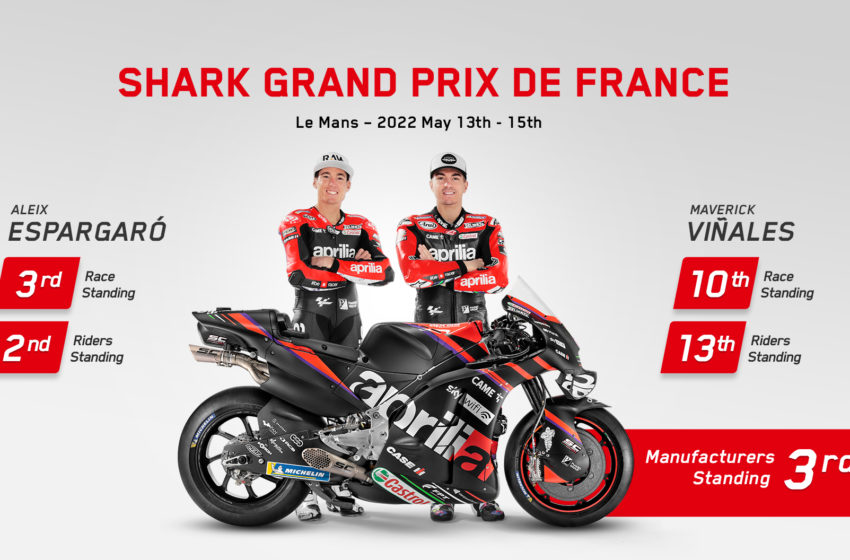 Leaving out the Catechism of a reigning World Champion who even calls himself "El Diablo", you should be afraid… Or perhaps not. Not if your name is Aleix Espargaró. In which case, the opposite could be true.
Our Captain returns from Le Mans with another exceptional performance on the RS-GP. 
French GP
Third under the chequered flag at the French GP, after fending off Quartararo's assaults until the last lap, he earned his third consecutive podium. And confirmed his second place in the world championship, just four lengths behind that "devil" of a world champion!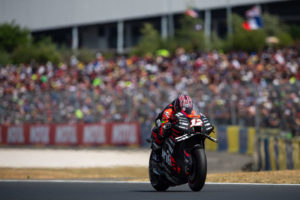 Amid a race run at a breakneck pace – which also resulted in a few crashes at the front of the pack.Aleix showed he had the heart to fight for second place until the end when he found himself defending third. It was a battle won at the end of three laps of pure adrenaline. He blocked every attempt to overtake the French champion, who had to give up the podium on his home soil.
MotoGP
A third of the way through the championship, with one win and three podiums, Aleix and Aprilia are not only among the protagonists of the world championship. Still, they are writing one of the most compelling stories of modern MotoGP.Enough to deserve the esteem of their rivals and the gratitude of us fans!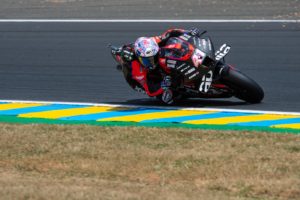 Viñales is putting his heart into it, though the results still don't quite tell the story. At Le Mans, he paid for a bad start that dropped him to 24th position at the end of the first lap. He started a comeback that took him up to the top ten. 
A tenth place that's not at the level of what our Maverick can and wants to give us, but it is, once again, a testimony to his effectiveness in the race. Qualifying and the start are the aspects that no. 12 needs to improve on to ensure that we have the image of two RS-GPs crossing the finish line ahead of their fiercest rivals.
Thanks to the points won today by Aleix and Maverick, Aprilia Racing is first in the team classification!
We couldn't be more proud of our guys. Thanks to them, the Italian team continues to put on a show. GP after GP, adding new pages to the Aprilia sports legend book.
ALEIX ESPARGARÓ
"What we are doing is unbelievable. On a challenging track and with a less-than-perfect feeling, I finished on the podium, even closing the points gap behind Fabio. My pace was good today but as soon as I got close to the rider ahead of me. Managing the front end became critical.So I tried to keep up without making any mistakes. 
Even when Quartararo caught up with me, I changed my riding style to make it hard for him to overtake. It is a great result. We're in the battle for the World Championship. And it's a privilege for me to fight with these riders at this extremely high level."
MAVERICK VIÑALES
"I think this was an interesting race for us where we gathered a lot of information in anticipation of Mugello and the upcoming races. We discovered that we are not far off, but. At the same time, we'll need to make some changes to the ergonomics to keep me feeling at ease in the saddle."
via Aprilia