Aprilia RSV4 Ultra Dark reveals a Club Racer touch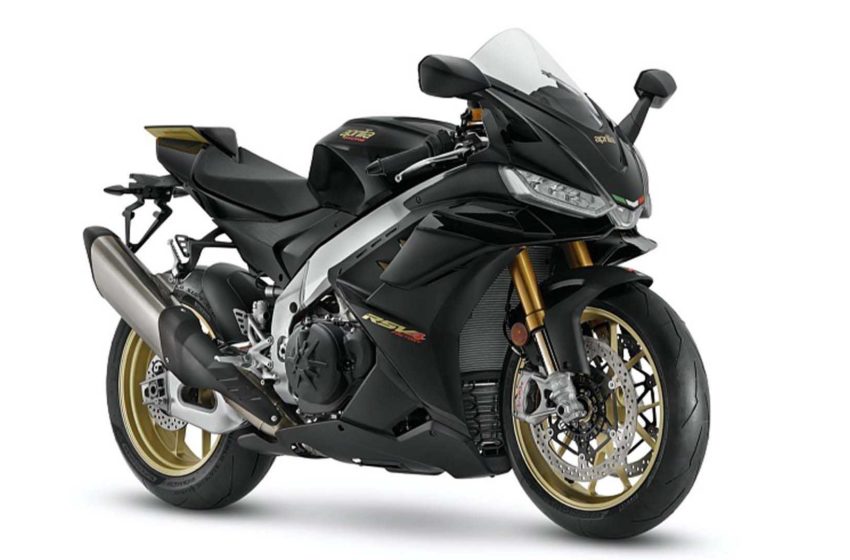 Aprilia is introducing a new Ultra Dark colour option for its RSV4 Factory sportbike. Departing from its traditional racing-inspired schemes.
Ultra Dark
The blacked-out treatment is inspired by the Noale Factory's MotoGP. And World Superbike efforts, lending an aggressive.Track-ready look to the street-oriented machines.
There is no coincidence manufacturers always have their sportbikes. And naked rides in a black and red paint scheme. These are the colours of Aprilia's racing efforts.From the Noalese Superbike and MotoGP outfits to their World Superbike effort. 
Customizing an Aprilia sportbike. Or naked bike with one of these GP-influenced paint schemes takes time and commitment. It also takes a mentality as you will be routinely removing mudguards. And fairings to wash the bike or removing stickers to add new ones. 
To cater to those riders who want a "dark" livery – black-and-red with the stickers removed.
2022 model remains same as 2021
Sure, the 2021 Aprilia RSV4 Factory already packed a punch with an engine produced. 217 horsepower at 13,200 rpm.But Aprilia decided there was still room for improvement.
The Italian brand's dealer bible confirms. The V-4 engine displacement goes up to 1,099 cc for the new RSV4 model.
The significant changes impacted performance reflected on the lighter. And more advanced MotoGP inspired chassis, engine, aerodynamics and electronics. 
New swingarm, Brembo callipers with Ohlins, new exhausts under ECU.And Magneti Marelli electronics with integrated traction control.
Winglets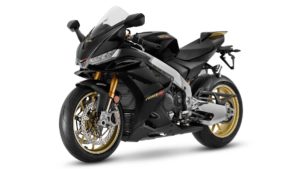 Aprilia engineers integrated bi-plane winglets into the double-wall fairing. Of course, the new TFT, ride-by-wire throttle system, new LED headlights will remain as is. However, the bike arrives with one significant change. Ultra Dark paint scheme.
As a standard, the RSV4 is available in a matte black paint scheme paired perfectly with gold details.An essential touch of gold on the under-seat cowl unit.
Gold wheels and the racing-derived trellis frame get a more classic look with black anodized sections provide an attractive contrast to the entire unit.
Performance oriented 
There's no mistaking the look of an Aprilia sportbike or naked bike. The company's wind-tunnel developed bodywork, with its angular lines and aggressive stance. Looks like no other motorcycles on the market.
The RSV4 Factory is hip-mounted tanks.And protruding fairings gets complemented by the colour-matched exhaust snakes above the swingarm. Adding a certain Italian panache to the motorcycle's overall design. 
If you're looking for a high-performance street and track bike with a high-performance look. Check out this week's Aprilia RSV4 Factory in an ultra-dark colourway.
Aprilia has not unveiled the price of this model. However, we are sure  Aprilia will disclose the MSRP in the coming days.
via Aprilia