Belles motos personnalisées : BAAK Motocyclettes
In conversation with Remi Reguin, Owner, BAAK Motorcyclettes.
About BAAK Motorcyclettes
Based in Lyon, France BAAK Motorcyclettes enables you to highly improve the finish level of your motorcycle and its riding pleasure. It offers an harmonious aesthetic result and will turn your bikes into an outstanding model. These parts is easy to assemble, and exclusively composed of parts handcrafted at BAAK Motocyclettes workshop.
1. How did BAAK Motocyclettes happen? Let me know history about it?
BAAK:  BAAK was founded in 2013 by Rémi REGUIN from his grandma's house basement near from Lyon France. Rémi has always been interested in motorcycles. As a child, he spent many weekends at a local association which goal was to teach youth how to modify motorcycles and mopped.
Years after he started racing in local race track competitions, and trained to become a competitive trial rider. He started to show interests in Classic motorcycles when he modified his own Triumph Bonneville as he didn't like that much the original version .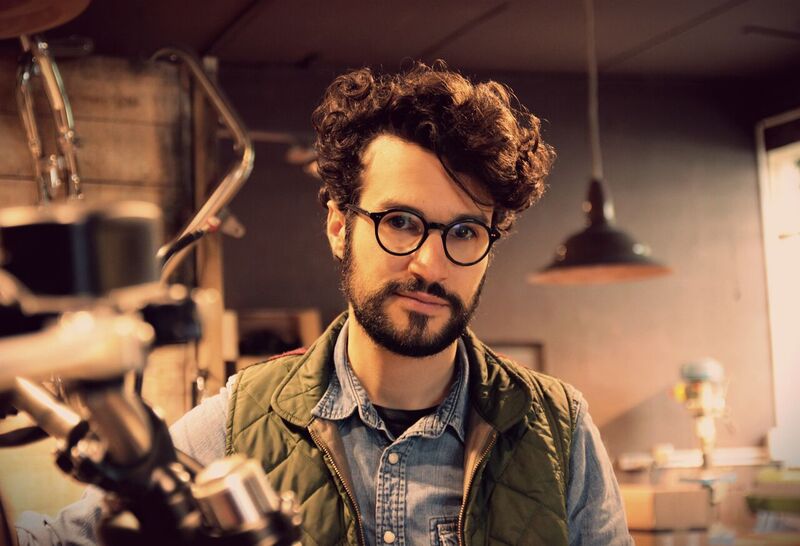 Remi Reguin, Founder BAAK Motorcycles
He learnt how to work the leather and how to materialize a relevant custom project. He came across many people who asked him wether he would be willing to modify their motorcycle. And here BAAK started, under the name of Mc Gregor Engineering at first, which became BAAK in 2014.
He chose to make his custom parts available online so anyone can build his own project with quality material : exhaust, speedometers, leather seats and bags, handlebars.The parts sold via our online boutique (almost 300 references with many different options) stand for almost 80% of our business currently, and 65% of our parts are shipped out of France, mostly through Europe, to Northern America and South-Eastern Asia.
Team BAAK
Rémi worked on his own until Emmanuel joined the company in 2015 and BAAK moved in the current 300 squares meter workshop we're still working in. I (Julien) joined BAAK by the middle of 2015 to improve the website, the international sales management and the marketing more generally, Rémi was still in charge of the design direction and the custom projects, Emmanuel was in charge of the parts manufacturing and the packages shipping.
Then Silvère joined the company to deal with the leather work in 2016. Jordan joined BAAK at the beginning of 2017. Then Victor joined the workshop to deal with the assembly of the custom builds and the metal shaping.
Finally, Marion, the upholster and first girl of the team, and Thomas who's in charge of the shipping of the packages worldwide joined BAAK. A team of 8 people with different skills, technical backgrounds and vision of the motorcycle universe work every day to develop the company.
Team BAAK
Each year we welcome a transport design trainee in the team for 4 – 6 months to feed our minds regarding different design projects.
2. Apart from Motorcycles you also custom build cars?What is difference between building a custom motorcycle and custom build a car?
BAAK: We started car projects in 2016 building a backdating project on an Austin Mini. Our goal was to create a complete range of accessories including leather seat, doors panels, driving cockpit cast aluminium kits, exterior cast aluminium parts.
BMW Nine T Bobber
The main difference between our motorcycles and automotive project is that we can't deal automotive projects based on brand new cars as cars manufacturers don't offer classic vehicles anymore.
The last brand to do it was Land Rover with his Defender, but they now stopped the production. Triumph, Moto Guzzi or Royal Enfield are motorcycles brands that still manufacture classic looking motorcycles which are easy to transform in a backdating style.
So for automotive projects, we need to re-design every single part for every single project. The development of cars manufacturing is currently in pause at BAAK's as our workshop isn't big enough to welcome several cars at the same time, that's one of the reasons why we try to move to a larger workshop.
BMW Nine T Scrambler
3. What is the hardest part while you build custom motorcycle?
BAAK: Except for the electronic of some of the latest models we work on, there are no hard steps in the custom motorcycle projects technically speaking. As we deal with the whole process (design, 3D prototyping, manufacturing, assembly) we can do whatever we want.
Our workshop is based in an area where there are many industrial companies with which ones we work to outsource some of the manufacturing steps that require very specific skills : powder coat painting and aluminium machining for example.
Boneville Alliance Side Car
I would say that the hardest part is the design, it's always hard to create an harmonious aesthetic result and deal with the manufacturing constraints like the cost and the feasibility of each part.
As all the parts developed for in-house projects are supposed to be sold on our online boutique, we always have to keep in mind the right balance between the design, the cost, the technical perfection and the finish level.
4. What is the current motorcycle that you are working on?
BAAK: BAAK's managing a big project for this year is to find a new workshop that would be at least 5 times bigger than our current one so we can develop our business.
The current motorcycles projects are based on the Triumph Bobber Black, the Royal Enfield 650 Interceptor and 400 Himalayan, and the Moto Guzzi V7 III that would be reveal before the end of 2018.
Maash BAAK
5. World is going towards electric motorcycles?Do you feel any competition with electric motorcycles coming in picture?
BAAK: We don't feel competition with the electric motorcycles. We see this as an opportunity. Electric motorcycles are most certainly the future of motorcycles, and there are still ways to be explored to create classic looking electric ones.
The current electric motorcycles on the market have a very High Tech design and we don't really like it, so there's an opportunity to build something great as soon as the technologies will be reliable and easy to use.
The biggest fear is about the riding feelings an electric motorcycle could provide compared to a classic petrol one. Some brands, including Lyon based, work on the subject and we follow the trends with much attention.
Motto Guzzi V7 Bobber BAAK
6. Where do i see BAAK Motocyclettes 10 years down the line?
BAAK : In 10 years, we hope BAAK will still be in the business, we do our best. We'll develop our automotive activities to be able to feature a complete offer for several cars models, just like we do for motorcycles. We currently work on clothes projects that will be revealed by mid-2019.
No promo stuff, but exclusive apparel design and many design for gloves, shirts, jackets, maybe shoes and glasses. We keep our mind open about it and try to find the right material before we reveal anything, excellence is our goal as always.
Finally, we would love to have BAAK stores / workshops located out of France to enable local customers have their bike builds locally. It's very hard to have a custom motorcycles built in France approved for road use abroad for legal reasons. That would be a way to export the french craftsmanship .
---