Custom : Paul Milbourn Custom's Guzzi "Titanium V"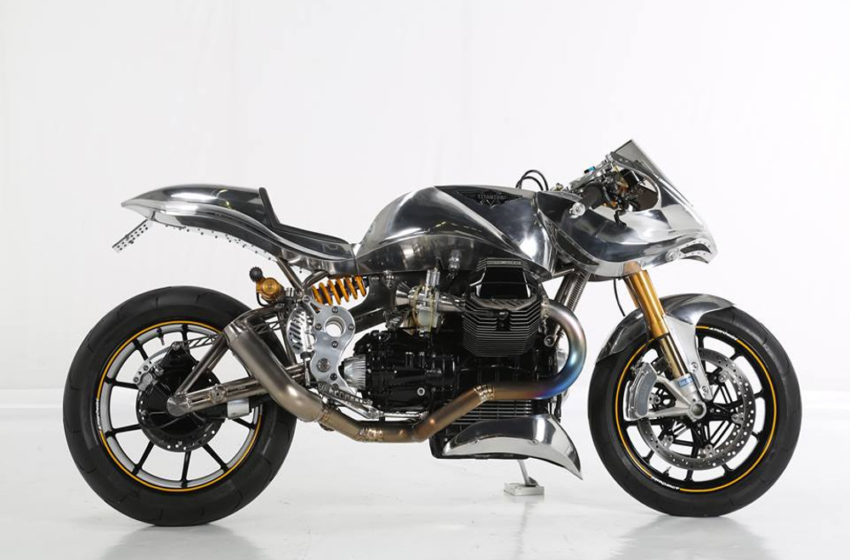 Paul Milbourn Customs has been on custom scene for quite a while now.
Featured in Bike Shed London 2017 and winning award in AMD Bike show in 2014 for Nut Cracker. This was Honda 600/650 displacement which was aesthetically designed chopper and in 2018 for Titanium V he won AMD Bike Show award.
Paul has made his own mark in the world of Customs. The current build Titanium V is something not only astonishing but scientifically difficult to build? Plus you often to get see Guzzi engines when it comes to building any customs.
Why let's see?
Titanium is difficult to wield and above 400 degrees it reacts with two other entities nitrogen and oxygen making the job more difficult.
Titanium fixings most were made. Titanium oil coolers. Handlebars, clock mounts, foot controls, linkages, reservoir pots, carb intakes, bell mouths, cylinder head, carbs, track arm and more …all parts from titanium grade 2 and grade 5.
Complex bodywork and curves from head to tail is other major skilful job carried out by Paul Elegantly on this bike and being Titanium metal it is difficult to do.
One grade 5titanium beam frame and frame hangers. Rare wheel converted to tack shaft drive.45 degree drive box heavily modified to take in board brake.
The purpose of the build was to see how light a Moto Guzzi could be made – it came in at 155 kg.
Paul made tank and body work by hand from 1.5mm 5251 aluminium .2 into 2.2 inch titanium pipes, one-off aluminium pork chops.
Specifications of Titanium V
| | |
| --- | --- |
| Bike Name | Titanium V |
| Year/Model | Titanium V 2017 |
| Engine Make/Size | 1100 |
| Drivetrain | Shaft with modified drive box |
| Frame Make/Type | Paul Milbourn Customs titanium beam frame |
| Front End | Ohlins |
| Rake | 25 Degrees |
| Stretch | No |
| Swing arm | Titanium |
| Wheels Front | 120.70.17. Marchesini |
| Wheels Rear | 190.17.55 Marchesini |
| Tires Front | 120 17 70 |
| Tires Rear | 190 17 55 |
| Brakes Front | Harrison Billet radial |
| Brakes Rear | Harrison Billet single pot |
| Painter | Engine wheels painted by Roger Masters |
| Chroming/Plating | No |
Here's what Paul has to talk about Titanium V and his future plans.
How did the idea to start Paul Milbourn Customs came?
Paul: There was no big ideas for a business, I've always loved motorcycles and building them etc. I've been an engineer for 30 +years, I used to work on bikes and build chassis, forks etc. whilst also carrying out a day-to-day job. I separated the bike work from the engineering and started a work shop from home- Paul Milbourn customs.
In detail could you please let me know about Titanium V bike?
Paul: I've been wanting to build a race style bike for many years. It was not so much about power but more about getting a bike that would handle, stop, and be light and balanced.

The other big thing is that I wanted it to be a custom bike, one that you could take to any show in the UK and Europe and not feel out of place but it still has to work when pushed on track or the road. You are able to find further information on YouTube under Paul Milbourn Customs Build Videos 1, 2 and 3. These build videos show the process from chassis to the finished bike.

How do you feel after winning the award in AMD Bike Show?
Paul: I was not going to take the bike to the AMD at first. I love the AMD bike show, it's a great event. It's the only show you can meet other builders from all over the word. It wasn't in my mind to take it there, I had other plans for it which were more on the track than in the show. In 2017 the bike went to London Excel Bike Show.

This is a show that as a builder was on my list to win. I didn't think this was the bike to do it with but I was wrong, it got best in show. Then, later that year it won the Irish motorcycle show which is an AMD round. I had to take it! In 2014 I got 5th place in freestyle, which is a great achievement. To have won street performance class was amazing of a bike that was built for function over form!

How do see yourself 5 years down the line?
Paul : My plans for the next 5 years are to focus on prototyping, trying new ideas and styles. I have so many ideas and so little time!
How Paul made Titanium V?
---
Source: Paul Milbourn Customs
Picture Credit : Onno "Berserk" Wieringa