Ducati debuts the $39,500 limited-edition Panigale V4 SP2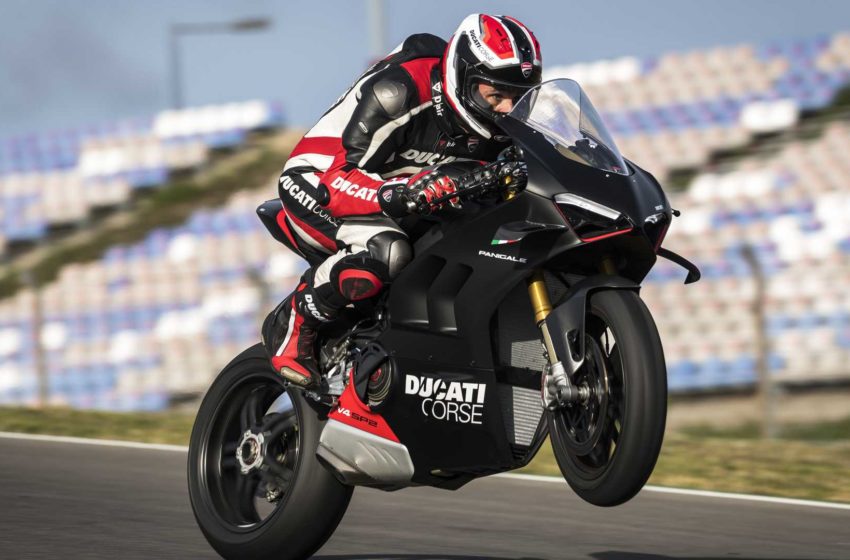 Ducati has always been a prominent player in the superbike racing world. The Panigale V4 platform is Ducati's largest-displacement sportbike to date. And the dominant technology developed for MotoGP's latest-generation bikes — other players have followed suit — is making its way into consumers' hands.
V4 DNA
Although not explicitly designed for track use. The V4's electronics feature many performance settings along with beginner and expert riding modes.
It allows experienced riders to maximize the bike's performance potential while helping novices gain considerable confidence in their abilities.
Ducati is preparing to say goodbye to the 2021 model by wrapping up the quarter with a World Premiere for an exciting new model.
Powerplant
The Ducati Panigale V4 SP2 represents the most potent member of the Panigale V4 family. But shares many traits with its siblings like the 1,103cc, Desmosedici Stradale V4 powerplant that makes 210 horsepower at 12,500 rpm and 90.6 lb-ft of torque at 11,000 rpm.
Are you ready to race with the best? Production of Ducati Panigale V4 SP2 is limited to a few copies.
If you missed out on this potent Panigale as a production model. There would be more good news.
Owners can also trim the fat and add extra power with a full-titanium Akrapovic system. The Ducati Performance racing exhaust not only sheds 11 pounds but also boosts torque to 96.6 lb-ft and generates 228 horsepower.
Structure 
We also see the aluminium front frame, and it acts as a stressed member of the Desmosedici Stradale powerplant.
The new V4 SP2 gets a unique mounting point for the aluminium swingarm to get the better anti-squat upon acceleration. Further Ducati V4 SP2 arrives with Öhlins NPX 25/30 on front and TTX36 on the rear.
Ans also has the Öhlins' Smart EC 2.0 steering damper and four modes ((Full, High, Medium, and Low) to control the new SP2.
The Panigale V4 SP2 is a race-ready version of Ducati's Superbike with 5-split spoke carbon wheels that are 3.1 pounds lighter than forged aluminium wheels on Panigale V4 and V4 S. They are also responsible for adding extra side-to-side agility and decreasing 26 and 46 percent inertia on front and rear respectively.
Electronics
The Panigale V4 S has already dominated the track. Now, Ducati has taken their most powerful superbike to date and is ready to own the way once again.
The V4 SP2 brings WSBK-derived STM-EVO SBK dry clutch technology into play for an even more robust package and an aggressive new look.
If you're looking for a track weapon, look no further than the Panigale V4 SP2. The new SP2 arrives with the billet aluminium mirror hole covers and license plate holder.
The adjustable Rizoma footpegs allow the rider to get faultless balance and comfort. On the other Ducati has provided light carbon fibre heel guards.
We see two race modes (Race A and Race B) and standard street and sport ride modes with Track Evo for more performance orientation.
Muscular track weapon
Further, it has Ducati Data Analyzer, GPS module arrives as standard.Compared to the Panigale V4. The SP2 features a more aggressive and muscular design characterized by a matte black base, brushed aluminium fuel tank, red shades with fibre winglets and carbon fibre front fender.
The single-seater configuration communicates the SP2's sporty intentions, while the twin cowling improves the aerodynamics of all Panigale V4 models and enhances the front end grip. The Taillight adds a clean and sporty look to the motorcycle's rear as a final detail. The new Ducati V4 SP2 retails at $39,500.
And may take some time to arrive in India.
via Ducati