Espargaro ends MotoGP pre-season on top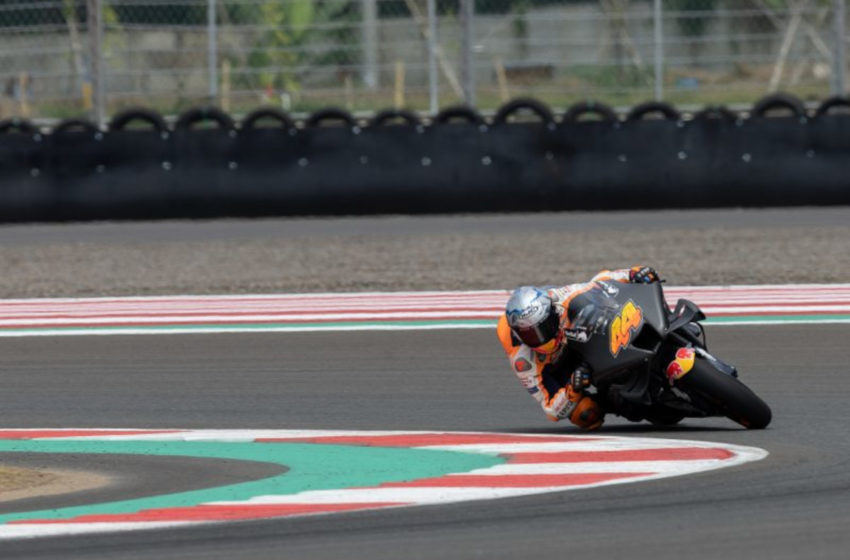 Pol Espargaro ruled supreme on the final day of running in Indonesia, ending the winter tests with a confidence-building day as Repsol Honda Team teammate Marc Marquez put in the last stint of intense work.
Sunday, the final day of MotoGP pre-season testing, saw a late revision to the schedule as riders were given more time for practice starts and the circuit given time to clean the start-finish straight. 
The break-in action at 13:00 Local Time added a natural lunch break into the day. Pol Espargaro ended the morning session as the fastest rider with the best lap of 1'31.060, 0.215s clear of second-place World Championship Fabio Quartararo at the time. 
It continues the fine form the #44 has found aboard the new Honda RC213V. Aside from the headline-grabbing lap time, Espargaro could round out his testing programme and conclude a fruitful five days of running. With his work done, Espargaro and the Repsol Honda Team decided to end his day early, just before 14:00 Local Time. 
Espargaro 1'31.060
Even with the early finish, Espargaro's 1'31.060 stood as the fastest lap of the day, bookending an extremely positive three days in Indonesia for the #44.
The last day of testing was about mileage for eight-time World Champion Marc Marquez as he completed 74 laps. Marc Marquez suffered a fall at Turn 2 but could remount and return to the Repsol Honda Team garage before eventually heading back on track. 
Ultimately ending the day in 14th, Marquez was only 0.733s behind his teammate as he focused on long runs and bike set up to preserve his shoulder. Overall, Marquez concludes the test in ninth place. The overview of the five days of testing has been ultimately positive for Marquez and the Repsol Honda Team as he returns from injury.
The Repsol Honda Team completed 1,702 kilometres across the three days in Lombok, with Marc Marquez totalling 212 laps while Pol Espargaro completed 180.
The Repsol Honda Team is preparing to start another year battling for the MotoGP World Championship, the 28th season between Repsol and Honda HRC. The season begins under the Qatar floodlights on Sunday, March 06, where both Marc Marquez and Pol Espargaro are determined to start the year on the front foot.
Pol Espargaro
1st 1'31.060
"I'm feeling pleased with how this pre-season has gone and especially here in Mandalika. It's nice to get the fastest time, but our pace and feeling with the bike are critical. 
Able to ride how I want. I have to say congratulations to HRC and the Repsol Honda Team for all their work over the winter, they've put in much effort, and the results are showing. 
At hot tracks like here and Sepang, I struggle a lot, but right now, we leave having done two good tests and found some things for long runs and on our one-lap speed. Yesterday we solved a minor issue, which helped us one-lap rate. Now it's time to rest a little and get ready for Qatar, my confidence is reasonable, and I can't wait to race."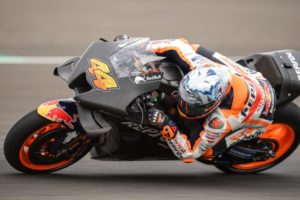 Marc Marquez
14th 1'31.793
"I enjoyed riding the bike a lot today. I was tired at the start of today, but having fun and enjoying riding was the best way to work today. Have some pain in my shoulder today, so that's why we didn't focus on a time attack because pushing for a fast lap requires much power, and I worked on race pace and setup. 
Continued to improve my feeling on the bike and compared now to Malaysia. It's a big difference. We have made a big step with the new bike, and the surface is getting better with each lap. 
HRC and the Repsol Honda Team have done a great job to get us to where we are today, and I am looking forward to starting the season. A few weeks to keep training more, and then we race!"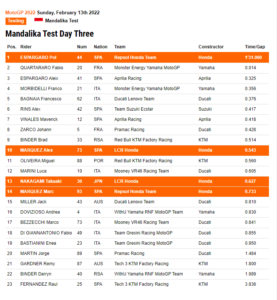 via HRC