GASGAS's Isak Gifting back to his best at MXGP of Trentino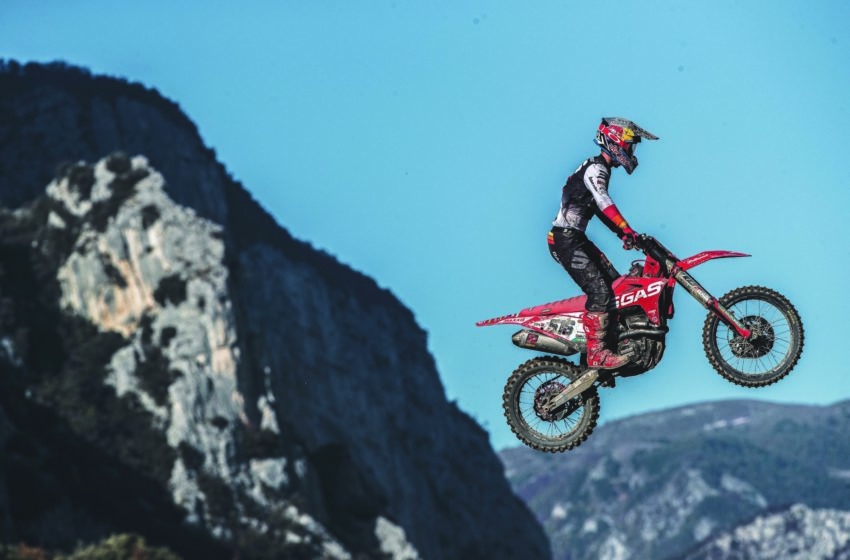 That's more like it! DIGA Procross GASGAS Factory Racing's MX2 star Isak Gifting has started the Trentino triple-header with an impressive fifth place overall result at the MXGP of Trentino.
Charging to a solid third-place finish in race one – his first top-three moto finish of the season – the Swede battled valiantly in moto two for a hard-fought ninth-place result.Ending the GP just four points away from a spot on the overall podium.
Isak's MX2 class teammate Simon Langenfelder placed 14th overall after a challenging day of racing in Pietramurata. The MXGP class was also a frustrating GP with big crashes restricting Pauls Jonass and Brian Bogers to seventh and 16th overall, respectively.
Isak Gifting on the gas in Pietramurata!

Frustrating day for Simon, Pauls, and Brian

MXGP round 15 is up next for the team on Wednesday
Quote
Isak Gifting: "It's been a positive day for me after not qualifying so well this morning. Had a great start in race one, and it was awesome to be riding in clean air and upfront with the top guys.
I was in second for the whole moto, and a little mistake on the last lap dropped me to third, but overall I was super happy with that one.
I didn't get the best of starts in race two. But I made it happen, making many passes and ending up ninth for fifth overall. I'll take a couple of days to rest now, and I'm excited to be racing here again in a few days."
For Isak's teammate Simon Langenfelder, it was a long and frustrating day at the office. In moto one, the 17-year-old completed lap one way down in 22nd position before putting together an impressive charge through the field to secure his 14th-place finish.
Starting up front in moto two set Langenfelder up for a much-improved result. But frustratingly, two crashes saw the German buried in a mid-pack battle just outside the top-10.
Able to break free from his rivals as the moto neared its conclusion.Simon dug deep for a 13th-place finish and 14th overall.
MXGP
For MXGP class racer Pauls Jonass, the Standing Construct GASGAS Factory Racing rider began the MXGP of Trentino with a solid ride in race one.
Starting inside the top 10, the Latvian worked his way forwards throughout the moto. Moving into sixth place on the penultimate lap before chasing Glenn Coldenhoff across the finish line.
Jonass was fired up for another strong race in the second moto, but it wasn't to be as a pretty big crash on lap one left him with a ton of work to do.
Rolling up his sleeves.The 24-year-old remounted and battled hard for his 12th-place finish to ultimately end the day in seventh overall.
After placing 20th in moto one, Brian Bogers was fortunate to escape serious injury in a first turn crash at the start of race two, which involved a handful of other riders.
Rejoining the race last, Brian was then able to latch onto Pauls Jonass. Who had also just picked himself up after crashing on the opening lap and following his teammate for the entire moto.
Impressively, Bogers would match the pace of his teammate, chase him home, and cross the finish line right behind him in 13th place.

Quotes
Simon Langenfelder: "Not a great weekend for me. It's unfortunate as I felt great in qualifying, and I was sixth-fastest, but it just didn't carry over into the races. A bad start in race one cost me. And then in race two, Crashed twice while trying to make passes. A frustrating day and I'm looking forward to turning things around on Wednesday."
Pauls Jonass: "After making some good progress in recent weeks, Was a little disappointed with my riding today. Race one was ok, and I moved into sixth with two laps to go, which was a good result despite not feeling my best.
Then in race two, a pretty big crash all on my own on the first lap, so was way down the field. It's not an easy track to make passes on, but I managed to salvage 12th. So that wasn't too bad. Need to work on a few things before Wednesday, and I aim to be back up front again."
Bogers
Brian Bogers: "That was a tough day today. Had a pretty good race going in the first one. Didn't get the best of starts, but I felt good and worked my way up to 14th. An issue with my rear wheel and had to slow down to finish.
Was hoping to make up for that result in race two, but then I was involved in a big first turn crash, which left me with much work to do. Felt perfect on the bike, and my riding was good, so despite finishing 13th. Can take my speed as a positive into Wednesday and hopefully stay out of trouble."
Both Standing Construct GASGAS Factory Racing and DIGA Procross GASGAS Factory Racing return to action at the picturesque Pietramurata venue in three days for round 15 of the FIM Motocross World Championship.
Results – 2021 FIM Motocross World Championship, Round 14
Overall -MXGP
1. Jeffrey Herlings (KTM) 50pts

2. Glenn Coldenhoff (Yamaha) 38

3. Tim Gajser (Honda) 38

7. Pauls Jonass (GASGAS) 24

16. Brian Bogers (GASGAS) 9
MXGP – Race 1
1. Jeffrey Herlings (KTM)

2. Jeremy Seewer (Yamaha)

3. Romain Febvre (Kawasaki)

6. Pauls Jonass (GASGAS)

20. Brian Bogers (GASGAS)
MXGP – Race 2
1. Herlings (KTM)

2. Glenn Coldenhoff (Yamaha)

3. Tim Gajser (Honda)

12. Pauls Jonass (GASGAS)

13. Brian Bogers (GASGAS)
Overall-MX2
1. Tom Vialle (KTM) 50pts

2. Jago Geerts (Yamaha) 44

3. Ruben Fernandez (Honda) 36

5. Isak Gifting (GASGAS) 32

14. Simon Langenfelder (GASGAS) 15
MX2 – Race 1
1. Vialle (KTM)

2. Jago Geerts (Yamaha)

3. Isak Gifting (GASGAS)

14. Simon Langenfelder (GASGAS)
MX2 – Race 2
1. Tom Vialle (KTM)

2. Jago Geerts (Yamaha)

3. Jed Beaton (Husqvarna)

9. Isak Gifting (GASGAS)

13. Simon Langenfelder (GASGAS)
Championship Standings – After Round 14
MXGP
1. Herlings (KTM) 555pts;

2. Romain Febvre (Kawasaki) 531;

3. Tim Gajser (Honda) 528

7. Pauls Jonass (GASGAS) 376

11. Brian Bogers (GASGAS) 218
MX2
1. Maxime Renaux (Yamaha) 563pts

2. Jago Geerts (Yamaha) 471

3. Vialle (KTM) 467

10. Simon Langenfelder (GASGAS) 245

14. Isak Gifting (GASGAS) 215
via GASGAS Press