Get ready as KTM is all set to bring the next-gen Duke 125
KTM updated its Duke 125 in January 2021. What had happened to the new 2021 collection of smaller capacity, KTM DUKEs embodies all the KTM naked bike character of attitude, performance and versatility. 
125 DUKE and KTM 390 DUKE are shining examples of a comprehensive range. 
Can fulfil the slightest whim of curiosity or the immense craving for adrenaline.
Picture a road. Is it complete, smooth and empty? Is it busy with traffic?
Does it take you from 'A to B', or is it open and inviting? Do you pass the mountains and incredible landscapes? 
Or are you gliding past buildings? And urbanity with ease and freedom? We all have a vision of our journey. 
And the spellbinding array of 2021 KTM naked bikes. And the famous KTM DUKE family is a passport to excitement and mobility.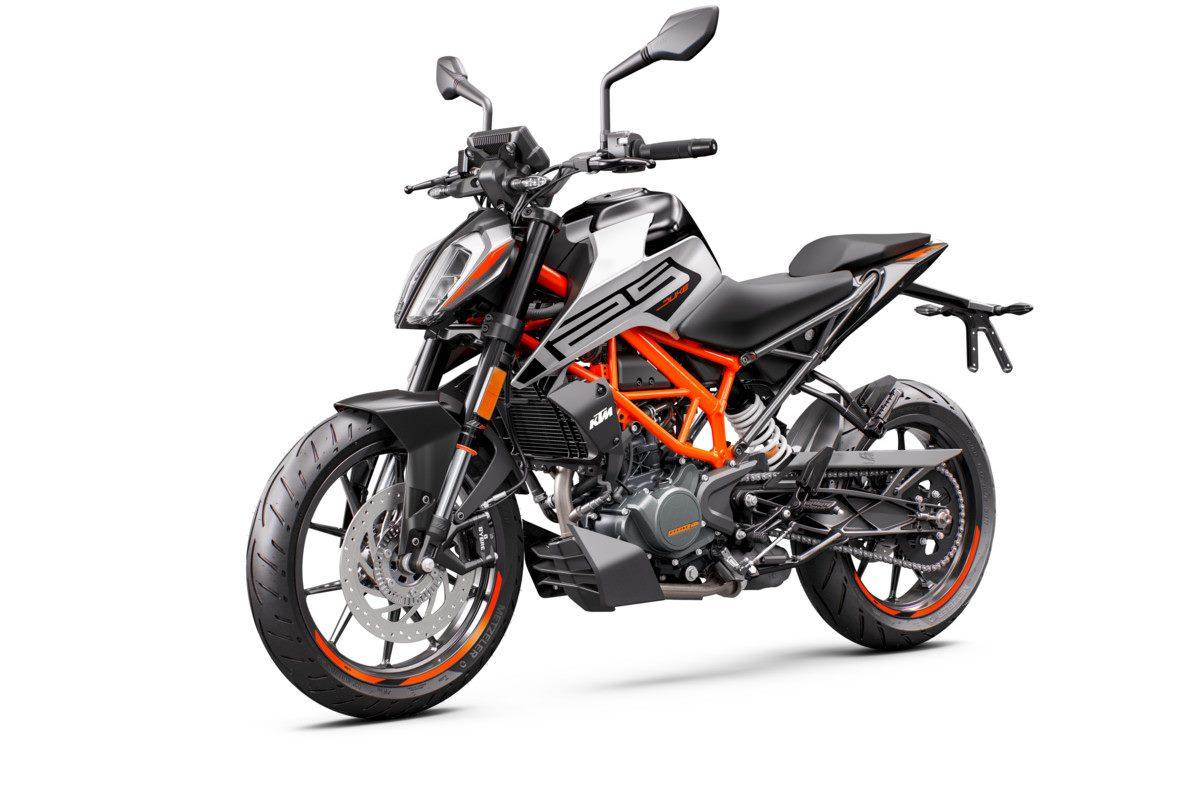 125 Duke
The KTM 125 DUKE is power in a small, well-directed punch. Don't settle for a step-through or some other bland, characterless option. The KTM 125 DUKE allows you to look and feel different.
Young riders or new riders will relish that distinctive sense of identity that all bikers enjoy.
 Cruising the city, escaping for the day or even daring to drag a knee, the KTM 125 DUKE harnesses all the style. 
Specs
And performance guidelines of its senior brothers to fantastic effect. It truly is THE SPAWN OF THE BEAST.
The fuel-injected, light, compact motor – now Euro5 ready – pumps out A1-applicable 15 Hp (11kw) thanks to state-of-the-art injection electronics. 
Fuel consumption is as efficient (a 300km reach) as the handling is sharp. 
The impulsive behaviour comes courtesy of the agile chassis and low centralisation. 
WP Suspension upside-down forks and a shock with an adjustable preload. 
Take any luggage or passenger you want to complement other specs like the BYBRE brakes with a 300mm front disc. 
And 230mm rear, dual-channel ABS, 17″ cast alloy wheels. And a range of juicy KTM PowerParts upgrades to embrace the KTM DUKE vibe.
Updated next-gen KTM 125 Duke 2021 prototype spotted
However, now, after four months, we are looking at the new spied prototype.
In the new version, we observe the change in hardware, plus there is a question on styling if it may change.
For better handling, the steel trellis remains. However, it gets crossbeam design.
Further, there is a new subframe with an altogether different swingarm design.
Do we see any changes in the engine? Well, as of now, it is not easy to answer.
The next-gen KTM 125 Duke 2021 will arrive by 2022 and will cost higher than the outgoing model. The current model costs Rs 1,51,507 (ex-showroom, Delhi). 
Image Source: Rideapart