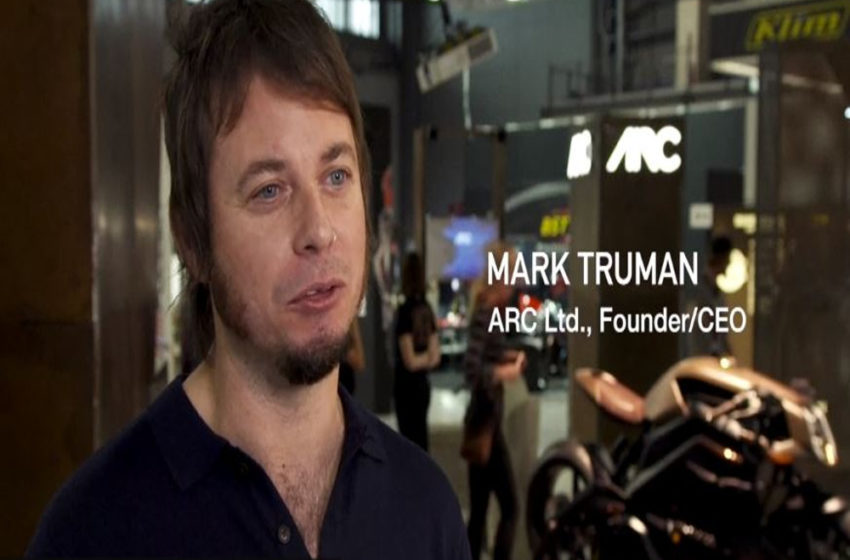 Interview : In conversation with Arc Vehicle
The Arc Vector is the embodiment of Mark Truman's mission to change the way we think about motorbikes and build a thrilling, sustainable and safe technological marvel for a new world order. This goes beyond engineering. It's a revolutionary new attitude.
Mark is the largest shareholder in Arc. A committed environmentalist, the designer and engineer won the Society of Automotive Engineers International Young Engineer of the Year Award in 2005 for his experimental work on motorcycle chassis and swing arm flex and design parameters.
He has worked in motorsport as a data acquisition engineer, and has 35 years of motorcycling experience. He's worked for Saab, Ford and Aston Martin, and headed Jaguar Land Rover's White Space radical innovations incubator before establishing Arc.
As well as being an engineering visionary, Mark is first and foremost a passionate motorcyclist. His first bike was a Puch 50cc, and since his teens he's been building and modifying all manner of motorcycles, as well as racing on short tracks and motocross. Eco-conscious to the hilt, Mark lives on a sustainable smallholding in Wales.
 1.How do you define Arc as a brand?
ARC : We are alchemists, combining worlds together. We are purposeful, Beautiful Melting Pot – Challenging perception. We build machines that confront the elements while protecting them –
Machines that feels like second nature.Arc is a measure of electricity. Arc is architecture. Arc is movement.  Arc is on a mission to explore Earth in state-of-the-art style, combined with a promise to try and protect it. This is a catalyst; a trans-formative vehicle that will challenge the rider's way of seeing and thinking, and one that shapes the world around it.
Based in Coventry, England, at the heart of the UK's global-leading High-Performance Automotive Engineering cluster, the idea for Arc was born out of Jaguar Land Rover's White Space 'skunk works', an innovation lab previously headed by Mark Truman.
Arc is Truman's baby. Recognizing the Vector's ingenuity and enormous potential, financial backing has been obtained from a number of blue-chip beneficiaries, including Jaguar Land Rover's venture capital fund, InMotion Ventures, Mercia Fund Managers and the Midlands Engine Investment Fund thereby providing the financial means to establish Arc as a serious industry player and launch its first products.
"At White Space, we were asked to look at recreational EVs; vehicles that are less about A to B, more about A to C. We developed a business that would look into, initially, electric motorcycles. Jaguar Land Rover were unable to pursue it internally, but they loved the idea so much they asked us to pursue it outside with their support, which is when Arc was born," says Mark. "We would be well behind where we are now if we'd done it within a large corporate organization. Jaguar Land Rover had the foresight to say this is a fantastic thing, you're agile and you have a vision – so take it outside and see what you can do."
Jaguar, incidentally, does have a very distant heritage link to motorcycling, having started out as the Swallow Sidecar Company in 1922 under the leadership of a 21-year-old William Lyons. Sebastian Peck, Managing Director of InMotion Ventures, says the investment into Arc, along with all InMotion investments, is part of Jaguar Land Rover's strategy to be a technology leader in a disruptive environment. "Our mission is to develop an expanded footprint for Jaguar Land Rover in the brave new world of premium mobility.
Electric vehicles are pivotal for the future of urban mobility. Mark has great vision to build an aspirational brand with highly innovative technology at its core. Jaguar Land Rover understands the power of emotional connection and creating really desirable objects, so we see natural synergy with Arc. The Vector is an incredible development in the next generation of motorcycle travel."
Production is targeting 399 motorcycles in year one. Three hundred and ninety-nine is the voltage of the bike.
Work on Arc started two years ago, with Arc Vehicle Ltd becoming incorporated in April 2017. Truman is still the largest shareholder in Arc.
Mark is a purist biker and technology evangelist with a bold vision and blue-chip backing who has brought together a dream team and put in motion an ambitious business plan. Authentic and credible, he likens Arc's talent pool to Avengers Assemble: Our people have worked in senior positions within Aston Martin, KTM, Ducati, Triumph and MotoGP. Pioneers in their field, they've designed vehicles for James Bond, emergency rescue units, niche electric hypercar companies, and some of the finest vehicles to take to the track.
"We took a wide-angle view of what mobility in the future could be, and using some big ideas and immense agility we have brought it into the present," says the founder. "We are building the Vector for people who are on a journey, and we want people to continue taking those journeys in a future world where the use of internal combustion engines will be restricted."
2.I am more excited to know more about Human Machine Interface integrated with Arc Vector Bike?
ARC : The Arc Vector is the most advanced electric motorcycle on the planet, providing a sensory and emotional experience never before applied to such a vehicle thanks to its digitally enhanced and connected helmet – Zenith – and sci-fi-inspired haptic ride-wear – Origin – enabled by Human Machine Interface technology.
In short, Vector is the greenest, safest and most fulfilling bike ever created. The rider sits astride a hand-made motorcycle with lightweight carbon-composite structure and ingeniously elegant battery-module monocoque, which is as clean and efficient as it is beautiful to behold.
Its styling brings to mind the classic spirit of a British café racer, a symbol of freedom and high-fashion that stands for peerless handling and debonair attitude. It is also jaw-dropping modern, taking not only the very latest technological innovations and employing many for the first time on a motorbike, but sculpting the machine from a futuristic yet classically inspired vision.
Its featherweight solves one of the headaches normally attributed to brick battery EVs, and it has MotoGP levels of stiffness so that there's zero compromise on the riding experience. Vector utilises carbon swingarms front and rear, custom-made Ohlins dampers for telepathic handling and feedback, and meaty Brembo brakes on anorexic BST wheels. The entire package tips the scales at 220kg, which is almost 60kg lighter than comparable machines. Vector has the best power-to-weight ratio of any electric motorcycle of its class by a considerable margin.
The battery cells, which are supplied by Samsung, are the absolutely cutting-edge and Arc is the first motorcycle manufacturer with access to this technology. The battery packaging has been developed to be completely modular, flexible, and legacy-free, maximised for simplicity, space and mass-reduction. The monocoque philosophy has enabled Arc to wrap the bike in a structural form, allowing for maximum design flair. The form also means that Arc's batteries are the only motorcycle batteries tested to Reg100 standards – a test normally only undertaken by automotive OEMs.
The powercell produces 399 units of voltage, giving a realistic range of about 200 miles in urban use and 120 miles on the highway. That's about 30% more than any comparable EV. The NEDC (New European Driving Cycle) showed a 403-mile urban range, which is the drive-cycle often quoted by companies.
The motorcycle geometry of the Vector has a performance feel, with a reduced steering angle providing ultimate agility. Arc have produced a pro-dive set-up that offers more resistance than a standard fork set-up. The swing arm geometry and direct-connection scissor arrangement means more stiffness, less steering angle, a shorter wheelbase, and the separation of steering and suspension forces. In other words, it's the ideal system for the perfect ride.
In raw pace, Vector rivals fossil-fuelled superbikes, sprinting from standstill to 60mph in 3.1 seconds and carrying on to 120mph. Constant torque provides phenomenal throttle control and, if desired, front wheel lifting fireworks. Complete charging takes just 45 minutes with a fast charger. The combination of range, performance and practicality sets a new bar.
"At Arc, we have set out to create an electric motorbike with soul," explains Mark Truman, "one which thrills riders every bit as much as a flame-spitting internal combustion cycle, and which is more inspiring and desirable than any other two-wheel on the planet."
3.Let me know about various components of Arc Vector?
ARC :Helmet :The Arc Zenith helmet is inspired by those of fighter pilots. It features a connected Heads-Up Display (HUD) which gives the rider critical information and enhances the freedom and wellbeing of their riding experience.
  The sat-nav, speedo and ancillary graphics are projected onto their visor so the wearer can keep their eyes affixed to the road. The wifi-enabled bash hat, based on a brand-new version of Hedon's handsome calfskin-trimmed Heroine helmet, includes an in-built rearfacing camera, giving the rider the ability to see what's behind them.
Like the Vector bike, the Zenith helmet is a perfect illustration of traditional craftsmanship and innovative technology. The composite-fibre full-face Hedon helmet has had the rearview camera integrated, along with the rest of the tech, in the back of the helmet hidden in the shell. The anti-bacterial microfiber, calfskin lining and internal protective material gives access to the electronics, allowing a perfectly smooth contour on the outside, cozy comfort on the inside, and practicality, thus staying true to Arc's design DNA.
The live video feed can be seen projected onto the visor showing approaching vehicles as well as performance, dynamic and positioning information right by the rider's eye. This is a major step forward over previous monitor and prism-based HUD systems where a different focal length from the rider was required to read the display, therefore requiring them to take their eyes off the road. The Zenith's is much more Iron Man-style, meaning you can see the road and the read-out seamlessly at once. Control of all its features is wireless and can be voice-activated.
The helmet is, essentially, the key to the bike. Zenith activates the keyless start as you jump on the Vector. The three-channel ventilation keeps heads cool, the luxurious lining reduces sound, and the racing visor has an anti-fog double lens.
"People ask me if the Heads-Up Display could be distracting, but it's designed to be the total opposite," says Mark Truman. "The tech frees you and your senses because the distractions have been removed.
Ride Wear
It allows you to concentrate on the road and your one-ness with the bike, to just enjoy the moment knowing the bike is looking out for you and the information you need is right in front of you. Working with Hedon on this was a natural choice, due to their composite technology, luxurious materials and premium finishes. Together, I believe we've made the most stylish and high-tech design-forward helmet ever unveiled."
Arc Origin represents a game-changing advance in intelligent technology and the complete riding experience, making motorcycling even more immersive. For the first time, Human Machine Interface (HMI) has been applied to armoured ride wear, packing Arc's bespoke biker jacket with haptic sensors. This represents a new age in two-wheel safety and enjoyment.
For example, the biker's shoulder may vibrate to alert of a potential hazard, provide dynamic performance-based feedback, or enhance the senses when on a stimulating ride.
There are three modes. Urban Mode focuses on safety, alerting the rider to dangers such as vehicles in their blind spot with a polite tap on the shoulder. Sports Mode gives the rider feedback on the bike's dynamic position and parameters by taking G-Force related data from the Vector's sensors and providing a graduated level of feedback.
This tells the rider how close to the limit of the motorcycle's capabilities the rider is. For example, the harder you brake the more feedback you receive. Euphoric Mode lets you play music through the haptics as you ride and simulates the bass through the jacket's amplifiers, making your hairs stand on end. This is technology lifted from the entertainment world and improved upon.
As well as boasting Tron-like tech, the wireless armour and jacket represents the peak of style and is tailor-made for each customer by British brand Knox, based in the cycle-mecca Lake District, who are the benchmark protective bike wear and apparel. Knox's Micro-Lock armour, combined with Arc's haptic amplification, keeps you safe, agile, and free to enjoy the moment.
The sensors are of an audio-type and nuanced, placed in sensitive areas, to give subtle notifications, feedback and inputs which wouldn't be possible with motorised-type haptics. The system is wireless, has a run-time of over two hours, and can be recharged on the bike or from the mains when stationary. If preferred, the haptics can be switched off and the jacket isn't necessary for operating the motorcycle.
"We've taken technologies previously unexplored by bike builders to transform the way we ride," says Mark Truman. "In collaborating with Knox, we are taking total protection to a whole new level. Here we have the most technically-advanced clothing ever rendered.
"It's all about the interaction between the rider and the machine, and enhancing that experience. The rider and bike become one, seamlessly. Arc satisfies those of us who are
rarely satisfied, who are always looking for a different road, a different view. We understand the need to be different, to be better, and challenge the norm."
4 . Beyond being best-in-class and being innovators, what makes Arc unique?
ARC: Our focus is on Human Machine Interface – commonly referred to as HMI. It's all about the interaction between the user and the machine, enhancing that experience. Technology enables new ways of seeing and feeling. Arc does that using specially-designed riding equipment.
The Heads-Up Display helmet – Zenith – is pure fighter pilot technology. The HUD is a projection-based system inside the helmet, not the usual monitor. The haptic jacket – Origin – is a world-first in the motorcycle industry. When your smart phone vibrates, that's a haptic notification. Our haptic suit uses this sensory technology in many ways, such as safety, to 'tap' you on the shoulder to let you know what's happening around you.
Urban Mode, for riding in town, taps on your shoulder to alert there's something in your blind spots, for example. In Sports Mode, the garment provides performance-based feedback, something that is often lost with electric motorbike riding. Euphoric Mode, which is my favourite, is another way of enhancing the two-wheel Arc experience. That feeling as a motorcyclist when you have the road to yourself, the sky is clear, and you just feel free in that moment. This mode is to enhance that feeling, taking things one step further.
5 . How was Arc born?
ARC :  It was conceived while I was running Jaguar Land Rover's White Space department, which was all about crazy ideas with commercial opportunities. I had the idea for what became Arc about three years ago, after Jaguar Land Rover had me explore recreational vehicles for them. Hobby vehicles, basically. My team developed an idea around a business that would make, initially, electric motorcycles. Jaguar Land Rover were unable to pursue it internally, but loved the project so much that they asked me to take it outside with their support.
By coming away from the infrastructure of a big complex car company to become independent, it gave us the space and autonomy we needed to make it happen. Nevertheless, there are all sorts of projects behind the White Space division that have contributed to Arc. This huge breadth of things has allowed us a wide-angle lens, so we're not just focused on the bike – there's so much more to it than that.
6.Does Arc stand for something?
ARC : Arc is not an acronym. It's based on the idea of an arc of electricity, of architecture, and the arc we take every time we travel across the globe.
Arc is about a code – about getting balance. There is little point in developing a 100% sustainable vehicle if it weighs 500kg and has five miles' range. Arc is about finding the balance, the line of best fit to get the best result with what the world has available.
The architecture, in design and battery terms, is one of the most interesting elements of our package. We're ahead of the game when it comes to brick batteries. It's the same battery cell technology, but our approach has been to try and create a legacy-free system.
Someone may typically try and incorporate an existing chassis, but ours is all new. Because of costs they start off with their original platform. We wanted to eliminate having to use anything from previous products. It sounds almost primitive, but we have almost a Lego brick approach – we can stack our batteries into any shape.
7.What was the original concept of the Vector bike?
 ARC : The concept was to try and design the best performance electric motorcycle. With electric vehicles in general, the powertrain weighs a lot. This really can't be avoided if you want capacity, distance and performance. So, it was about stripping everything back and using a lot of exotic, lightweight materials, such as carbon-fibre. The chassis and battery module had to be one, and had to have an aesthetic A-Surface, and because of this approach we've been able to reduce the weight as much as possible to achieve the performance we wanted.  The design brief was if the term "cafe racer" was going to be coined in ten years' time – what would that look like? Design inspiration came from an electric violin. Everything that is required to perform the art is present, but everything else that doesn't need to be there has been removed. It is about purity of design.
8.What prompted you to create the Zenith helmet and Origin jacket; ride-wear which communicates directly with the motorcycle?
ARC : We felt that there was more one could get out of motorcycling, which no one was tapping into. We want to allow people to make the most of their 'moment'. This is about using technology to strip back the experience of riding a bike as much as possible, through the use of haptics and HUD. The helmet and jacket work in tandem with the Vector to remove distractions and emphasise the joy of riding
9.What are the company's long term plans?
ARC : As a company, Arc is primarily a business that wants to build vehicles that challenge the environment while protecting it. We are all motorcyclists and we all love to ride. The changing world with ever-demanding regulations and restrictions means we have to invent new ways of doing what we love, and Arc sets out to do this without compromise.
Other bikes and vehicles will follow as we establish Arc as the world's leading premium electric motorbike and recreational vehicle OEM. Despite global ambitions, though, we're not building on an assembly line. This is a modern craftsmanship business, and all our machines will be hand-built. We are a British brand with a strong, uncompromising ethos. We are a business that's trying to do the right things for the right reasons. We're very passionate about what we do and want that to come through in the experience. Vector is the first contribution to that cause, using Arc as a voice for change.
10.Will the company produce vehicles beyond two-wheelers?
ARC :  The technology that we've developed can go well beyond motorcycles, yes – and this is as much about launching a technology and lifestyle brand as it is about unveiling a new bike. I think there will be a lot of exciting developments in store. The platform that we have created, and which has debuted with Vector, can be easily adapted to all sorts of other layouts such as quad bikes, trikes, ATVs, many different products. We'll see how the brand and Vector are received and plan our model expansion accordingly, but they will all be focused and niche.
11.How challenging has it been to establish a new company from scratch, as well as build this revolutionary product?
ARC :  I love a challenge but, yes, it's been a learning curve in terms of running a business and all that entails. White Space helped with the engineering and creative side, but the business side has been relatively uncharted territory. I'm an engineer, predominantly, and I'm learning that you can't be a master of everything in a multi-faceted project such as this, so I delegate and get the best people involved for the best outcome to take my vision forward. It's taken some time, but we've secured the necessary funding and we've got an incredible team around us.
12.Let me know your team members of ARC team?
ARC : We are very lucky with the people we've been able to pull into the project – it's been like Avengers Assemble. Our Chairman is David Roberts – an incredible engineer and entrepreneur formerly of Aston Martin, who has a lot of experience in running large technology-based businesses. We have a MotoGP chief engineer as well as ex-Triumph people, composite FEA analysis specialists, designers who are ex-Jaguar Land Rover, Ducati, KTM etc.
We've simply honed in on the best tech solutions for the product; fresh thinking creative engineers and designers who share the passion and vision for this project. At the moment there are 12 people in the design office and also a number of admin staff, technicians and manufacturing staff. By the end of next year, Arc will be at around 50 people. When we think about our suppliers, partners and other consultants you can add another 50 people involved in the project outside of the core team.
13.Given the ground-breaking tech and the bespoke manufacturing, won't Arc be out of reach for most riders?
ARC :  The whole Arc experience is a premium package at a premium price point, but with time we'll be looking to get this technology to more and more people. It's the same with most technology at its start point, but the more we work with it the easier it will become to apply it to other products for wider audiences.
14.Let me know after sales service of ARC ?
ARC : The experience of buying and owning an Arc product is as individual, luxurious and highlydetailed as the machine itself.
Arc will have an integrated relationship with all of its customers. The entire package is made to order; the bike, the helmet and the jacket all being tailored to fit the customer, with a choice of colours, materials and optional design features. Bespoke is available, within reason, at the standard list price.
The launch time-frame for completion of orders is 15 months, but this will be reduced to as little as six months at the tail end of 2019. The bike will be hand-assembled on site at the Coventry-based workshop by leading professionals, and owners are invited to see their pride and joy being built should they wish.
Arc will install a personal electric charger at the owner's desired premises. Away from home, the Vector can be charged in 45 minutes at a quick charge point or service station.
Arc's hotline is available all day seven-days-a-week. Arc's dedicated mechanics are on standby and can travel to anywhere in the world within 24 hours, should it be required. Nevertheless, with long service intervals, minimal moving parts and diagnostic work that can be made remotely from Arc HQ, reliability is expected to be excellent and customers can rest assured that Arc's products are built to be ridden whenever and wherever the desire takes them.
Boutique Arc sales and servicing centres will spring up in key territories as the brand becomes established internationally.
Specs and Price of ARC Vector
Build Volume : 399 '
Maximum Power :103 kW
Maximum Torque :85 Nm at Motor, 397 Nm at Gearbox Output Sprocket
Battery Capacity : 16.8 kWh (Samsung Battery Cells)
Mass :220 kg
Top Speed 200 km/h Range 436 km (EU Reg. 134/2014, annex VII)
Charging Time :  30 minutes (CCS Rapid Charging)
Frame :Carbon Fibre Monocoque
Front Suspension :Hub-Centre Steering, Carbon fibre swing arm, Öhlins ILX36 mono-shock, 110mm wheel travel
Rear Suspension :Carbon fibre swing arm, Öhlins TTX36 mono-shock, 110mm wheel travel
Brakes : Brembo Stylema 4-piston monobloc calipers with 320mm floating front discs, Brembo 2-piston caliper with 240mm rear disc, Continental Advanced ABS with IMU
Front Wheel: BST Black Diamond 5 carbon fibre wheel 120/70 ZR17 Pirelli Diablo Rosso Corsa II
Rear Wheel :BST Black Diamond 5 carbon fibre wheel 180/55 ZR17 Pirelli Diablo Rosso Corsa II
Seart Height :840mm
Wheelbase: 1438 mm Rake 18.5° Trail 100mm
Connectivity: Wi-Fi and Bluetooth protocol across motorcycle, cell phone, helmet and jacket
Haptics :ARC ORIGIN JACKET (co-engineered with KNOX), with 8x high-definition haptic transmitters
HUD ARC ZENITH HELMET (co-engineered with HEDON), with wave-guide projection
HUD Riding Modes Road, Rain, Sport, Track, Eco and Euphoric
Zero-60mph :Under 3.1 seconds
Voltage :399 units
Price Starts: at £90,000
Other Reads
Barcelona based Pursang launches E – Street bike
ERoys Adaptable E-Bike
UK gets Arch Motorcycles
---
Source : Arc Vehicle
Video Credits : Sidhu and Simon