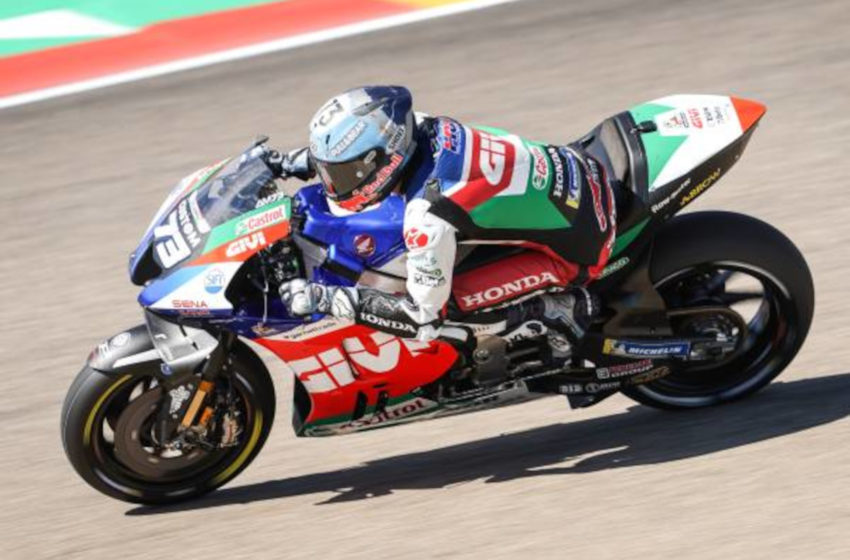 Marquez returns to MotoGP action in spectacular style
Marc Marquez (Repsol Honda Team Honda RC213V) lit up MotorLand Aragon yesterday and today as he returned to race action after a 15-week absence following the latest surgery to the right arm he injured in 2020.
The 29-year-old Spaniard with the indomitable fighting spirit was immediately back to his usual displays of magical riding, saving front and rear slides in spectacular fashion and entertaining TV viewers and the trackside crowd with his remarkable feats of skill and daring.
The MotoGP World Champion had an exciting Saturday after a remarkable Friday, in which he finished just 0.359 seconds off the fastest lap time, despite his lengthy layoff.
FP3
In this morning's FP3 session, he took the chance to experiment with different chassis geometry settings on one of his bikes but slid off the other machine, leaving him the task of making the top ten (to go straight through to Q2) with the experimental set-up.
As usual, Marquez gave it his all, ending FP3 in 12th place, less than two-tenths of a second outside the top ten. He rallied as always to finish Q1 third fastest, missing out on promotion to Q2 by just six-hundredths of a second. He will start his first race since May's Italian Grand Prix from the fifth row of the grid.
Marquez's race return follows initial outings on his Honda CBR600RR training bike, then two days of post-San Marino GP testing, which went encouragingly well. His aim for tomorrow and the last five races of 2022 is to continue his rehab, regain bike strength and help Honda find the best development direction for 2023. Race results are, to an extent, irrelevant.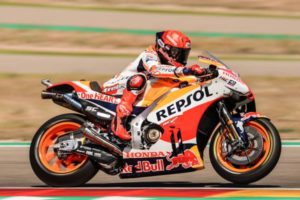 Practice sessions
Honda's top qualifier today ended up just ahead of Marquez. Takaaki Nakagami (LCR Honda IDEMITSU Honda RC213V) had an excellent first three practice sessions, which took him straight through to Q2 for the first time since June's Dutch TT. 
The 30-year-old from Chiba ended that outing 12th fastest for a fourth-row start. Nakagami qualified on pole for the first time here two years ago, so he knows the quick way around this racetrack and will be aiming to better his best 2022 results so far – two sevenths at Jerez and Le Mans.
Nakagami's team-mate Alex Marquez (LCR Honda CASTROL Honda RC213V) ended qualifying in 16th, not the best result. Still, MotoGP is so crazy-close at the moment that he was less than sixth tenths of a second away from going directly into Q2.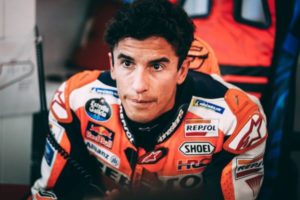 Honda RC213V
The 26-year-old Spaniard and twice World Champion was a regular visitor to the Aragon podium during his time in the Moto2 and Moto3 World Championships, so he hopes for a strong race tomorrow.
Pol Espargaro (Repsol Honda Team Honda RC213V) did everything he knew to make it through to Q2, pushing so hard in the Q1 outing that he slid off at the end of the session. That left the 31-year-old Spaniard unable to show his actual speed, so he started the race from 18th on the grid.
Tomorrow's Grand Prix of Aragon completes the main European section of the 2022 MotoGP series, with riders and teams heading east for next weekend's Japanese Grand Prix at Twin Ring Motegi and the following weekend's Thai GP at Buriram. Two weeks later, it was the Australian GP, then immediately the Malaysian GP. The season concludes with the Valencia GP on 6 November.
Takaaki Nakagami 30
LCR Honda IDEMITSU
It was an excellent second day for us. We did a good job this morning in FP3 and ended up in P9. For a long time, we couldn't get into the top 10, but we did it today, so I'm pretty happy about the result. We expected a little more this afternoon in Q2, but I did my best we need to improve some areas, some electronics and the bike's set-up. Our race pace looks good, so I'm looking forward to tomorrow's race. We'll make the last check-in tomorrow morning's warm-up to prepare ourselves for the race, and then I'll do my best for my team and myself.
Marc Márquez 93
Repsol Honda Team
FP3 was a bit of a complicated session, and we had our first crash since returning, but there were still some positives. It was nice to make an amazing save like this again, and then in the afternoon, I was feeling better. In the mornings, I struggle to find the rhythm and ride well at the moment, but then we get better – it's normal. I don't have any target for the race. It's only about seeing what we can do and how the body reacts after 23 laps.
I am looking forward to it! 
Alex Márquez 73
LCR Honda CASTROL
Second day here, and we made an excellent step compared to yesterday. We improved the bike's set-up, and the team did a fantastic job. We improved the electronic side we were suffering with yesterday, and FP4 was positive. 
We were trying to understand which tyre we'd need for the race, and we have that quite clear now, which is always essential. We'll try to make a good start, but it was always tricky. I did my best and tried to improve my best lap-time here from last year, and I did that. I'm not happy with the result, but during the race, with the pace we have, we could be tenth to 15th, which will be tomorrow's primary target.
Pol Espargaro 44
Repsol Honda Team
Today was another difficult day, and we were chasing the grip again. The fall in Q1 hurt us because I think we could have gained some places if we had finished this lap. Starting this far back always makes for a complicated race, and especially here in Aragon, the first few corners can be critical. Let's see what we can do in the race and how the grip is for the race.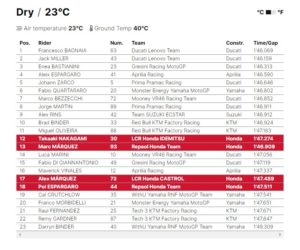 Source: HRC