MotoGP: Red Bull KTM confirms the 2020 lineup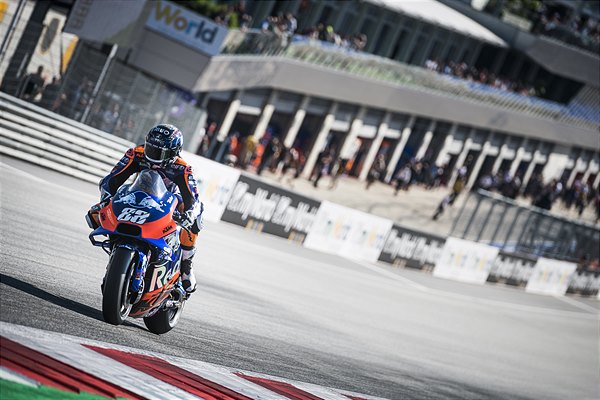 Red Bull KTM will field former world champion and class rookie Brad Binder alongside Pol Espargaro for 2020 MotoGP. The South African's saddle, initially planned at Red Bull KTM Tech3, will be taken by Spaniard Iker Lecuona.

KTM have decided to invest and trust in the racing instincts of two MotoGP debutants for 2020 and for the next development phase of the factory RC16.
Brad Binder's impressive progress through Moto3 and Moto2 divisions meant the 24-year old was well on the road to a premier class saddle for 2020 but with a slot opening in the Red Bull KTM Factory Racing team Binder has been placed next to Pol Espargaro for his first term.


Iker Lecuona, who has taken Moto2 podium honours in both 2018 and 2019, had been signed for a Moto2 ride in 2020. The 19-year old has now been promoted to the Red Bull KTM Tech3 MotoGP effort alongside Miguel Oliveira.


Four riders, three nationalities and three athletes below the age of 25 means KTM are now set for their fourth year of MotoGP participation.

Pit Beirer, KTM Motorsport Director: "It was clear that our plans for 2020 needed to change following our mid-season announcement. After some thought and talks we decided to move in this direction and let the young, hungry guys with good experience in the other categories of MotoGP show us what they can do.
Brad is a rider that has made his way through the KTM structure and we have no doubt whatsoever that he can walk into the Red Bull KTM team and keep showing that same style and never-give-up attitude we have seen for a long time. Iker comes into the Red Bull KTM Tech3 team and we're super-confident that Hervé and his guys will be able to help and develop another rookie like they have done so well with Miguel this year.
We know we are making good and exciting steps with our MotoGP project and with next season now fixed we can really start building up to this new chapter."


Mike Leitner, Red Bull KTM Team Manager: "I'm super-happy with the duo we have for 2020. We had a long discussion about it but finally I think it is a good decision that KTM made. In Pol we have a very strong rider who has made good results for us and we've seen in the other categories what Brad is capable of with our bikes. He is one of the young kids that has come through the rank. It will be a big challenge for him but I think he will have a great future in MotoGP."

Hervé Poncharal, Red Bull KTM Tech3 Team Principal: "My feeling is that this is the strongest 2020 KTM line-up we could have hoped for. We want to have four riders with talent, passion, will and that they will stick to the project. Personally I am happy to work with a young and talented rookie like Iker. This is the way to go for the future and we have seen that the same approach has brought some success to other teams. Let's start working on 2020: we have the technical support and we have the right people onboard. I believe we will take a big step next year with both Miguel in his second year and Iker keen to show us what he can do."
Brad Binder

Born: 11th August 1995 in Potchefstroom (RSA)
World Championship debut: 2011 (125cc; 5 races)
Notable results/achievements:
-2016 Moto3 World Champion (KTM)
-12 Grand Prix victories (5 Moto2; 7 Moto3)
-32 podiums (12 Moto2; 20 in Moto3)
-7 Pole Positions (1 Moto2; 6 Moto3)
-2019 marks his 3rd Moto2 season (all with KTM)
-Became a KTM rider in 2012 and since 2015 with Red Bull KTM Ajo
-Red Bull Rookies Cup classifications: 2011 (7th), 2010 (5th), 2009 (14th)

Iker Lecuona

Born: 6th January 2000 in Valencia (ESP)
World Championship debut: 2016 (Moto2; GBR) at minimum age 16
Notable results/achievements:
-2 Podiums in Moto2
-2018 (12th) and 2019 (currently 11th) on KTM RC12
-2015/2016: FIM CEV Repsol International Championship in Moto2
---
Source : KTM