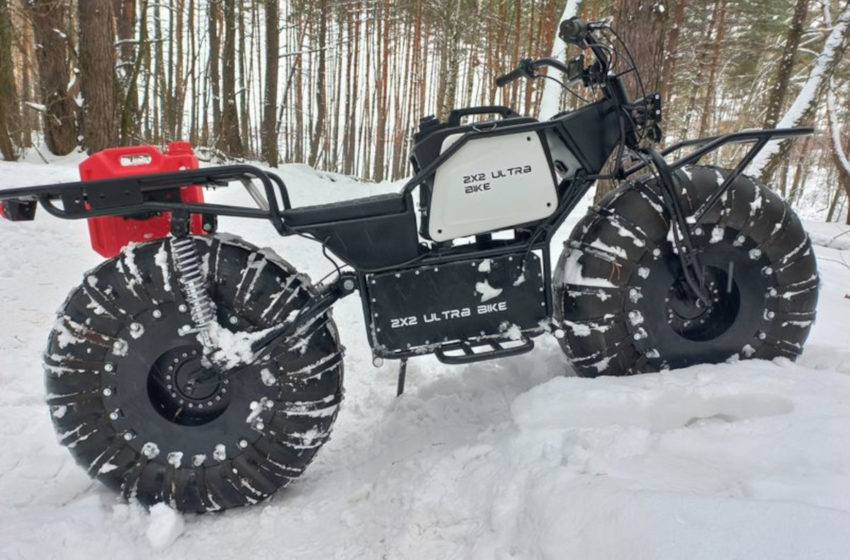 Robo Systems eBike is the ultimate off-road mobility vehicle
Robo. Systems, a U.S.-based technology and product company have unveiled the latest 2×2 Ultra Bike, the newest mile range electric bike to hit the market. Robo. Systems have introduced the world's most versatile, off-road, self-sufficient energy vehicle with its 2×2 Ultra Bike. Here are the features of the e-bike.
Motor
These electric motors provide the maximum torque needed to tackle rugged off-road terrain.
Brushless DC air-cooled.

High durability planetary geared system.

Fully splined gear interfaces.

Sealed bearings.

Active heat management.

Active venting for residual moisture. Brushless DC air-cooled.

High durability planetary geared system.

Fully splined gear interfaces.

Sealed bearings.

Active heat management.

Active venting for residual moisture.
Lower pressure tires
Due to the larger volume, the wheels have positive buoyancy, which allows for overcoming water obstacles while swimming. It is not easy to puncture these wheels because they create minimal pressure on the ground. The exact property of our wheels allows you to move with confidence on swampy and sandy terrain and overcome deep snowdrifts.
Specific ground pressure – 0.3 kg/cm²

Two layers of rubber

Metal grouser plates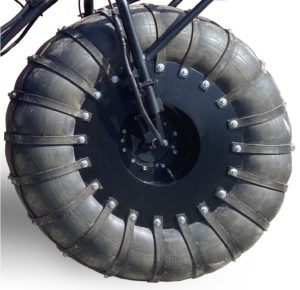 Gasoline generator
The frame of our 2×2 Bike allows the location of a portable gasoline generator for when you plan a long trip and need unlimited range. The built-in battery charger recharges the battery while the generator runs, allowing a virtually complete range. You can easily remove the generator, and the Bike can be used without it, only on batteries.
Voltage 220V

Manual starter

Max power, kW 0.85

Weight 9kg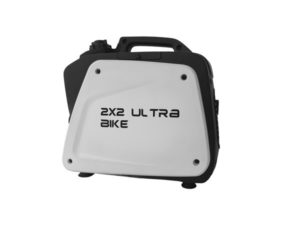 Fuel tanks
Tanks are fully sealed. Allows you to store and transport fuel for the generator or drinking water. The total volume of fuel reserve is 40l. Each tank has two holes for draining and pouring fuel.
Tank volume in each wheel 20 L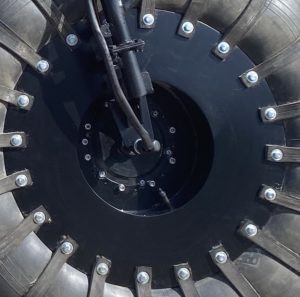 Onboard charger
A built-in pulse charger with an adjustable charging current is available onboard. It allows the battery to be recharged from a running alternator while driving or parked with up to 15 amperes of current. Or it is possible to charge from the 110/220V electric network in an accelerated mode in 1 hour.
Charging capacity – 1500W

Adjustable charging current 15-30A

Charging voltage 48V

Full charging time – 1 hour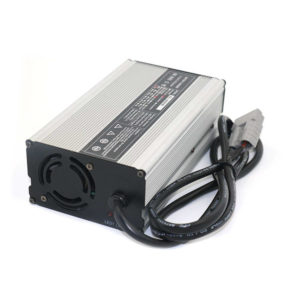 Invertor
From our 2×2 Bike, you can power electric tools and other electrical appliances up to 3000W in the field. 
Input voltage 48V

Output voltage 110/220V

Power 3000W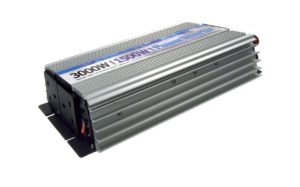 Battery
Lightweight, compact and durable lithium-iron-phosphate LiFePO4 battery 48V 30Ah. Assembled from sixteen 3.2V 30Ah cells connected in series. A stable, reliable and durable battery is installed symmetrical BMS board, which protects the battery from overcharging and over-discharging and provides cell balancing. 
The battery is equipped with a protective textolite casing in heat shrink, which protects against dust and moisture (IP44). The battery is non-flammable and contains no toxic substances. The battery withstands 2,000 charge/discharge cycles up to a 20% capacity loss in harsh operation and 8,000 cycles in gentle mode.
Lifepo4 chemistry type

Rated voltage 48V

Capacity 1.6KWh

More than 2000 cycles

50km range

Maximum discharge current 150A

Maximum charging current 60A

No memory effect

Operable from -20℃ to +60℃

Low self-discharge

Built-in BMS protection circuit board

Built-in passive balancers
Supporting cylinders
For navigating fords and light water obstacles, our 2×2 Bike has positive buoyancy. But it needs supportive cylinders on the sides to stay firmly in the water.
A compressor from a 12V onboard network performs pumping.
LED optics
Dual LED headlights at the front and LED taillights at the rear. Turn indicators—steering wheel controls.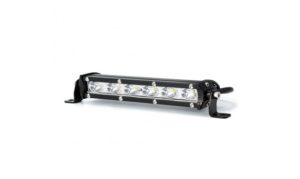 Hydraulic brake system
Hydraulic & regenerative brakes operate together.

Active regenerative braking (brake activated):

Independent front and rear brake control.

Passive regenerative braking (off the throttle).

DOT approved hydraulic brakes.

190 x 2.3mm rotors.
Our 2×2 Bike has a hydraulic brake system on both wheels. Brake disc diameter of 190mm. Hydraulic brake calliper.
via Robo Systems