Streetfighter V2 spotted! Ducati's newest baby racer
Ducati's first attempt at creating a more approachable street naked than the brand's proper bikes was the Streetfighter.
The Streetfighter moniker
The moniker stuck and most current Streetfighters, Ducati's included, are derived from the Streetfighter name.
Of course, engine performance and technology are more important than ever in this class. 
But the key is making them work together—in a marriage of bikes and their engines. 
The Streetfighter V4 sounds like it folds the best Ducati engines together. An engine powering a machine if you will. 
Once again, the engine is a Desmosedici Stradale V4 matched to a DIRAC system.
While there are many talks about the new Streetfighter V4 SP.We also hear strong rumours about the new Streetfighter V2.
Streetfighter V4 SP
The Streetfighter V4's purpose is to "bridge the gap between the Sport and naked lines". 
That should mean the new Streetfighter V4 SP will be sportier. And laden with more tech than the current Streetfighter V4. 
It means it will also appeal more to non-enthusiast riders. 
Ducati also appears to be positioning the new Streetfighter V4 SP above V4 S.Stating that it "combines many features with new technology derived from their MotoGP experience."
Streetfighter V2
A spied photo from the Streetfighter V4 Facegroup shows us a bike standing ahead of Multistrada V4. Rumoured to be the new Streetfighter V2.
The Streetfighter V4 arrives with the 1100 cc Desmosedici Stradale delivering 208 hp. Kept in hand by biplane wings and a complete electronic package 90.4 lb-ft torque and weighs just 180 kgs.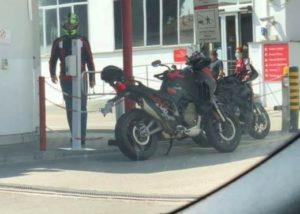 However, if the rumours are accurate and as we see from the spied photo above, apart from the V2 engine. We can also see the front arrows attached to the forks.
The rear is covered by the Multistrada standing besides it however we expect if things go well it will be same as the Streetfigther V2 and a smaller sibling to Streerfighter V4.
On the other hand Panigale V2 gets 955cc engine that makes 114 kW (155 hp) @ 10.750 rpm with 04 Nm (76,7 lb-ft) @ 9.000 rpm torque.
Well, Ducati may likely want to put the same engine in the new Streetfighter V2. Which rather will be a stripped version of the new Panigale V2.
If all this is true, we may see Ducati expanding its Streetfighter portfolio with V4 SP that is sure to come and the rumoured Streetfighter V2.
Time will tell.
via Facebook Group