Taddy takes third in the SuperEnduro World Championship battle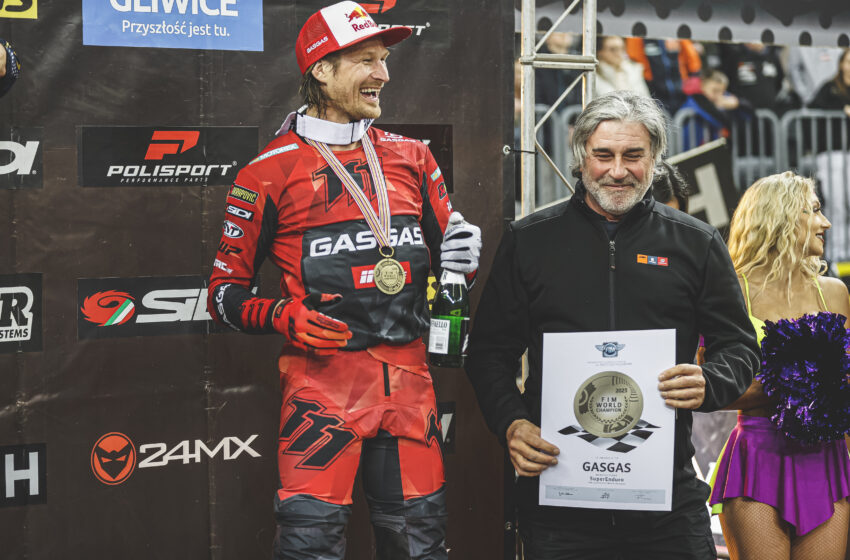 Media Press Release
It all came down to this! The fifth and final round of the 2023 FIM SuperEnduro World Championship was an absolute nail-biter, with GASGAS Factory Racing's Taddy Blazusiak overcoming the odds to bag third overall in the championship fight. 
Despite entering the season finale on the back foot, Taddy used his home round in Poland to his advantage on his EC 350F to finish on the box and end the championship on the podium too!
Taddy is on the box with third in Poland

EC 350F racer fights to the end for third overall in the championship

GASGAS wins SuperEnduro manufacturers' title
Taddy
Taddy Blazusiak: "What a night! It was a tough battle, and I gave it everything I could. The final race was tight on points for third overall in the championship, and I knew I had to send it! I rode well and aggressively moved to get up to the second position. It's been so lovely to get third overall in the championship in a hard season. I came in injured and on the back foot, but we never quit. To help GASGAS take the manufacturers' award is pretty sweet too."
After a challenging four rounds racing his way back into shape following a wrist injury, Taddy found his best form when it counted most in Gliwice, Poland. Feeling sharp from the off, he was ready to fight tooth and nail for the final step of the championship podium with close rival Cody Webb.
Good start
A great start to the night saw him come away with third place in race one. Putting in fast laps and being able to attack from start to finish left him wanting more for race two. Always a difficult one to judge due to the reversed start order, Taddy got to work. Multiple battles saw him reach as high as second before placing an eventual fourth.
With it all to play for in race three, Taddy was on a mission to finish the job and take third overall in the championship. Straight out of the gate, he hustled hard and made up positions everywhere he could. 
With rival Cody Webb on his rear wheel, Taddy kept looking forward and charging. Moving up into second place and cheered on by his home fans, Blazusiak was in his element. Undoubtedly his best ride of the season, Taddy took his EC 350F to second place and third overall in the championship chase.
Although at times this season, wishing luck was never on his side, Taddy always dug deep with a true fighting spirit as only he could. Rewarded with a podium result on home soil and the top three in the championship, Taddy's performance also helped to give GASGAS the top manufacturers' award in the 2023 FIM SuperEnduro World Championship.
Results – SuperEnduro Round 5
Prestige Event Classification
1. Billy Bolt (Husqvarna) 63pts
2. Jonny Walker (Beta) 49pts
3. Taddy Blazusiak (GASGAS) 45pts
Prestige Race 1
1. Billy Bolt (Husqvarna)
2. Jonny Walker (Beta)
3. Taddy Blazusiak (GASGAS)
Prestige Race 2
1. Billy Bolt (Husqvarna)
2. Cody Webb (Sherco)
3. Jonny Walker (Beta)
4. Taddy Blazusiak (GASGAS)
Prestige Race 3
1. Billy Bolt (Husqvarna)
2. Taddy Blazusiak (GASGAS)
3. Jonny Walker (Beta)
Final Championship Standings
1. Billy Bolt (Husqvarna) 310pts
2. Jonny Walker (Beta) 260pts
3. Taddy Blazusiak (GASGAS) 194pts