The 2023 KTM 1290 Superduke R prototype spied in European Alps
Once again, we have a new KTM 1290 Superduke R in the rough, and 2023 was spied in the European Alps. KTM has already started testing the new 1290 Super Duke R. 
They took photo shots on the road to the European Alps, where the Austrian manufacturer continues to work on a semi-active chassis (thus the abbreviation Evo).
A huge motorbike with a very tall way up is the KTM 1290 Super Duke R. The developers are extremely serious about the project, which was only expected. With this, the new test mule was released recently, increasing the number of viewable parts.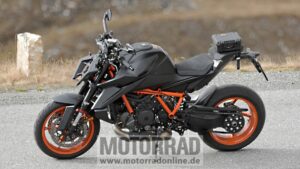 The KTM 1290 Superduke R Prototype
This is how it will remain for now. The prototype here appears to be based on the existing version already released in Europe in 2017, with slightly higher power than its predecessor at 177 hp. 
But the most important details we see are the acronym EVO added, which means Evolution, and this version comes as top-end with semi-active chassis. 
The signs are clear: The KTM 1290 Super Duke R continues to evolve. And sometime in the future comes a new version. Because of the current state of affairs, the clues are without a doubt.
Read Also: Secrets of the new 2022 KTM 1290 Superduke R
End to the split headlights
As with previous models, it will represent the most potent series KTM. This is an icon of the brand and is considered by many as one of the Kings of Motorcycles in the market today. 
The Austrian manufacturer calls this "Beast", which may be too much for some but certainly does not leave any doubts about its positive side when talking about performance and functionality. However, what we won't see is the aggressive split headlight. KTM's Design House, Kiska, decided to put an end to this split headlight.
Further, we can see WP Suspension with an upside-down telescopic fork. On the basic version, we will see red forks, while on the Evo will see blue forks. In these spy shots, we don't see a semi-active chassis.
At the same time, there is a single swingarm, an orange trademark frame, and an upside-down telescopic fork with sensors and wiring.
Also check: Brabus tweaks KTM 1290 Super Duke R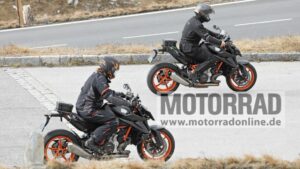 Chassis optimization
However, these two KTM 1290 Super Duke R's spied are built similarly. The blue cables you see on the prototype are Lambda sensors used to fine-tune the motor.
The present KTM 1290 Super Duke R arrives with an LC8,1,301 cc (79.4 cu in), 8-valve, 75° V-twin engine capable of making 177 hp (132 kW) and 106.20 lb-ft (143.99 N⋅m), which in turn is responsible for allowing the Super Duke R to have a top speed of 289 Km/h (180 mph).
Do we require more horses? Well, time will tell.
Source and Images: MotorradOnline