THE BRABUS 1300 R roars off the line in less than 2 minutes
It took a mere 1 minute and 55 seconds for all 154 ultra-exclusive BRABUS 1300 R motorcycles to sell out via KTM's digital pre-order platform.Approximately a BRABUS 1300 R sold every second. Making a true statement about exclusivity, hand-built luxury, and individual sovereignty.
The BRABUS 1300 R represents a full-powered partnership between two European superpowers. Namely KTM Sportmotorcycle GmbH and BRABUS.To create a unique first entry for BRABUS into the world of motorcycling.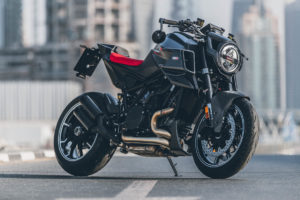 BRABUS 1300 R
Based on the new KTM 1290 SUPER DUKE R EVO, the BRABUS 1300 R is worthy of the BRABUS portfolio of bespoke. High-performance machinery, boasting incredible power from its astonishing 1,301 cc V-Twin engine. All this is combined with high levels of sophistication thanks to WP semi-active suspension technology and rider-enhancing electronics.
More astonishingly, however, is the genuinely unmatched sell-out time. No doubt, the quick-fire and rapid pre-orders meant a few buyers were left wanting. Thankfully, KTM has created an online waiting list. Which will allow interested buyers the chance to get their hands on a BRABUS 1300 R should any previous reservation be cancelled.
via KTM