All the talk of the RX 100s and the Bajaj Chetaks has brought on a wave of nostalgia. Any talk of bikes of the era that has gone by is incomplete without mentioning Hero Honda CD 100 SS.
100CC
To begin with, the 100CC engine might not seem impressive, especially by today's standards. But once upon a time, it was gold. The green and orange lights of the neutral gear transmission and the indicators were a sight to fall in love with. And the sound of the firing. Oh, ho ho ho. It was pure melody to the ears.
My first encounter with this bike was at a very early age. It was the second two-wheeler that my father had owned after Bajaj Chetak. Yeah. I know, right. 
My old man is a person of refined taste. Anywho. I have fond memories of going around the town without a care for the world. I was so young that I had to park myself on the fuel tank. It might seem risky to read, but let's get real. Wasn't that the most common seat for us Indian kids when riding with elders?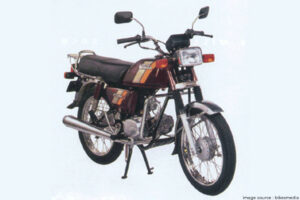 The true icon
Given my young age, I never got to take beauty for a spin. After a few years, we bid adieu to the Hero Honda CD 100 SS to get, and oh wait, THE iconic Kinetic Honda. Did I tell you my old man had a delicate taste in two-wheeler? More about the Kinetic Honda in the articles to follow. Anyway. My dream of riding Hero Honda remained just a dream.
Alright, alright. It was Hero Honda CD 100 SS, technically. But for the common man, wasn't it just the Hero Honda? A few brands, at that time, had become synonymous with the product category to which they belonged. For example, be it any toothpaste brand was always known as Colgate.
Second encounter
The second encounter with this machine in my life was years later. The story of that will come in the article to follow. But be advised. Though true, a few things from that story are on the wrong side of the law and by no means inspire emulation.
What was your first experience and encounter with the Hero Honda? Do comment below and let us know.