Torrential Thai weather and fast racing for GASGAS
A dramatic weather-dominated OR Thailand Grand Prix saw GASGAS race to fourth in Moto2™ with Jake Dixon and fifth in Moto3™ with Izan Guevara.
In Guevara lays on a champions ride into 5th from P11, despite a problematic weekend, while Sergio García suffers a DNF after being taken out on lap one.

Jake Dixon made the most of a storm affected and shortened the Moto2 race to finish 4th, while Albert Arenas took 14th.

With three races remaining in 2022, GASGAS are poised for championship success in Moto3 by topping the Rider, Constructor and Teams standings.
GP
The relentless schedule of races continues to double down, with GASGAS battling through their third Grand Prix in a row. Moreover, Thailand's ultra-fast and flowing Chang International Circuit welcomed its first Grand Prix in three years.
From wet to dry and back again, the Thailand Grand Prix was arguably dominated by the weather, typical of the hot and humid conditions experienced in Thailand during early October. The Gaviota GASGAS Aspar Moto3 Team and their rivals managed to sneak a race before the looming clouds soaked the 4.6km, 12-turn venue.
From what could have been a disastrous weekend, Izan Guevara managed to convert a P11 start into a top-five finish after an arduous practice and qualification period on Friday and Saturday—working the 22-lap race to the maximum.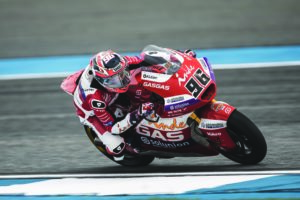 David
Guevara fought hard to close down a sizable gap to the leading group and engaged in a four-way battle for fourth with Stefano Nepa, David Muñoz and Andrea Migno. On the final lap, Guevara survived a few major scares unscathed to cross the line in 5th and bag 11 points in the process. 
The result means he also takes a 45-point advantage over nearest championship rival Dennis Foggia, who leap-frogged Sergio García in the standings after taking the Moto3 win in Thailand.
García, in particular, endured a weekend to forget in Thailand, with a P20 grid start turning into a nightmare result. On the opening lap, rival Adrian Fernandez high-sided through turn 12 and side-swiped García into the gravel. Despite restarting and circulating for a handful more laps, García eventually retired on lap 8.
Moto3
Shortly after the Moto3 podiums concluded and the Moto2 crews – including The Inde GASGAS Aspar Moto2 Team – were lining up on the grid, rain spots appeared on everyone's visors. Unfortunately, what began as light precipitation, turned into a monsoon-style soaking and resulted in a fragmented Moto2 race.
Red flagged after eight laps due to the weather conditions, Jake Dixon – who recently renewed his contract to ride for GASGAS in 2023 – secured 4th place from his P7 grid slot. 
Meanwhile, Albert Arenas, who had finally won the Moto3 race last time he was in Thailand in 2019, finished 14th from his P15 grid slot and ploughed through the pack in the rain after a late tire change and launching from the pitlane.
Next up, Phillip Island beckons, with the Australian Grand Prix on October 16.
Sergio
#11 – Sergio García: "I don't know what to say. I tried to do my race and come back step-by-step, but it barely lasted a lap when someone crashed into me, and that was it. I know things like this can happen, but it is still hard to accept. I went back out to see if there was anything to salvage, but it was to ride around in the end, so not worth it. Forget this one and think about the next one."
#28 – Izan Guevara: "Time to think of the championship. It was a tough race and demanding on both the front and rear tires and physically for me. I started well and felt good, but I couldn't run with the group ahead and then had to focus on the 5th. We have our first chance in Australia, and we'll see how we do."
Albert
#75 – Albert Arenas: "An unexpected race. The rain started when we were on the grid and ready with slicks. Then the race was declared wet, so we quickly had to change bikes and tires and start last. I did well at the beginning and gained twenty places near the top ten, but it was hard to see on the track and was pretty crazy. 
Red flag, and in the end, we could not restart. A new experience, and good to learn how to handle the stress of last-minute changes. I wanted to continue to see where we could finish, but now a week off and a chance to recharge before we go to Australia."
#96 – Jake Dixon: "Crazy race. It was just a matter of survival, and I rode well within myself because I wanted to finish. I was close to Canet when the red flag came out, so it could have been another podium. Who knows. The heavier the rain was, the less risk I wanted to take. When the bike is aquaplaning along the straight at 150mph, it doesn't matter how much talent you have. Another solid result, and we'll enjoy the week-off before Phillip Island."
Results – 2022 Moto3 World Championship, Round 17:
1. Dennis Foggia (Honda) 22 Laps; 2. Ayumu Sasaki (Husqvarna) +1.524, 3. Riccardo Rossi (Honda) +2.804, 5. Izan Guevara (GASGAS) +9.527, DNF. Sergio García (GASGAS) +8 Laps
Moto3 Championship Standings – After Round 17:
1. Izan Guevara (GASGAS) 265pts, 2. Dennis Foggia (Honda) 216pts, 3. Sergio García (GASGAS) 209pts
Results – 2022 Moto2 World Championship, Round 17:
1. Tony Arbolino (Kalex) 8 Laps; 2. Filip Salac (Kalex) +0.251, 3. Aron Canet (Kalex) +3.112, 4. Jake Dixon (GASGAS / Kalex) +3.268, 14. Albert Arenas (GASGAS / Kalex) +1 Lap
Moto2 Championship Standings – After Round 17:
1. Augusto Fernandez (Kalex) 238.5pts, 2. Ai Ogura (Kalex) 237pts, 3. Aron Canet (Kalex) 185pts, 8. Jake Dixon (GASGAS / Kalex) 127.5pts, 13. Albert Arenas (GASGAS / Kalex) 74pts
via GASGAS