Watch the video Of Joan Mir and Alex Rins testing the Suzuki Hayabusa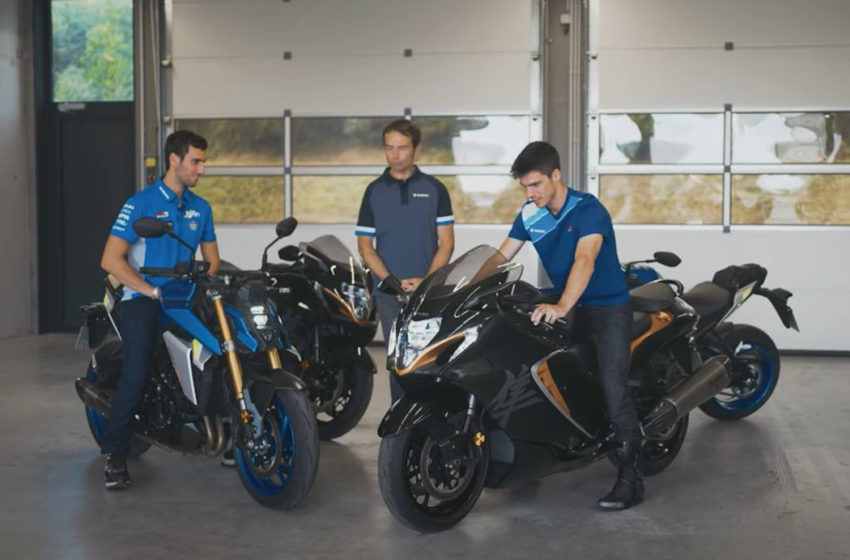 The stakes were high, and the hype was real. Suzuki needed to deliver a competitive machine . Before this one, many motorcycles had boasted insane top speeds.However of them didn't deliver when it came to anything else.
However, this time, it seemed that Suzuki was confident that they would deliver on all fronts and even claimed the new iteration of the Hayabusa would be faster and more dynamic than its earlier iterations.
The Hayabusa has been a proverbial lightning rod for debates about what constitutes a performance motorcycle. And how much power can be injected into a stock motorcycle without an engine blowing up.
As one of the best-known superbikes out there. Its reputation as a pure adrenaline rush on two wheels will take years to wear off. 
In addition to pure performance. The Suzuki acquired a reputation as a maker of solid, reliable machines that would serve you well in high mileage situations both on the street and track.
By now, everyone already knows how the 2021 Suzuki Hayabusa performs. Owners have been griding them up against dragstrips and racetracks. 
Suzuki Hayabusa
Videos of speed runs have been posted online—the new Hayabusa is a genuinely fast motorcycle that will out-accelerate pretty much anything on the road. However, that isn't the only thing the new Hayabusa does well.
We can say a lot can about the newest version of one of the most iconic superbikes ever. 
Suzuki has worked on the Hayabusa quite a bit, and from what we've seen. Looks to have fixed a lot of the things that were commonly pointed out by riders. 
The new Hayabusa promises to be more refined, lighter and with better handling. But it's up to the riders themselves to verify Suzuki's claims.
In the video, the two racers talk about the things they love most about the new Suzuki Hayabusa. Rins refers to it as a "super-easy" motorcycle that is "fun" to ride. 
Mir says something similar, calling it a "powerful, quick motorcycle," and notes its "lightness." 
He loves how easy it is to handle on track and street, and his only "criticism" for this bike is that he wishes there were more of them in his garage already.
Inevitably, they fall in love with the bike's performance, which is what you would expect from any professional motorcycle racer. 
But they also highlight some of its features that are somewhat less expected. 
They praise how comfortable it is to ride even on long stretches of tarmac, the plushness of the seat, and its smooth engine.
For Mir, he immediately took him with how smooth it felt to ride.