A 25th Anniversary Yamaha YZF-R1 Is Coming
Yamaha's YZF-R1 continues to be a highly regarded sportbike a quarter of a century after its inception. With Yamaha yet to announce anything, all we have on the subject are rumours, one of which suggests that something might happen in 2023.
Does Yamaha have a motorcycle in the works to celebrate the YZF-R1? There's speculation that the Japanese manufacturer has something in the works, but Yamaha hasn't confirmed any such thing. 
Guesswork
That doesn't keep sites from guessing like some wild West saloon poker game with everyone throwing Johnny Maverick'sMaverick's sheriff card into the pot. And top among them is the Japanese media outlet Young Machine.
The story started in 1998 when Yamaha brought the YZF-R1 onto the motorcycle scene with 998 cc (60.9 cu in), liquid-cooled, 20-valve, DOHC, inline four-cylinder.
The engine remained unchanged until 2006 when Yamaha decided to cut down four valves to 998 cc, liquid-cooled, 16-valve, DOHC, inline four-cylinder.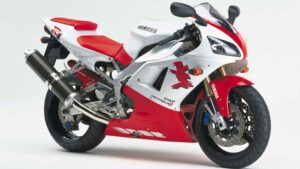 1998 YZF-R1
Story from 1998
In 2009 the story was edited by adding a cross-plane crankshaft with 998 cc, liquid-cooled, 16-valve (titanium), DOHC, inline four-cylinder cross-plane crankshaft. While the horsepower rose from 150 hp to 199 hp and this was from 1998 to the present.
A concept rendering has the Japanese manufacturer celebrating two decades since the debut of the "GPz killer" with a stunning particular edition bike. 
Read also: The new 2023 Yamaha YZF-R1 GYTR
YZF-R1 Render
The mock-up incorporates MotoGP-inspired winglets, featuring more than just a unique livery and wavy exhausts. Artist renders the model from Young Machine, who takes inspiration from the 1998 YZF-R1. 
While he might not have an actual Yamaha production bike before him to build on, the artist has done his homework. The concept model gets a red and white shade with Yamaha'sYamaha's name on the fuel tank and logo on these side fairings.
According to a legal document, a new Yamaha YZF-R1 is slated for a 2023 release. At the same time, the online magazine took liberties with a rendering depicting what the motorcycle might look like.
The legal take on Yamaha'sYamaha's future motorcycles is supposed to reveal what models the Japanese brand will launch over the following years. By pure coincidence, one of these bikes appears to be a new R1 variant.
25th Anniversary YZF-R1 render by Young Machine
Inline four
The document further says that the "YZF1000W" model identifier has a four-stroke, 998cc, four-cylinder engine, suggesting an anniversary edition of its R1 flagship model is in the works.
As the Yamaha YZF-R1 celebrates its 25th Anniversary, rumours are circulating that a race-prepped version will arrive. Fans of the R1 have high hopes for the race-prepped version, as the current R6 gets a YZF600W designation and offers an adorable package.
Will we see a Seamless gearbox?
After many years of rumours, patent applications, and leaked documents suggesting a seamless gearbox is coming to the Yamaha R1 road bike, we're starting to think it probably isn't because of homologation or production restrictions. However, we know little about it.
2023 is a long time away, but it won't be so far in the future once it arrives. The thought of waiting that long for an advanced transmission Yamaha sportbike would make your head spin, but thankfully you don't have to if Yamaha has some plan. But then, who would not like the new R1 with MotoGP winglets?
Source: Young Machine and Moto. it