A pair of Sixth for Barcia and Mosiman at Atlanta SX
The Troy Lee Designs/Red Bull/GASGAS Factory Racing Team took on the beast of Atlanta Motor Speedway for Round 14 of the AMA Supercross Championship, and our riders experienced it all from wild weather and track conditions to a different schedule and, of course, the racing.
Justin Barcia came away intact with a sixth-place finish in 450SX, and he maintains third overall in the championship standings with three rounds remaining. 
Action
In the 250SX class, teammates Michael Mosiman and Pierce Brown lined up together for the ultimate East/West Showdown, where they finished sixth and 10th, respectively, in the combined Main Event. 
Massive rainfall created some chaos, but the show went on in Atlanta   

Barcia ripped another Main Event holeshot on his MC 450F and finished sixth

Mosiman had a solid performance to finish sixth in the E/W Showdown 
Despite this morning's massive rain, the track shaped up to be pretty decent as the riders did their best to lay down fast laps with only one practice/qualifying session per class.
With only one chance to see the track before the first gate drop, Barcia was able to get the job done with a solid P6 in qualifying. In the first 450SX heat, he placed his MC 450F into third on the opening lap, and he kept it pinned for all five laps to secure a third-place heat finish.
Barcia made a mad dash off the start in the Main Event to capture the holeshot and early lead on lap one. With longer and rougher laps inside Atlanta's NASCAR facility, the front-runners swapped spots several times early on, and Barcia found himself shuffled back to third by the second lap.
The race leader went down on lap three, allowing Barcia to swoop in for a second, but he made a mistake and slid out two laps later. With a quick re-mount in fourth, he ignited another charge mid-race, but he made a costly mistake through the whoops, swapping side-to-side before catching himself just enough to veer off-track and lose two more positions. He kept it together for the rest of the race to secure a sixth-place finish.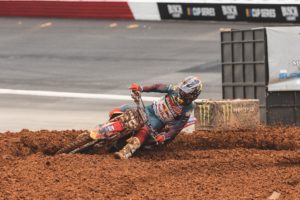 Justin
Justin Barcia: "It was a crazy day with a different schedule and only one practice. I ended up qualifying P6, which was not bad since the track was pretty slippery and wild and one-lined. I wasn't particularly stoked on my heat-race finish, but I got through it, did some bike changes for the main, and ripped an awesome holeshot. It felt so good! Unfortunately, I had a few mistakes, went down and didn't ride that well, so it was a tough night, but I'm a tough SOB, and I'm going to go back to Cali, work hard this week and come out swinging at the next round!"
250SX East/West Showdown
It's always a wild time when you converge the fastest 250SX riders from each coast into one mega racing round! Representing the west, team rider Michael Mosiman excelled through his qualifying session in P4, and he grabbed a second-place start in his heat. Pressuring the leader early on, Mosiman utilized the split-lane section to overtake the lead on lap two, and he held onto it for another lap before going down in the slick conditions. Dropping to fourth with one lap to go, Mosiman dug deep to secure a third-place transfer into the E/W Showdown.
In the Main Event, Mosiman got caught up in the chaos off the start and began just outside the top-10. Charging up to sixth by the end of lap one, Mosiman continued to push his way up to fourth and set his sights on the podium battle ahead. Unfortunately, he crashed with a few laps to go, and he did his best to bring it home strong for sixth.
Michael
Michael Mosiman: "What a track and night, so close! It was crazy conditions with so much mud and uncertainty, but I felt good all day, and things clicked for me. I had a lot of speed today, and I feel like my riding has matured, and my race craft is there, but it's almost like I wanted it a little too bad today, and I have to work on calming down and letting it come to me. I think all the pieces are there; I'm super stoked on my team and the program; I'm just looking forward to seeing the results."
East coast rider Pierce Brown had a rough start to the day after going down early in practice on the over-under, and his bike took on a lot of carnage while on the ground. With only one practice/qualifying session, he rushed to the pits for some quick repairs, and he could salvage a spot in 17th. Hitting the reset button for the heat race, Brown grabbed a fourth-place start and battled up front early on. He passed late in the race but still held strong to finish fourth.
In the E/W Showdown, Brown didn't have the best start, but he clawed his way up to seventh a few laps in. Racing towards the top-five battle, Brown went down mid-race and was forced to come from behind once again. With a deep field of riders in the showdown, he fought as best he could to ultimately secure 10th. 
Pierce Brown
Pierce Brown: "Another tough weekend for me. Ended up 10th overall in the Main Event, and I'm not too stoked about it. I felt like I had more in me. Feel like we work too hard for that so we will go back to Cali this week, but the work in for next weekend and bounce back after a tough couple of weeks."
The Troy Lee Designs/Red Bull/GASGAS Factory Racing Team is back in action next Saturday, April 23, for Round 15 of the AMA Supercross Championship in Foxborough, Massachusetts.
Results – 2022 AMA Supercross Championship, Round 14
450SX – Main Event Results
1. Jason Anderson (Kawasaki) 15 laps; 2. Eli Tomac (Yamaha) +02.370; 3. Chase Sexton (Honda) +04.125 

… 6. Justin Barcia (GASGAS); 15. Justin Starling (GASGAS)
 Showdown 250SX E/W – Main Event Results
1. Hunter Lawrence (Honda) 12 laps; 2. Christian Craig (Yamaha) +04.055; 3. Jett Lawrence (Honda) +08.069 

… 6. Michael Mosiman (GASGAS); 10. Pierce Brown (GASGAS)
Championship Standings – After Round 14
450SX
1. Eli Tomac (Yamaha) 325pts; 2. Jason Anderson (Kawasaki) 272; 

3. Justin Barcia (GASGAS) 257 … 18. Justin Starling (GASGAS) 73
250SX East
1. Jett Lawrence (Honda) 169pts; 2. RJ Hampshire (Husqvarna) 122; 3. Cameron Mcadoo (Kawasaki) 114; 

4. Pierce Brown (GASGAS) 107
250SX West
1. Christian Craig (Yamaha) 194pts; 2. Hunter Lawrence (Honda) 171; 

3. Michael Mosiman (GASGAS) 158
via GASGAS Press