Akrapovič Titanium exhaust for an adventure-Tuned Honda Africa Twin
The Slovenia-based specialists in lightweight, high-performance exhaust systems for the motorcycle industry. The Akrapovič family, has developed an exhaust system for the Honda CRF1000L Africa Twin Adventure Sports. 
The new titanium Akrapovič pipe comes designed to be lighter, more efficient and user-friendly than ever before. 
When Honda introduced the latest iteration of the Africa Twin Honda, enthusiasts started dreaming about modifying their bikes. 
Akrapovic slip-on
As soon as people discovered that messing around with the exhaust systems would yield significant horsepower gains.Many riders naturally wanted to alter their ' Africa Twins' exhausts. 
With its lightweight, minimal backpressure-causing design and aggressive sound. Akrapovic's titanium slip-on exhaust for the CRF1100L is one of the best pipe offerings that can be bolted onto this bike.
Constructed from titanium. The forged exhaust system for this adventure bike sheds 5 kgs.Which is quite impressive considering its lightweight.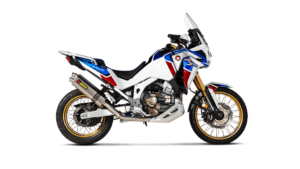 Performance figures
Of course, being made of titanium adds both durability and corrosion resistance. The exhaust further adds 5.0 kW power at 4200 rpmand torque 5.2 Nm at 7500 rpm.
Furthermore, Akrapovič says you can expect the exhaust system to provide improved throttle response. While also "instantly improving power delivery without any 'pumping' at high revs."
As advertised, this exhaust system comes crafted from titanium that promises to deliver "extraordinary acoustic output throughout the rpm range."
And yes, if performance gains are all you've been thinking about, be sure to read on to know what's in store for you.
The Akrapovič titanium-sleeved carbon/carbon silencer has a hexagonal shape, lightweight design.But it also comes in black with a carbon fibre outer sleeve.Something that is aesthetically pleasing when paired with your bike's luggage/panniers.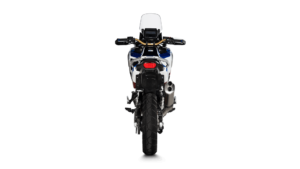 Isnt street legal
Adding to its visual appeal are the performance gains associated with this exhaust system. It's not often you see an aftermarket part of any kind come with both style and substance.The latter is why most people want them in the first place.
However, the exhaust is not street legal and doesnt meet the emission requirements.
via Akrapovic