Aprilia Tuono 660 gets SC-Project's titanium exhaust ' SC1-R'
Anyone who has ridden a 270-degree modern-day parallel twin will tell you that it has got to be one of the best sounding engines out there.
And it doesn't just sound good at idle, but also while being revved. No wonder this engine design is popular among today's motorcycle manufacturers.
And although no Aprilia Tuono 660 is complete. The engine and exhaust design alone help set these Aprilias apart from the crowd. Not just in terms of how they sound but also visually. 
And while the classic European and Japanese manufacturers might be content with letting their latest models. Beautiful shapes do all the talking for them, what about aftermarket exhaust for Tuono 660? 
Although these bikes have a lot going for them. One area they will never be able to match the higher-spec machines is in terms of pure, raw power. That's where long-travel suspension and exhaust systems come into play.
As a result of these new market entries. Many of you have been asking for an exhaust system to help unleash your Tuono's performance potential even further. 
SC1-R
Well, we heard you! And SC-Project has brought the Titanium Stainless steel exhaust system for Aprilia's Tuono.It looks pretty hot if we say so ourselves.
There's no denying that Aprilia has a good thing going on with this motor. But there's always room for improvement.
For those of you who feel the same way, well, here's your chance to make your machine even better. SC-Project has released its Titanium exhaust system for the Tuono 660. And it's designed to improve performance and sound.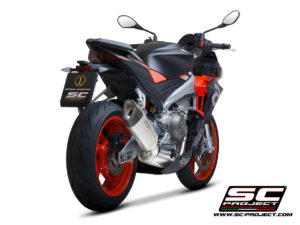 Despite the substantial and carefully crafted engineering and operational improvements carried out by SC-Project on the Tuono's stock exhaust. Which is already one of the most versatile and tunable of any middleweight model, 
The SC1-R is a titanium steel system, delivering a marginal increase in power and torque through a new exhaust outlet in the same spot as the original Tuono design but with better flow characteristics. And it reduces weight as well.
The SC1-R comes to around 1,880 Euros ( $2,180).
via SC-Project