Caberg revives the iconic Drift Evo helmet for a 2022 release
The helmet industry is in a state of flux, with companies constantly upgrading their offerings to stay ahead of the competition. One such company is Caberg.Which has refreshed its bestselling Drift Evo. The updated helmet has been out for a few months now. So it's time for us to take a look at it.
As one of the more boutique helmet brands coming out of Italy, Caberg. Has always been a favourite among fans of adventure riding and sport-tourers. The Italian manufacturer has dabbled in various design. And style choices for helmets. The company now has refreshed its Drift Evo helmet for 2022. 
It has been refined over the past few seasons and remains a favourite of ours. As it provides an optimal mix of performance and comfort.
This year, the Caberg development department came up with two new options. Each for the fibreglass and carbon models.To create yet another opportunity for riders who put aesthetics at the top of their list when choosing their next helmet.
Fibreglass and Carbon option
Caberg Drift Evo Carbon Sonic will now arrive in two colours anthracite/white and anthracite/red. As for the Drift Evo with a fibreglass helmet shell gets black/anthracite/red and black/fluo yellow/blue design options.
Caberg has refreshed the MR55 for 2022. The helmet was first introduced in 2021 and came with a more vibrant design. The shell sizes offered by Caberg for the Drift Evo are two.Which makes this helmet appropriate for multiple head sizes.
When it was first introduced. The MR55 colourway, characterized by its robust and bold character.Was hit with those who love to ride sportbikes and sport-touring machines.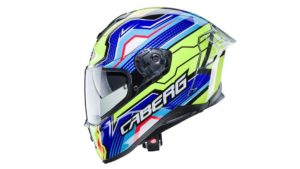 The smaller shell sizes are XS to M, while the giant shell arrives for dimensions L to XXL. The double-D chin strap closure holds tight, while the spoiler at the back adds an aggressive touch that gives the helmet its unique character. And has washable liners.
At its heart, it is a helmet for all-around sports riding, meaning it will be reasonably good in all situations. It is light, comfortable, and well-ventilated. 
It offers valuable features such as a scratch-resistant visor lock and pin lock. We can adjust it for 0.5 centimetres for added airflow.
Regarding pricing, the carbon-fibre shell arrives at 360 Euros ($407 ) while the fibreglass shell comes at 05 Euros ($345).
via Caberg