Cake on design 4x wraps up in Del Mar
After a whole weekend of electric motorcycle racing in Del Mar, CA. Professional rider Josh Mosiman was crowned North American champion.
The CAKE Worlds Race now throttles on to Europe. Demonstrating the virtues and opportunities offered by the all-electric racing series.
Cake, the Swedish maker of premium lightweight, electric motorcycles, today acknowledged the winners of this year's first CAKE Worlds Race – the first ever to take place in North America. 
After a packed weekend of clean, electric racing in CA's Del Mar. Professional MXA Test Rider Josh Mosiman was crowned North American 4X champion.With Dylan Gaszak securing first place in the amateur class.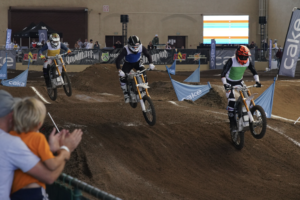 Racing her way to 9th place, Ashley Fiolek became the best female rider. And last year's global champion, Seth Stevens, ended up 3rd. Together they will represent the United States in the CAKE Worlds Finals later this year.
"I had so much fun! This was my second experience riding an electric bike and my first racing one. 
I was honoured to be invited, had a ton of fun being on track with everyone and enjoyed meeting so many new friends. To win the final race was the cherry on top", said North American 4X Champion Josh Mosiman.
Ashley Fiolek, the best female rider of the race, added;
" I had a great time on Saturday bringing my amazing race cake bike to a victory!"
A clean, quiet alternative for the future
Created CAKE Worlds to demonstrate how the benefits of Cake's electric motorcycles can transform two-wheeled racing. Offering a future-proofed alternative to the receding world of fossil-fueled racing. 
The silent, zero-polluting motorcycles are raced on tight, spectator-friendly tracks. That, in turn, can be built cost-efficiently in urban environments, further lowering the bar of entry to the sport. 
The 4X format is also gender-neutral, meaning that women race alongside men on equal terms. Another first in two-wheeled racing.
CAKE
"CAKE Worlds is all about spreading the joy of bike riding. Proving that it is inclusive while showing that it's possible to enjoy motorbike racing without polluting or disturbing the local community. 
With 70 per cent of all motorsport tracks having closed their doors in the past 15 years. Mainly due to noise and pollution issues. We see a clear opportunity to establish a new racing format that everyone can enjoy", explained Stefan Ytterborn, founder and CEO of CAKE.
LATER THIS YEAR, the CAKE Worlds Finals will be held at the Fox Raceway in Pala, CA. The fastest CAKE riders in North America will face their European counterparts. Which will qualify for CAKE Worlds events held throughout Europe this summer.