The Porsche Taycan art car designed by Fabian Bergmark Näsman for the 'Scopes' creative festival in Stockholm certainly stands out with its unique features. The absence of a front number plate and 73 spikes protruding from the bodywork make it an eye-catching and unconventional design.
Taycan
While the art car may attract attention and spark curiosity, modifications like these could violate road regulations in many countries. Traffic laws typically require vehicles to have proper registration plates and adhere to safety standards to ensure roadworthiness. Therefore, it is unlikely that Porsche would consider incorporating such extreme modifications into Taycan's production models or future facelifts.
Art cars, like the one created by Näsman, often serve as artistic expressions and are not intended for practical use on public roads. They are usually displayed in exhibitions, festivals, or galleries to showcase creativity and push the boundaries of automotive design.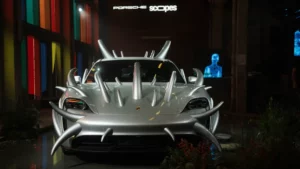 Artist
Porsche may continue collaborating with artists and designers to create unique and limited-edition versions of their vehicles. Still, these collaborations will likely focus on aesthetic modifications that can be incorporated within legal and safety boundaries.
About Porsche Taycan
The Porsche Taycan is an all-electric luxury sports sedan produced by the German automaker Porsche. It was first introduced as a concept car 2015 under "Mission E" and was subsequently developed into a production model. The Taycan represents Porsche's entry into the electric vehicle market and showcases its commitment to performance and innovation.
Some key features of the Porsche Taycan include:
Electric Performance:

The Taycan is powered by an electric drivetrain that delivers impressive performance. It is available in various trims with different power outputs, offering quick acceleration and high top speeds. The range and charging capabilities vary depending on the specific model.

Sleek Design:

The Taycan features a distinctive, aerodynamic design combining sports car elements and a sedan. It has a low-slung profile, sculpted lines, and a muscular stance, emphasizing its performance-oriented nature. The interior is designed to focus on driver engagement and features premium materials and advanced technology.

Advanced Technology:

The Taycan uses cutting-edge technology to enhance the driving experience. It features multiple digital displays, including a curved instrument cluster and a large infotainment touchscreen. The car offers connectivity features, including smartphone integration, voice control, and over-the-air software updates.

All-Wheel Drive and Handling:

The Taycan comes standard with all-wheel drive, utilizing dual electric motors—one for the front axle and one for the rear axle—to deliver exceptional traction and handling. Porsche's engineering expertise ensures that the Taycan offers dynamic driving characteristics and precise control.

Charging Infrastructure:

Porsche has developed a high-power charging network called Porsche Charging Services. It offers fast-charging stations that can significantly reduce the charging time of the Taycan, enabling long-distance travel with minimal charging stops.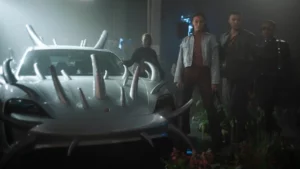 Conclusion
The Porsche Taycan combines the luxury and performance expected from a Porsche with the environmental benefits and technological advancements of electric mobility. It represents Porsche's commitment to sustainable transportation without compromising on driving enjoyment.
Source: TG