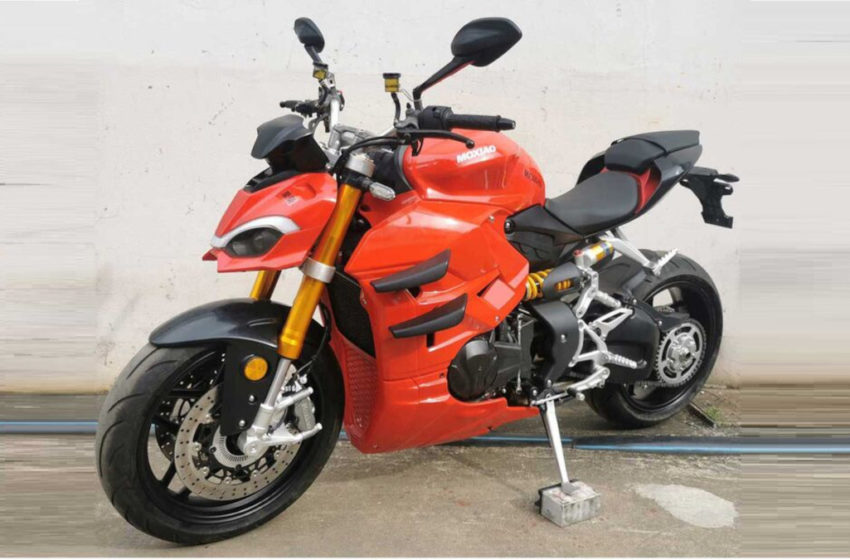 Chinese Motorcycle brand Moxiao clones Ducati's Streetfighter V4
Over the past few years, Moxiao has been building a solid name with its range of quality bikes. The Chinese manufacturer is relatively new to the motorcycle scene. Yet has already won accolades from riders worldwide. 
One of its latest motorcycles, a naked motorcycle called the 500RR.Certainly stood out in a crowd, as it bore an uncanny resemblance to Ducati's sporty Panigale machine. That wasn't surprising since the bike looked and rode like any other Chinese clone.
Clones
This Chinese motorcycle maker is back to cloning Ducati's bikes nearly a year after its 500RR was revealed. A new range of counterfeit bikes called MX is being released by Moxiao.Which once again takes on the sportier guise of the Panigale V4 and Streetfighter V4. 
The new 500RR, as you can tell from the name, is an executed copy of the Panigale V4. Which now comes with a revised fascia, and redesigned alloy wheels and winglets. 
But it is still clearly an imitation. Meanwhile, the MX500 is a haphazard copy of the Streetfighter V4.Right down to the bike's seat, exhaust, wheels and even its headlight.
It's no secret that Chinese motorcycle manufacturer Moxiao can be a little erm, sloppy when it comes to design. But if you're still shocked by the level of bad taste displayed. And strikingly similar-looking Ducati Streetfigther ripoff, then you might need to stick your head in the sand for just a bit longer. 
Moxiao 500RR and MX 50
So are these bikes low-end, Chinese knockoffs? Absolutely. However, that doesn't mean there isn't any room for improvement — although these are far off from the mark.
Called the Moxiao 500RR and MX 500. The two new bikes arrive with a 471cc, 180-degree, parallel-twin engine manufactured by fellow Chinese motorbike maker Loncin. And it's also powering many other made-in-China motorcycles.
The Chinese motorcycle market is often a testing ground for new products and technologies. But one of the big problems with many Chinese manufacturers is that they tend to copy. Or clone their competitors instead of innovating or coming up with brand new designs.
On the other hand, the Italians play by their own rules regarding design and sportbike aesthetics. The originality these guys bring to the table makes them stand out from the crowd. And gives them bragging rights as an innovative motorcycle manufacturer.
However, staying original will help Moxiao in the long term.
via Motorradonline