Custom : " Red Scarlet " by Jig Saw Customs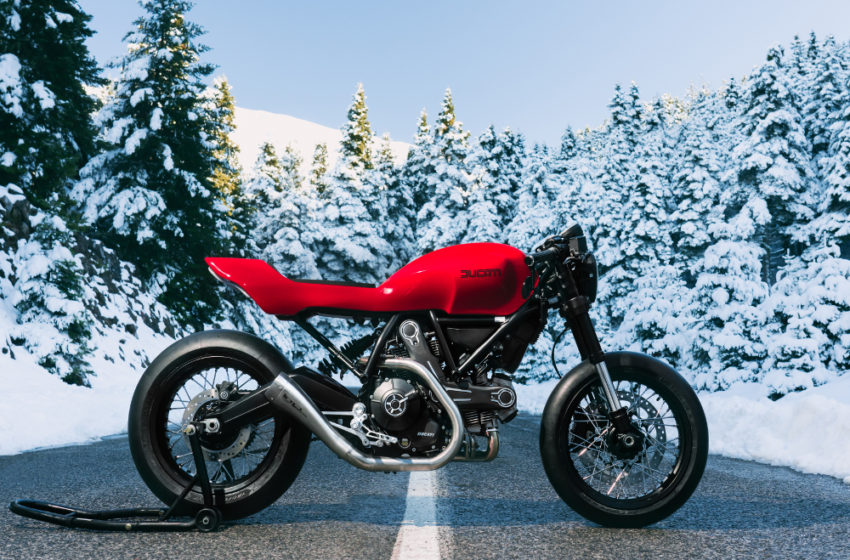 "Put on some red lipstick and live a little" is a message which Jig Saw Customs gives in their latest  Ducati Scrambler 800 build. Red and Black color paint scheme is the first thing that is eye catchy when you look at it.Build is clean, simple and yet very effective.To draw the line lets go back in history of Jig Saw Customs where the dot begins.
About Jig Saw Customs
They are Yamaha dealer service store located around 30 km outside Center Athens Greece.Technically speaking motorcycles are in their blood and it has become family business, they are passionate about restoring and customizing motorcycles.
Past Work
In 2014 they had built their first Honda Hornet CB600 F cafe racer,after that they customized many Hornets.
In 2016 Yamaha local distributor Motodynamics requested them to customize a motorcycle for Yardbuilt campaign, they took the first place at P 4 category at Yamaha Yardbuilt campaign with a XJR1300 cafe racer called "The Missing Piece".That bike was sold in Switzerland.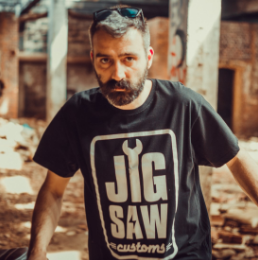 Meet the Engineer – Petros Chatzirodelis
Now to turn towards latest Ducati Scrambler 800 build. After their famous builds ( Honda Hornet CB600 F and The Missing Piece ) they were requested by Ducati's local distributor Kosmocar to custom build the Scrambler 800 as Jig Saw Customs preferred ,they will use it for shows.
About Scrambler Build (Step by Step)
If you observe the build they had done some marvelous engineering around it they had put a custom upper triple clamp and 17 inch DID rim on the stock wheel center. The front end is stock so are the brakes. Rear suspension is not customized as it remains as is.
Drawings around the monique fairings were done with the help of a 3d program to bring the output more precise.Then had to cut the first piece in soft material (foam) on the CNC machine just to have it for tests.Next step was to cut the wooden mold to make the the final fiberglass monique fairing.
The tail lights was made by bending plexiglas tube in the shape they like and put inside with a silicone lighting tube with leds, they wanted to have a neon result and a unique tail light which was curve in shape.
About electrical upgrades, Motogadget told them that this can be bus system .So the ECU, ABS, handlebar switches were kept as is, and they tried to hide the main key switch , putting it in the frame. Unique exhausts were build with HP Corse Slip ons.
For shape to be more eloquent they had stripped all the motorcycle and had kept the Frame-engine-swing arm-front forks. Monique fairings were made with the help of fiberglass. 17 inch front wheel was used for front super-sport set up.Drivers pegs-pedals and exhaust mounts were also made so as the mount for oil cooler.
Koss lead headlight looks natural fit to this custom and gives a viewer a different perspective to look at.Upper triple clamp was also made.ABM headlight mounts- brake levers-clip on handle bars goes with this custom.
Motogadget provided them the front signals- handle bars, grips and left and right mirrors.The seat in black is made thin to go more with design and shape of the motorcycle.
Output
Simple yet elegant custom motorcycle with two natural colors red and black. Jig Saw Customs wanted to make simple to the eye build,focused in some unique details, easy from not a Pro to decode what it to be seen.
Building a project based on an Italian motorcycle is always difficult,because Italians have the Design/style in their blood. Also Scrambler 800 is already a naked motorcycle with everything Hidden under the fuel tank.
In some of their previous builds ,they decided to make a monique fairing based .This time it was on a "Cafe racer" style with unique curves and an on italian bike.
Jig Saw Customs had put lot of efforts to get the traditional image of Scrambler into more eloquent, simple scintillating custom and they clearly have achieved their aim of doing it.
---