Ducati goes Green with its new naked  Streetfighter V2
The new Streetfighter V2 is sports naked with a one-of-a-kind character. It accommodates the needs of those looking for a bike. That can combine the sporty DNA of the Panigale V2 with both the attitude and style of the much-admired Streetfighter.
Intuitive
The result is an intuitive and easy-to-handle vehicle, with the right dose of power to ensure feisty performance and maximum riding fun.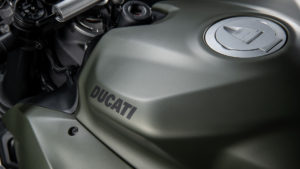 The Streetfighter V2 is to the Panigale V2 what the Streetfighter V4 is to the Panigale V4: uncompromising performance. And enjoyment on the road with its high and wide handlebar. Without the fairings, the pared-back design is slender and at times extreme. With a front section that extends forwards as if following on from the lines of the tank.
Light
The bike has a dry weight of 178 kg and is powered by the 153 hp 955 cc Superquadro engine. Controlled by the latest-generation electronics package.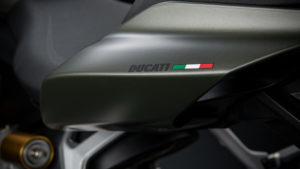 The Ducati Streetfighter V2 range includes the Ducati Red colour scheme. And is now expanded with the introduction of a new matt metallic green colour that enhances the bike's design: Storm Green.
 A bold expression that enhances the edgy and dynamic lines of the Streetfighter V2. The new livery is a combination of matte and metallic green. That reinforces the bike's unique character and innate ability to attract attention.
Streetfighter V2
The Streetfighter V2 is a motorcycle that knows how to draw attention to itself. The styling is moulded around the mechanicals inherited from the Panigale V2 with the Superquadro engine acting as a supporting element.
Essential and sharp, the design of the new Streetfighter V2 embraces the classic style elements of the Streetfighter V4.The V-shaped DRL typical of Ducati sports bikes and inspired by the famous grin of the Joker.
The ergonomics of the bike puts the rider at the centre and is focused on street use with the right mix of sportiness and comfort, while the modern equipped rider assistance controls are inherited from the Panigale V2.
via Ducati