Ducati teases the Desert X and announces World Premiere 2022
Astute readers have noted that 2021 has been a roller coaster of a year. Around the globe, OEMs are still recovering from the COVID-19 pandemic.While the development cost for new models is on the rise. 
Then there are safety regulations, particularly in Europe. All this could be worth it in the long term, but manufacturers and their marketing departments remain under tremendous pressure to deliver immediately.
What's in a name? Well, in Ducati's case, the new Desert X is far more than a new model. And we said earlier Ducati Desert X will arrive by 2021 end.
It's a new way to release bikes that bypass the conventional Motorcycle Shows. And wraps the launch into Ducati's "art is our passion" branding.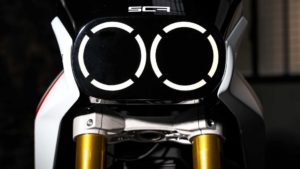 The idea behind this branding was to create an escape from.The typical motorcycle industry crowdsourcing campaigns and give customers.
Another opportunity to see some of the best motorcycle press coverage on display during this critical period leading up to EICMA 2021. 
The concept
We have all been there before. It is a madhouse at any bike show.And many of us have good friends who decided not to even go after attending one.
In a nutshell, the Desert X looks like a Scrambler 1100 with a 21-inch front wheel and more travel. It might not be what we expected in terms of design, but that's just Ducati playing coy.
Their latest teaser images tease the desert rider's presence.But there's no revealing information to be acquired by prying eyes. 
Ducati has kept its cards extremely close to its chest, so discussing the bike would ultimately be flatly useless. But speculation is half the fun, so here are my thoughts on this Desert X motorcycle.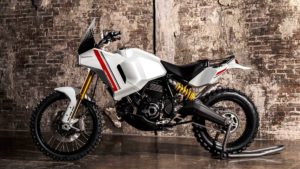 From Thursday, September 30, 2021, Ducati will start its World Premiere 2022.Which will go live on its YouTube channel, social media pages, and website.
The web series will continue for ten weeks that will end on December 9, 2021. Of course, there are other models, but then the surprise starts from Desert X.
This machine is significant as it unveils an all-new direction for the Italian company's range. Inspired by the Paris-Dakar rally bikes of the '80s and '90s.
With its long wheelbase, wide track, significant seat height, and nimble handling.The new Ducati is undoubtedly more of a hot-rod than the ADV bikes on the market. 
Images
Ducati also provided detailed images of critical components.Including the gearbox with its wet clutch, servo-assisted slipper clutch and adjustable disengagement point. 
And although the Desert X uses conventional forks up front.They are attached to an aluminium tri-section frame that ties into the subframe assembly. 
Like the Multistrada's, this layout supposedly allows for a more extended swing arm. To provide extra ride stability when motoring over rough terrain.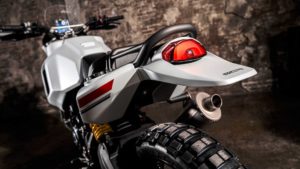 What more, instead of Scrambler 1100's oil/air-cooled, two-valve. 1,079cc L-twin Ducati stacked the 937cc Testastretta powerplant that we see on the new Hypermotard, Supersport 950 and new Monster.
However, we do know."DESERT X is intense poetry of sensations that places the Ducati brand within the most extreme of non-urban situations beyond civilization.
via Ducati