Fabio Quartararo gets his second MotoGP win in style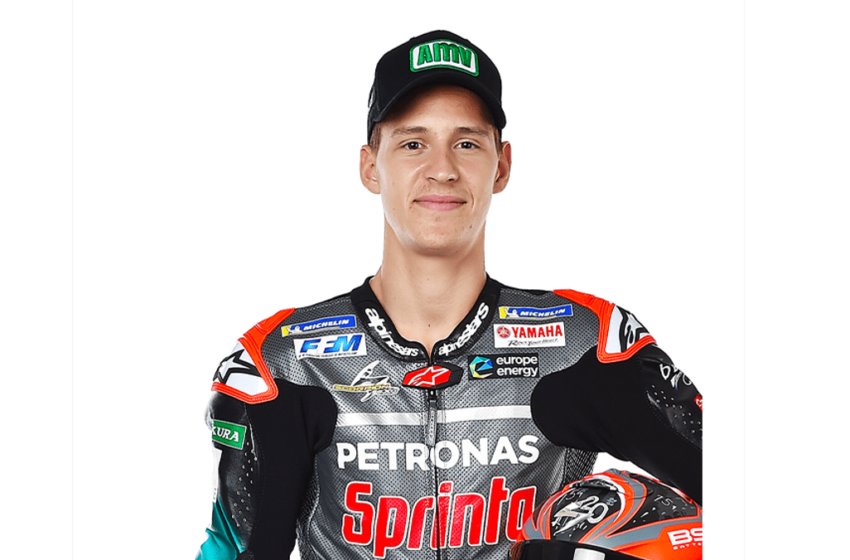 Once again the 21-year-old Frenchmen Fabio Quartararo (Petronas Yamaha SRT) proved he is a strong contender to win MotoGP 2020 season.
The undeniable Petronas Yamaha rider took the victory from the pole position.
Fabio Quartararo
At Jerez it took him 0:41:22:666 to complete all laps. Now with two poles and two wins, overall he is in a comfortable position.
The only competitor to him was Maverick Vinales (Monster Energy Yamaha MotoGP) who went on to make Quartararo uncomfortable at the final corner of lap one by trying to cut him.
However, Quartararo didn't let it happen, and he was 4.49 seconds ahead of Vinales through the entire race.
Top three rider positions of Fabio Quartararo, Maverick Vinales and Valentino Rossi made the memorable day for Yamaha fans.
Especially Rossi because we saw him on the podium since the 2019 MotoGP of the Americas.
Attrition
As the attrition inflated out of 21 riders, only 13 riders were able to complete the race.
Pecco Bagnaia had to forced park his bike while his teammates Franco Morbidelli retired due to technical problems and Jack Miller due to crash.
And this paved the way for the LCR Honda rider Takakki Nakagami to take his career-best of the fourth position.
Joan Mir of Suzuki took the fifth position followed by Andrea Dovizioso claimed the sixth position from the fourteen on the grid.
Pol Espargaro of KTM went off track to make it seventh in the table. Marc's younger brother Alex Marquez stood eighth and gave some respite to Repsol Honda.
Earlier Marc had to pull off due to the humerus fracture. Johann Zarco and Alex Rins had to manage the ninth and tenth position, respectively.
Tito Rabat, Bradley Smith and Cal Crutchlow received the eleventh, twelfth and thirteen position.
Not so lucky
While we saw KTM riders, Brad Binder and Miguel Oliveria on the fifth and seventh on the grid were let down by the collision.
Both the riders had to retire, and Bagnaia and Miller were joined by Petrucci on the sidelines making it difficult for Ducati.
Iker Lecuona and Aleix Espargaro for the second weekend in succession were unable to complete the race.
MotoGP Andalucia Positions
| | | | | | | | | | | | |
| --- | --- | --- | --- | --- | --- | --- | --- | --- | --- | --- | --- |
| Pos | No | Rider | Nat | Team | Laps | Time | Gap | Interval | Kph | Best | Lap |
| 1 | 20 | Fabio Quartararo | France | Petronas Yamaha SRT | 25 | 41:22.7 |   |   | 160.339 | 01:38.1 | 3 |
| 2 | 12 | Maverick Viñales | Spain | Monster Energy Yamaha MotoGP | 25 | 41:27.2 | 4.495 | 4.495 | 160.049 | 01:38.8 | 2 |
| 3 | 46 | Valentino Rossi | Italy | Monster Energy Yamaha MotoGP | 25 | 41:28.2 | 5.546 | 1.051 | 159.982 | 01:38.8 | 2 |
| 4 | 30 | Takaaki Nakagami | Japan | LCR Honda IDEMITSU | 25 | 41:28.8 | 6.113 | 0.567 | 159.945 | 01:38.8 | 5 |
| 5 | 36 | Joan Mir | Spain | Team Suzuki ECSTAR | 25 | 41:30.4 | 7.693 | 1.58 | 159.844 | 01:39.0 | 6 |
| 6 | 4 | Andrea Dovizioso | Italy | Ducati Team | 25 | 41:35.2 | 12.554 | 4.861 | 159.533 | 01:38.8 | 7 |
| 7 | 44 | Pol Espargaró | Spain | Red Bull KTM Factory Racing | 25 | 41:40.2 | 17.488 | 4.934 | 159.218 | 01:38.7 | 5 |
| 8 | 73 | Álex Márquez | Spain | Repsol Honda Team | 25 | 41:42.0 | 19.357 | 1.869 | 159.099 | 01:39.4 | 9 |
| 9 | 5 | Johann Zarco | France | Hublot Reale Avintia Racing | 25 | 41:46.2 | 23.523 | 4.166 | 158.834 | 01:39.4 | 5 |
| 10 | 42 | Álex Rins | Spain | Team Suzuki ECSTAR | 25 | 41:49.8 | 27.091 | 3.568 | 158.608 | 01:39.4 | 14 |
| 11 | 53 | Tito Rabat | Spain | Hublot Reale Avintia Racing | 25 | 41:56.3 | 33.628 | 6.537 | 158.196 | 01:39.9 | 5 |
| 12 | 38 | Bradley Smith | Great Britain | Aprilia Racing Team Gresini | 25 | 41:59.0 | 36.306 | 2.678 | 158.028 | 01:39.6 | 4 |
| 13 | 35 | Cal Crutchlow | Great Britain | LCR Honda Castrol | 24 | 42:08.3 | 1 Lap | 1 Lap | 151.144 | 01:39.6 | 7 |
| DNF | 63 | Francesco Bagnaia | Italy | Pramac Racing | 19 | 31:28.9 |   |   | 160.163 | 01:38.5 | 4 |
| DNF | 21 | Franco Morbidelli | Italy | Petronas Yamaha SRT | 16 | 26:33.0 |   |   | 159.932 | 01:38.8 | 4 |
| DNF | 33 | Brad Binder | South Africa | Red Bull KTM Factory Racing | 12 | 20:08.3 |   |   | 158.128 | 01:38.6 | 2 |
| DNF | 9 | Danilo Petrucci | Italy | Ducati Team | 11 | 18:20.1 |   |   | 159.218 | 01:38.9 | 7 |
| DNF | 43 | Jack Miller | Australia | Pramac Racing | 10 | 16:37.2 |   |   | 159.669 | 01:38.6 | 3 |
| DNF | 41 | Aleix Espargaró | Spain | Aprilia Racing Team Gresini | 8 | 13:23.2 |   |   | 158.589 | 01:39.3 | 3 |
| DNF | 27 | Iker Lecuona | Spain | Red Bull KTM Tech 3 | 5 | 08:28.0 |   |   | 156.711 | 01:39.4 | 5 |
| DNF | 88 | Miguel Oliveira | Portugal | Red Bull KTM Tech 3 |   |   |   |   |   |   |   |
| WIT | 93 | Marc Márquez | Spain | Repsol Honda Team |   |   |   |   |   |   |   |
Pic Source: Monster Energy Yamaha
---
Read More
Fabio Quartararo builds pace at Valencia in FP3
Prado and KTM are world champion
KTM 2020 livery is here
MotoGP San Marion Qualifying results
Limited edition 2021 KTM 450 rally replica