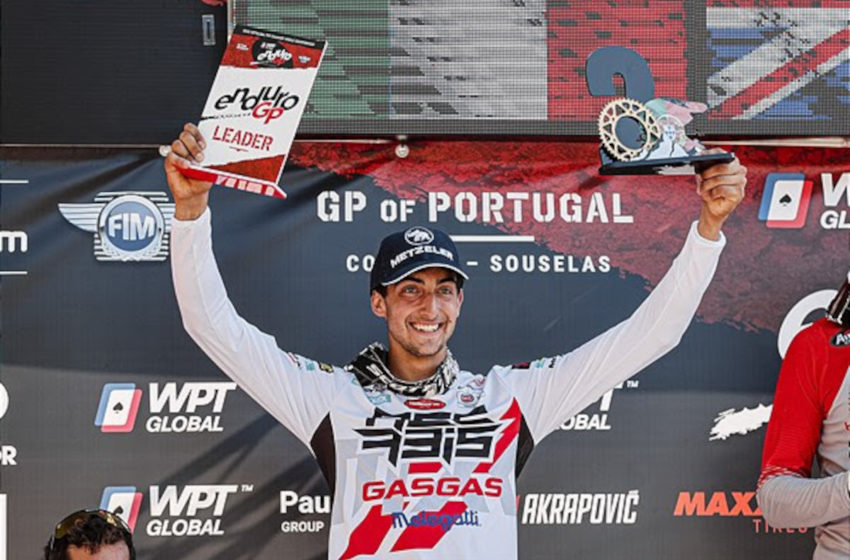 GASGAS's Adrea Verona takes EnudroGP World Championship lead
Well, we'd say that was a pretty good weekend at the office for Andrea Verona! After two days of epic racing, the Italian charger heads home from Portugal sat firmly at the top of the EnduroGP championship standings having also claimed his fourth straight double class win in Enduro1.
FIM EnduroGP World Championship
Getting around four of the FIM EnduroGP World Championship off to a winning start with a thrilling Super Test victory on Friday, Verona then found himself engaged in a battle for the top spot in EnduroGP on both days. Ultimately placing second overall on each day he also maintained his perfect season in E1 with two impressive day wins.
Andrea moves to the top of the prestigious EnduroGP standings
Four rounds down and eight-day wins in Enduro1 for Verona
GASGAS Factory Racing ace back in action in four weeks
There's simply no denying that Andrea Verona just keeps on getting better and better this season. Fast off the line during Friday night's Super Test, the Italian set a blistering pace to top the overall timesheets by a whopping three seconds, kicking off his participation in round four in fine style!

Verona carried his impressive speed over into the first full day of racing in Portugal as he then stormed to outright victory on Saturday's opening special test. Going on to claim two further test wins while only dropping outside of the overall top three on two occasions, the 23-year-old claimed a hard-fought second overall in EnduroGP, with his pace extending his Enduro1 winning streak to seven consecutive day wins.

Eager to maintain his impressive form on day two, Verona was quickly locked in a three-rider battle for the top spot in EnduroGP with Steve Holcombe and Nathan Watson. Frustratingly, a crash on the second Extreme Test ended his hopes of challenging for victory.
However, his day-long consistency ensured he claimed another solid runner-up finish and he now heads to round five with a healthy 23-point lead in the EnduroGP championship. In Enduro1, Andrea continued his perfect season, and he now sits 28 points clear of his closest rival, Thomas Oldrati.

Back on top of EnduroGP and with his confidence at an all-time high, Andrea will return to FIM EnduroGP World Championship action at the EnduroGP of Slovakia on July 30-31.
Andrea Verona:
"It's been another good round for me, two good days of racing and leaving with the lead in EnduroGP! The tests were really good here in Portugal and I enjoyed them a lot. I was happy with my riding, but I did make some mistakes on both days – one crash on Saturday and two on Sunday. But this is to be expected a little bit because we are all pushing so hard at the moment.
Congratulations to Nathan Watson on his wins this week, he was riding really well. I have to say a huge thanks to my GASGAS team as without them it wouldn't be possible to be leading both championships. There's now a short break in the calendar, which we will enjoy and then it's onto Slovakia later this month."

Results – 2022 EnduroGP World Championship, Round 4, Day 1

Enduro1
1. Andrea Verona (GASGAS) 1:00:37.33
2. Daniel Milner (Fantic) 1:01:02.96
3. Samuele Bernadini (Honda) 1:01:46.73

EnduroGP
1. Nathan Watson (Honda) 1:00:21.68
2. Andrea Verona (GASGAS) 1:00:37.33
3. Daniel Milner (Fantic) 1:01:02.96

Results – 2022 EnduroGP World Championship, Round 4, Day 2

Enduro1
1. Andrea Verona (GASGAS) 57:48.40
2. Samuele Bernadini (Honda) 58:41.11
3. Thomas Oldrati (Honda) 58:43.63

EnduroGP
1. Nathan Watson (Honda) 57:27.68
2. Andrea Verona (GASGAS) 57:48.40
3. Steve Holcombe (Beta) 57:53.55

Championship Standings – 2022 EnduroGP World Championship, (after Round 4)

Enduro1
1. Andrea Verona (GASGAS) 160 pts
2. Thomas Oldrati (Honda) 132 pts
3. Matteo Cavallo (TM) 104 pts

EnduroGP
1. Andrea Verona (GASGAS) 133 pts
2. Wil Ruprecht (TM) 110 pts
3. Nathan Watson (Honda) 107 pts
via GASGAS