Interview : Rocket Bobs 'The Rise of the Millennial Star '
Channel News brings some unpleasant news on a typical working day with a news reader starts with her daily feed that makes her own face nervous and pale. The feed reads "Farthest Galaxy MACS0647-JD, close to 13.3 billion light years from earth surprisingly starts devouring every other galaxies, black holes, quasars coming in its path leaving dusty aftermath, cause remains unknown. Although the mayhem is far but there isn't much time left. Universe is starting to disintegrate as all the scientific theories and laws of physics remain unanswered. This was observed yesterday by our planets biggest astronomical observatory". Feed ends.
 In Swindon, Wiltshire, UK, Pete Pearson is least bothered with the news as he is been hearing such news since he was kid and says to himself "Blimey another fake news, what on earth these guys think of themselves, are they on weed"? and continues wielding the frame of his custom motorcycle in his workshop which is due to be delivered on the next day to its customer.
The scenes of mayhem caused on the other part of the universe cannot be explained burning gas, debris, light from quasars are all covered with darkness. One part that goes undetected by Earth's astronomical observatory are the four square shape flying machines going in unison. Little does everyone know that they are messengers of mighty ruler of Galaxy MACS0647-JD King T VII.
The King T VII son of King T VI and Queen A is searching for creativity across the universe with a mission " In Search of Excellence " requests his messengers if they don't find anything creative destroy anything and everything that comes in there way. With immediate effect messengers starts following there Kings order and search begins and  in parallel destruction too.
Until one day Kings messengers arrive near a blue planet which they find something odd. Messengers do send a signal to Earth which is decoded by astronomical observatory that the King of Universe is looking for creativity on Earth. Someone from earth gives idea to the representative of the Earth who is supposed to talk to the King of Universe that, why don't we have custom motorcycle competition, the idea is to buy some time and if the King likes he might stop this destruction and spare our Earth if not very well he will continue with the destruction.
This message is communicated to King by his messengers. King T VII consults his counsel and then gives a nod to his messengers via message and comes down to Earth to look at the event. Its bright day and special arrangements are made for King T VII and his delegation .Rules of the competition are as below.
Format: Engine should V-Twin in an E.T. bracket class.
Front and rear brakes are required on all entries.
All the bikes had to made in allotted budget and time.
Chain guards are required on all entries, lights are required, any style clutch permitted.
2-step style starting line rev limiters are permitted. Delay boxes, Electronic Throttle Stops and Auto Shift devices are permitted.
DOT tires or any size slick is permitted.
Wheelie bars are not permitted.
All bikes must have a minimum of 2" ground clearance with rider sitting on bike, straight up perpendicular to the ground.
70% votes will be taken from audience and 30% from the King T VII.
There is neck to neck competition, custom motorcycle folks all the across the planet are invited and they do take part in this gala event. But there is one person and this team that stand out and wins peoples and King T VII heart is Pete Pearson of Rocket Bobs .
Pete Pearson is declared the winner after vote count. Thus Pete not only saves the Earth but also further destruction of entire Universe. King T VII and his crew happily leave the Earth but not before taking more than half of the custom motorcycle collection made by Pete Pearson with him.
Rocket Bobs is another star that looks bright and is shining not only in our Solar system but in the entire universe.
I had an opportunity to talk with star and here is my conversation.
1.Tell me a little about Rocket bobs?
Pete : Rocket Bobs started in 2009 with a central purpose to solely build custom motorcycles only with a twist. Our bikes have to be ridden and ridden hard. They need to out handle, accelerate and stop better than there production equivalents. We wanted to respect the heritage and roots of the custom scene but put our own stamp on it.
2.What is that essential factor for you when you start building custom?
Pete : My driving force is to just take what's in my head and work it out through the evolution of a build. The most important thing to me is not to look at other builders work or take any inspiration other than that which already lies in my fucked up brain. Basically the most essential factor in any build is to stay true to myself and only use / develop those designs that came purely out of my head.
3.Do you feel competition gives rise to new ideas in building customs?
Pete : Not really, I built bikes way before entering competitions. In fact I was always very much against competitions. Also they certainly don't give rise to new ideas!Competitions are important to me as they allow me to put my work out there to be judged and critiqued. As that is what does drive me forward, out of competitions, the desire to improve and push myself harder to raise the level of design in my work.
4.Do you feel sad when you build the custom with lot of efforts and ultimately it has go via sell?
Pete : Well our bikes we build for competitions remain ours! We do not sell. We will build many versions of championship winning bikes, but bikes such as Gas'd Rat, Swamp Water, Speed Weevil etc. remain ours. The exception to this are bikes built for customers that go onto win competitions, such as 3 Finger Eddy, Pressure Drop etc. These were never ours to start with.
5.Your base motorcycle has been Harley Davidson do you feel you should try your hands on other bikes?
Pete : We started out as solely Harley custom Builders. During the 9 years in business we have strayed off that path and built triumph and a Suzuki plus modded a few other. We would be happy to work with Indians, Italian or Bavarian motorcycles and also we are currently building a Suzuki GSXR for a show later this year.However, my heart lies with Harley. My favorite ever motorcycle is the 1979 FXS Lowrider. It changed my young life when I first saw it. So we will always me mainly Harley builders.
6.What inspires you to build such cool customs?
Pete : With me I can only get heavily involved with those things that interest me. Motorcycles set alight my imagination at a very young age and I have spent the decades since utterly captivated by them. To me it's become a way I can exorcise the frustrated artist in me. I can pour out into a bike the parts and designs that I obsess over and draw on nature and the animal world I love, to create motorcycles that genuinely live in my mind.
7.What is your ultimate goal?
Pete : Ultimate goal is to design a range of production motorcycles along with a range of Rocket Bobs parts. But we also need to carry on designing and building custom motorcycles for the big shows as although we have been going nearly ten years now, the fact is we have only just got started and I have basic design briefs noted down and stashed for over 80 motorcycle designs. So it would be nice to drag them into existence!
Rocket Bobs Accolades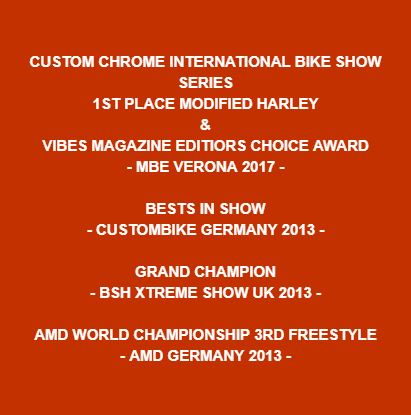 Pete with his ' Gas d Rat '
Some of Rocket Bobs Work
Custom Harley -Swamp Water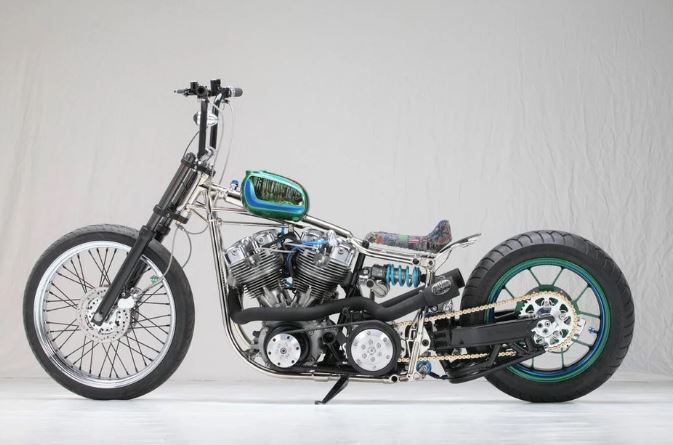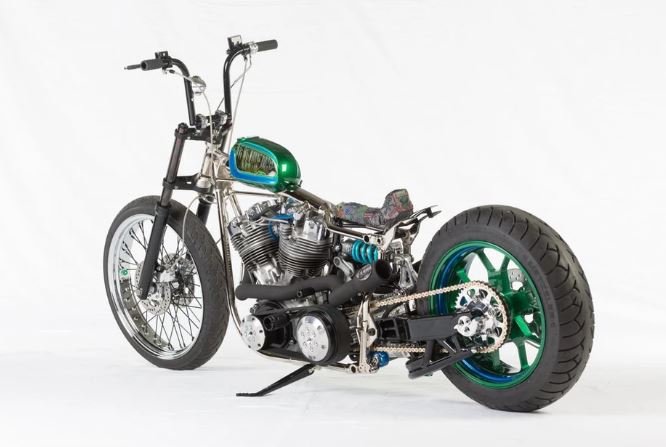 Gas d Rat
Harley Iron Head – Sloat Slayer
 Pressure Drop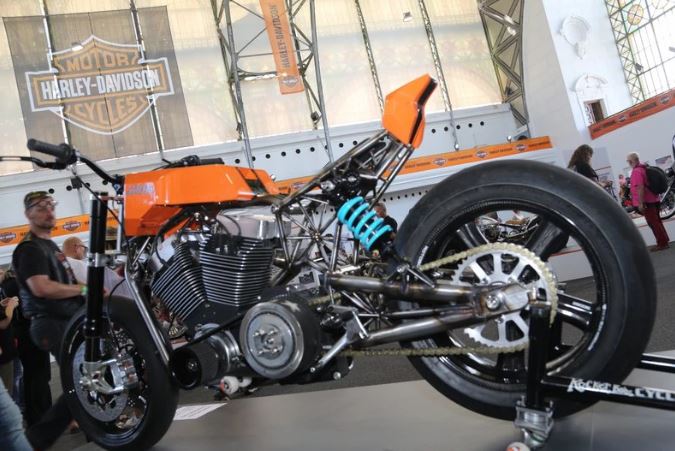 Speed Weevil – Triumph Salt Racer
Other Reads
Sol Invictus Apollo Cafe Racer
Revivals 6 cylinder behemoth
Pharaohs favorite bike
---
Source : Rocket Bobs