Interview : 'The Billet Sting' Weapon of Hephaestus
Greece is not only a beautiful country with vast scenic sea landscapes but has a very rich ancient mythology. There was a God Hephaestus in Greek Mythology and he was master craftsman, also regarded as one of  the Gods of Art and Creativity.
Hephaestus made weapons and military equipment for the gods and certain mortals, including a winged helmet and sandals for Hermes and armour for Achilles.
Imagine Hephaestus forging a weapon to commute and this is how it would look like ' The Billet Sting '. Centuries after Father and Son duo Dino and Mario Nikolaidis from Greece come together to bring this weapon in reality .
Below is my talk with Marios Nikolaidis on how they forged this world class custom.
1.How did your passion for building customs started?
Marios : It's a family craziness. Ahaha. My father and mother are both motorcyclists. My father used to be a tuner, mechanic and also race engineer in Greece so for me Motorcycles are in my blood, my first one was a Yamaha PW 50 when I was 3 years old and after that the ball start rolling you know. Motocross bikes, enduro bikes and then naked bikes with a lot of torque!
5 years ago I started working to our family company DNA Filters and I was responsible for the custom scene. I got close with the designers and builders of some of the most popular bikes worldwide by designing them and providing them special DNA Filters for their projects.
And then in 2017 I designed and manufactured the first pod filter worldwide with Leather on the top. Please look here: 
https://www.dnafilters.com/en/redotawards2017 
which also got awarded with the prestigious RedDot Award in Germany. As a result my life and job was just about custom bikes and air filters.
In 2017 we designed and produced together with my father our first custom bike "The Brain Eraser" which you can read more here: http://www.dcr017.com/And one year later we decided to design and manufacture our second project bike "The Billet Sting" https://www.dcr018.com/ And of course I have 5 more bikes for personal use only :D.
2.Story behind 'Billet Sting'
Marios :It was back in the eighties when the young mechanic Dino conceived, designed and manufactured a 'Monocoque Aluminum' frame 80cc two stroke race bike. The bike was raced successfully for 3 years finishing each race on the podium!Dino is the father and Marios the son, the father and son duo, from DNA Filters, that a year before designed and manufactured the DCR-017 'The Brain Eraser'….so the father and son duo strikes again.
Mario grew up playing with the Monocoque 80cc racer, inspired by the 'strange' but awesome frame design, came up with the idea, to design and build a modern racer inspired by the almost 30 years old design! Crazy idea….but what if it could get even crazier?
The ingredient to transform a 'crazy' idea to a design completely "out of the box", was to add the so popular BMW R9T engine!
So, let's see the data we want to incorporate:
Bike:  BOXER RACER combining the past with the future!
Frame:   Monocoque Aluminum CNC Machined
Geometry:   Race Specification
Engine: BMW R9T air/oil cooled radial 4 valve 1.200cc boxer
ECU:  Programmable Race Spec
Electronics:  Can Bus with programmable Display and embedded Telemetry
Suspension :Race Specs
Wheels: Spoked Race Spec
Brakes: Full Floating Race Spec rotors & Race Spec fully adjustable master cylinders
Intake:  Forced Air intake with DNA Filters}
Exhaust:  Titanium Custom Design
…..Already having goosebumps! Let's continue with the facts.
Lucky enough to dream of the bike, we started to design the initial shape of the bike and at the same time try to respect the old 1987 Monocoque design guidelines. The project had to be designed and manufactured in house, at the DNA factory, by Marios and Dino with the help of the DNA R&D Team. It means that we 'commissioned' ourselves to build the bike of our dreams!!
Shape was finalized, or at least that's what we thought…! And the project broke down to pieces. Front side for Dino, rear side for Mario. Dead line, end of October 2018.
And the race against time started……
Frame
A Monocoque Aluminum frame design. Consists of 10 different parts CNC machined from 6082 T651 alloy. The parts are welded together and key geometry details are machined post welding. The frame is machined in a 'Honeycomb' structure, in order to reduce weight without compromising strength. Additionally, it is the visual 'skin' of the bike! The machine tool paths are visible, no plastic or synthetic covers were used! The final frame is clear anodized in order to be protected against oxidation.
You can see and feel the bare metal that is so sexy!
Starting from the front the frame incorporates, the steering head roller bearings, the multi-functional Display/telemetry controller SDM 550 made by PLEX-Tuning specifically for the DCR-018!
The 5 inch display with a viewing angle of -80 to +80 degrees (top, bottom & left, right) from vertical, with 800 CD brightness and a day/night sensor, LCD & LED rev meter & shifter lights, fully Can Bus is just a beauty!
Under the display is a huge Lithium Ion battery that weighs only 840 gr! And under the battery the car style alternator.
In the mid-section of the frame you can find all the engine management units and the wire loom. The fuel tank/fuel pump is installed at the rear section of the frame, just over the rear shock top base.
Last but not least the top cover of the frame, that is also a structural part.
The rear Frame/Seat
Monocoque Honeycomb design continues. The seat is also a structural part, no tubes or other hidden parts. It is seamlessly connected (bolted) to the front frame. The central part of the seat is designed to open and locks in place with a titanium quick release connector which can be operated via bare hands. Once opening the seat you can find the main switch that powers up the beast, with the 'D' KEY which also opens the fuel tank. Inside the seat neatly sits also the base of the exhaust mufflers!
At the rear, incorporated in the design, is the Double Honeycomb rear light, all CNC machined minimal and features latest LED technology. The design of the rear light mimics the huge Double Honeycomb intake in the front of the bike!
Seat cushioning is designed in 3 parts. The middle part opens with seat, and the upholstery is synthetic non-slip leather? light blue color.
On the seat facing forward is the logo/nickname of the bike laser engraved. 'The Billet Sting'
The 'Forced Air Intake'
Key component of the bike's design is the forced air intake. The intake is designed in such a way to serve as 2 hexagonal tubes, that channel the high-speed moving air to the DNA Filters, and at the same time acts as a structural part that supports the fairing windshield and double front LED lights.
Extremely complicated parts, CNC machined from huge blocks of 6082 alloy to a final section of 1.6mm thickness and 600mm length!
The profile of the tubes is a slightly modified Honeycomb, as minimal as possible, with no visible bolts or welds! Designed to provide a constant positive pressure increase, at speeds above 160 km/h, and zero restriction at lower speeds!
The air filters used are 2 large 66mm DNA Blue Leather Top Reddot Design Awarded Pod filters!
Filters are caged in transparent Lexan airboxes, with the BLUE Leather top protruding! The filters are connected to the throttle bodies via 2 huge 60mm 'Hand welded titanium' runners, following the contour of the frame.
The forced intake is designed to increase the VE (Volumetric Efficiency) of the engine at high speed, and it definitely works!
The Suspension
Key components for a good race bike are high-tech fully adjustable suspension and correct shock/wheel travel ratio. We designed the rear swing arm with a shock/ wheel ratio of 2/1. The rear wheel travel is 120mm and the shock stroke 60mm. The kinematics of the rear wheel, swingarm, shock assembly are designed in such a way that the stroke of the shock is almost linear. The progression we need is achieved by using a Hyperpro progressive ratio spring and a fully adjustable Hi speed/Low speed & rebound Hyperpro 3D shock! Additionally, the rear shock features +- 6mm length adjustment.
The Hyperpro front fork is a Conventional Beauty!
We chose conventional instead of upside-down for several reasons.
First of all, it matches the design of our Boxer Racer. The BMW air-cooled boxer engine has a retro style and a history of almost 100 years, so a conventional fork with MotoGP internals is THE CHOICE!
The Hyperpro fork features, 43mm DLC coated tubes, 110mm travel, adjustable high speed & low speed compression damping, adjustable rebound damping and a progressive spring, It is also radial brake caliper ready, all black and ready to race! Need more?
Rear Swing Arm
The BMW bike part that no one 'dares' to modify!
What is the value of a revolutionary custom bike if the stock swingarm is kept in place?
Welcome to the world of the "Z" Design mono swingarm, for our BMW Boxer engine, with the Cardan rear shaft 'running' externally!!
Look at it and you won't understand, stare at it for quite some time and your head will start buzzing! Our revolutionary "Z" arm is located deep inside the lower frame and rests on 2 huge 40mm needle roller/thrust ball bearings.
The top side rises and connects with the shock, and the right side forms the 'Z' shape and connects with the final bevel drive. In the center you will find an oval hole which allows the cardan shaft to pass through. Designed to accept a 200mm Michelin Power Slick EVO Tire, the mission of the "Z" arm is to keep the wheels aligned at high cornering speeds, and provide the valuable 2/1 rear suspension ratio.
The Stopping Power
 The Front Rotors are BrakeTech AXIS full floating 320mm cast iron black gun metal coated, featuring Direct Link Technology.
CNC machined for high accuracy, designed for race, track and road use. Rotors are bolted in place via Titanium dual drive safety wired bolts.
Rear disc is 265mm non-floating SS steel black gun metal coated.
Front calipers are ISR Monoblock Radial 4 piston CNC machined billet calipers. Rear caliper is ISR Monoblock 4 piston CNC machined billet caliper.
Front Master is cylinder, ISR Fully adjustable ratio & lever CNC machined from billet. Rear Master is cylinder, ISR retro race with tube container, CNC machined from billet.
Exhaust System
Akrapovic Titanium Evolution System, custom designed for the 'Billet Sting' by the Slovenian craftsman. The Titanium Mufflers with Honeycomb mesh, inspired from the MotoGP, follow the contour of the seat and match seamlessly with the frame design, thus creating a beautiful unique shape.
Oil Cooler
We designed a very unique oil cooler, machined out of Billet Aluminum and clear anodized.
Actually it doesn't look like an oil cooler at all! It blends seamlessly with the boxer crankcase allowing only the minimal Air Cooled fins to be exposed!
Cockpit
Again, here everything is 'minimal'. No clocks, only two 112 mm LED headlights hidden behind the vivid blue windshield. Power up the 'Billet Sting' and both headlights come alive. Six vertical LED 'STRIPS' glow behind the wind shield. So unique they make the beast recognizable as it fast approaches from behind.
The top triple clamp is designed specifically for the 'Billet Sting'. It combines traditional and modern details and features a very elegant Honeycomb finish!
On the top triple clamp you can find the 2 minimal brake fluid reservoirs nicely fitted on CNC machined brackets, holding just enough brake fluid for your race day.
The bottom triple clamp is a 'massive' six bolt CNC machined monster designed to keep everything in alignment with zero flex.
Clip-ons are CNC machined from Billet 7075 T6, fully adjustable and Anodized black. As these are specifically for the 'Billet Sting' our Wasp logo is laser engraved, on both.
In case you are riding wild and beyond the limits, on the left side we have installed a 160mm travel Hyperpro adjustable steering damper, that will keep you on track! The steering damper is easily accessible when riding, and can be adjusted on the fly even with gloves.
Last but not least the billet handlebar switches by Purpose Built Moto, minimal and elegant match our design perfectly.
Engine
The BMW R9T 1200 Boxer engine that powers our 'Billet Sting' is the latest air/oil cooled engine BMW produces. With a 1.170 cc capacity and Radial 4 Valve heads it is rated 110 Hp @ 7.750 rpm & 11.6kgm @ 6.000 rpm.
We changed the ECU to take control of the closed loop area and adjust fueling to match our DNA forced intake system and Akrapovic Evolution exhaust.
Our target is + 10-12 Hp on the rear wheel! We are almost there! The exact power data will be released soon.
The Boxer engine has 6 gears and a dry clutch, gear shifting up is done clutch-less. A torque cell on the gear lever, custom made for the DCR-018, senses when the rider applies force to change gear and signals the ECU to cut fuel or ignition, whatever we choose, for a few milliseconds (programable) just enough to allow the next gear to slip in position.
The Rubber
DCR-018 'The Billet Sting' is designed to run on Michelin Power Slick EVO 200/55/17 & 120/70/17 for racing and POWER RS 190/55/17 & 120/70/17.
The Nick Name
Our Dream Bike, the DCR-018 has a nick name that you already have seen in the title of the press release.
The Honeycomb design, the billet aluminum that dominates, and the aggressive style of this unique and 'nasty' fast Boxer racer, is what inspired us to come up with "The Billet Sting" nickname and the awesome Wasp Logo!
Riding and Racing the Billet Sting
To ride & race the Billet Sting you need serious high-tech apparel.
REV'T the race gear manufacturer, has designed the Pulsar race leather suit with a honeycomb design that matches so perfectly the Billet Sting!
SHOEI the premium helmet manufacturer, provided the X Spirit 3 race helmet, that is also custom painted in a Honeycomb design with the Billet Sting Wasp logo on both sides.
3.What was the most challenging part while creating Billet Sting?
Marios : Most challenging part was the time. We designed the full bike me and my father in 3 1/2 months and manufactured and assembled everything in 2 1/2 months. Imagine we finished the bike 2 days before EICMA 2018. Generally we had no other problems with the bike. As we are both engineers and we work with a certain method to avoid any issues.
4.Electric Motorcycle market is getting lot traction and demand you feel it is a competition to custom motorcycles?
Marios : That's a huge discussion!But what I can say for sure is that it won't be the end of the world but it will change a lot of things in the markets and the custom scene.
5.Is Billet Sting limited edition or do you plan to build more bikes?
Marios : "The Billet Sting" is a project bike by DNA Filters R&D Team. Our target is not to produce any bikes but after 6 months of announcing the bike we have a lot of requests and we are thinking about creating a production line for this bike with made to order bikes, 6 per year. But we will see.
6.How do i see you five years down the line?
Marios : 5 years from now? Custom bikes will still be here. A lot of companies have invested in this market and the people like it. A custom bike can range from 10,000 usd to 100,000 usd and this is something that makes this market special.
Specs
Engine: BMW R NINE T 2018
Capacity: 1170cc
Engine Type: Air/Oil cooled Boxer
Bore/Stroke: 101 mm / 73mm
Compression Ratio:12.1 : 1
Valve Train: 4 Radial valve heads
Fuel Delivery:  Electronically controlled fuel injection Road & Race mode
Power: 122 whp @7.900 rpm
Torque: 12.3 KGM @6.200 rpm
Power to Weight Ratio:  0.66 whp / kg
Transmission:  6 speed
Clutch:  Single dry plate clutch
Clutch Master Cylinder:  Race adjustable 16-18 ESR CNC machined
Final Drive: Cardan shaft
Top Speed:  280+ km/h
Frame Type: Monocoque aluminum CNC machined
Sub Frame:  Monocoque aluminum CNC machined
Frame Adj Geometry:  Caster 24.50 – 25.50, rear height ± 12mm
Wheelbase: 1490 mm
Fuel Tank: Aluminum
Fuel Capacity:10.5 liters
Seat: Monocoque aluminum CNC machined one piece with the subframe
Bike Weight: 183 kg (without fuel / road ready)
Air Filter: 2x DNA High Performance Filters Leather Top custom made for the DC-018
Exhaust :  Akrapovic full titanium custom made for the DCR-018
Steering Damper:  Hyperpro CSC custom made for the DCR-018
Front Suspension: Hyperpro 43mm conventional DLC coated race spec custom made for the DCR- 018
Rear Suspension: Hyperpro 3D Shock race spec custom made for the DCR-018
Front Master Cylinder: Race adjustable ratio 18-20 ISR CNC machined
Rear Master Cylinder: Retro Race ISR CNC machined billet
Front Brake:  2 x 320 mm Braketech Direct Link cast iron, 2 x 4 piston ISR Radial billet calipers
Rear Brake:  4 Piston ISR CNC machined billet caliper'
Oil Cooling: Custom design CNC machined from billet by DNA High Performance Filters
Front Tyre: 120 / 70 x 17 Michelin Power Slick EVO
Rear Tyre: 200 / 55 x 17 Michelin Power Slick EVO
'A Boxer Racer like nothing before, a massive project designed and manufactured in just 6 months… in a small Hellenic factory, by just 2 people, father and son! and Dino and Mario Nikolaidis, Motorsport Engineer!
Photo Credits
Mattia Negrini (mattianegrini.com) Instagram – mattia_negrini_fotografo Facebook – Mattia Negrini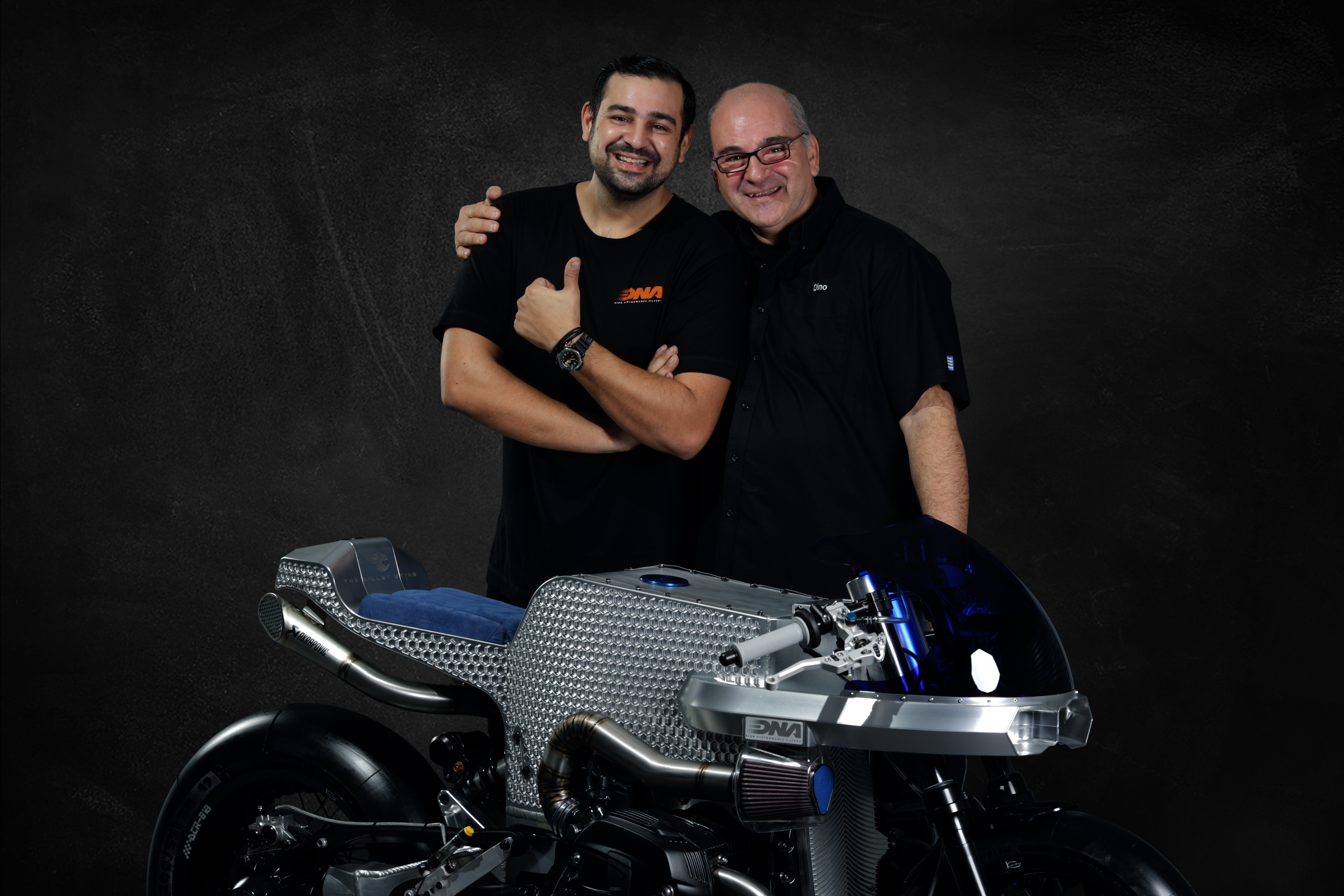 Dino and Marios