Kawasaki brings two bold new colour schemes for its 2022 Ninja 650
Kawasaki is looking to reinvigorate its largest-selling motorcycle by introducing two new colourways for the model year 2022. 
The Ninja 650's two new paint schemes bring an upscale feel to the bike, adding a welcome dose of sophistication.
Still, some prefer to ride the path of least resistance. And if you're one, you know that one reason you like the Ninja 650 is that it's affordable.
There's also the fact that it's got an engine that's both smooth and torquey.
But in any case, without much changing on the engineering front since 2017.
However, that's not to say that there are no improvements to speak. In 2019, it saw a complete LED lighting upgrade, including the turn signals, headlight, brake light, and full-scale TFT.
In 2019 however, Kawasaki gave a much-anticipated facelift to the Ninja 650 identical to ZX-6R.
Kawasaki further has other plans to keep it relevant by releasing two new colours for the bike. 
So whats new in 2022 Ninja 650?
And so, Kawasaki has released two new colour schemes for the Ninja 650.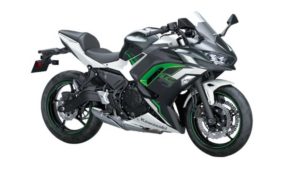 The first one is called "Pearl Robotic White/ Metallic Carbon Gray " and features a mix of black, green and white prominent among them is white.
The second is called "Metallic Matte Graphenesteel Gray ", and it's your Matte Grey bike. 
And that's probably best suited if you're riding around town or commuting or just want to have a bike that takes up less space in your garage.
So for 2022, the Ninja 650 remains as is when it comes to the engine.
This latest revision doesn't stray too far from the formula contributing to the Kawasaki Ninja 650's success. While it may seem a bit boring, you have to credit the company for staying true to its guns. 
Even if rumours about a brand new model aren't that far from the truth, I'm sure many will agree that what Kawasaki has given us and is promising to take us up until 2022 is solid and dependable.
All said and done, the new 2022 Ninja 650 arrives at a great price and starts from $7,699 for the non-ABS variant and further $8,099 for the ABS version. 
via Motorradline and Kawasaki