KTM MOTOHALL open a special new exhibition
Many interesting facts about technology, innovation and history get conveyed on an exciting journey through the motorcycle world of the last 137 years. 
KTM Motohall
You can experience the exhibition up close using informative exhibits. In addition, numerous historic motorcycles from ancient times are brought back to life with fresh oil.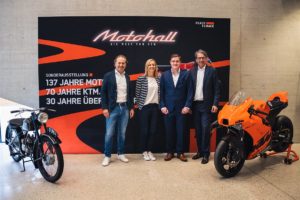 "With our temporary exhibitions. We always want to take up new and exciting content on motorcycles and mobility," says Eva Priewasser, KTM Motohall Managing Director proudly. 
"Topics of the new special exhibition, such as the rapidly growing technology. And innovation, which gets reflected in the development of the motorcycle, appeals to a broad target group," adds Priewasser.
An exclusive look at the success story shows how KTM has developed into Europe's largest two-wheeler manufacturer over the past 30 years since Stefan Pierer took it over and which visions for the future. With the explicit goal of also playing a leading role in the world of electromobility – that company pursued. 
As one of the most innovative motorcycle manufacturers. KTM is also a renowned employer. The exhibition presents insights into the working world and the vision of tomorrow's employer.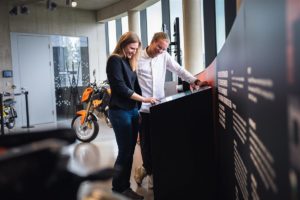 Stefan Pierer
"The motorcycle world has changed significantly over the past 137 years. In its 70-year history, KTM has made a significant contribution to the development of the industry,".Says Stefan Pierer, CEO of PIERER Mobility AG. 
"The special exhibition offers an insight into how the consistent READY TO RACE brand orientation, and development of new technologies. And the competence of our 30 years of know-how has made KTM Europe's. Leading manufacturer of motorcycles in the high-performance segment," he adds.
Helmut Zauner
Mattighofen's Deputy Mayor Helmut Zauner is also pleased: "Even since it opened in 2019, the KTM Motohall has been our city's new landmark. This new special exhibition shows the path of the motorcycle industry from then to now and is particularly attractive due to the historical content. 
We, therefore. Expect an even more significant increase in the number of guests in the coming months – including visitors who have travelled a long way".
Access to the special exhibition "137 Years of Motorcycles. 70 years of KTM. 30 years in the fast lane." is free of charge. You can book the Guided tours directly online for a fee.
Further dates and information: 

https://ktm-motohall.com/

Opening times KTM Motohall: Wednesday 

–

 Sunday: 9 am – 6 pm

KTM Motohall Shop opening times: Tuesday – Sunday: 9 a.m. – 6 p.m.

The KTM Motohall is also open on public holidays.