Way to carry out maintenance of Motorcycle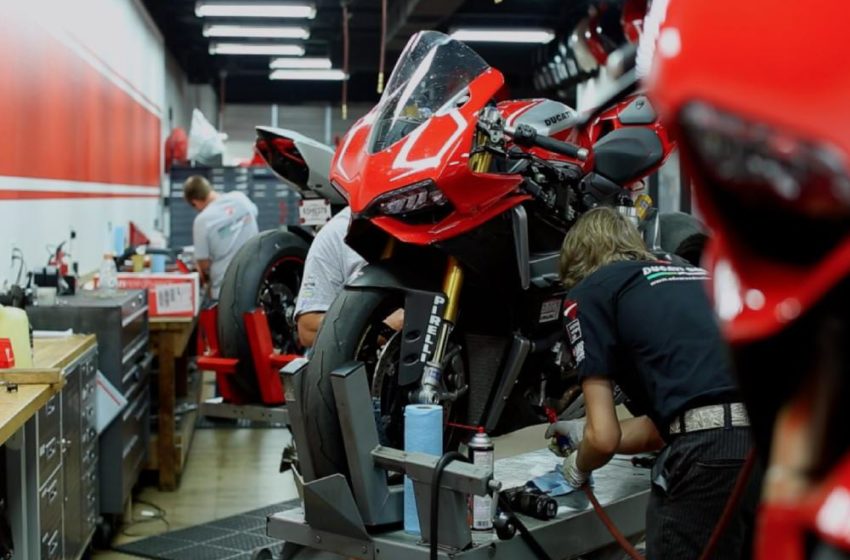 Having purchased a motorcycle and most probably having bought the appropriate insurance for it, it would definitely now be time to devote yourself to the most demanding and vital part of the work itself which is the maintenance of your motorcycle. The very first thing to do, prior to all maintenance is to read the maintenance manual that comes with the motorcycle: every basic step that you need to know about good practices in order to maintain your motorcycle will be found in it!
Usually, in the maintenance manual you will find the advice frequency at which checks need to be carried out, by oneself or by a certified professional.
Also Read: Superbike goes Electric [Emflux One – Next Big Thing]
If you cannot find the manual, or still aren't satisfied with what you get out of your manual, and knowing fully well that you aren't a professional mechanic, but are absolutely thinking on carrying out the maintenance procedures yourself, you may want to check out these tips on how to go about it.
The various components are listed in order of priority.
The Battery : Considering the fact that the battery of a motorcycle is way smaller than that of a car, you will definitely have to pay particular attention to that of your motorcycle. At the slightest sign of weakness, recharge it!
Draining: First of all think of emptying the engine. Replace the oil filter regularly in order to avoid the accumulation of impurities. For your safety, remember to drain the gearbox, fork, coolant or brake fluid as well.
Brakes: It is necessary to check their pressure, at least once a month.
The chain: If your bike is equipped with a chain, you must regularly check its tension and do not forget to proceed with its lubrication in order improve its performance and prevent it from wearing out.
The lighting and signalling system: For your safety, check the correct operation of your high beams.
Clean your Motorcycle: The cleaning of the motorcycle is a vital part of the general maintenance of a motorcycle. Indeed, you will quickly realize that, thanks to a regular cleaning, the current maintenance of your motorcycle is facilitated in so many different ways. We are talking about a real cleaning, no pressure lances or buckets of water thrown aimlessly once a month on your bike!
Wash your bike thoroughly to avoid corrosion:
Lack of safety, very difficult maintenance, lower market value, these are basically what your motorcycle risks if you don't wash your motorcycle thereby letting corrosion form. Moreover, a thorough cleaning will allow you to see any hidden defects, which would surely remain unnoticed otherwise.
So, you must: first pass a jet of water on the motorcycle in order to dust it off. Wash the entire motorcycle taking care not to let water get in contact with electrical appliances or the air filter;
Clean all parts of the exhaust as is the part that is likely to be attacked by corrosion.
Generally, using random products may not be the best way to go about cleaning your motorcycle. What is essential what you have as a cleaning kit. An ideal cleaning kit should have:
Water;
sponge;
Appropriate fluid for brakes;
Clean rags.
Wash the engine of the motorcycle cold
And this is meant literarily! Not only must we wait for the motorcycle to cool after use, but it is better to wash the motorcycle too when it is cold with cold water obviously. First of all, main reason being the metallic parts would have expanded with the heat and using cold water risks making the cooling process a brutal one thereby causing the various parts to contract. Secondly, unlike what we have popular belief, the mud goes better with cold water than with hot water.
Suzuki opens bookings for GSXS -750 in India
Avoid using a pressure washer lances!
Pressure washer lances are certainly convenient to clean quickly but not for a motorcycle! The paint and decorative stickers may suffer, at the risk of causing undesirable corrosions later. In addition to this, water under pressure may enter where it should not (for example, in electrical circuits, and as everyone knows, water and electricity do not mix!)
Generally, a motorcycle does not like water. It is necessary to wash it but it is not necessary that the water gets into parts that have openings. It may rust. So once the motorcycle is rinsed, let the engine run for a few minutes to dry it from the inside!
Read here : Kawasaki prefers green color .