Maruti Suzuki to unveil Jimny prices on June 7
That's exciting news about the Maruti Suzuki Jimny off-roader! It seems like there's a lot of anticipation and interest surrounding its launch. Here's some information based on the details.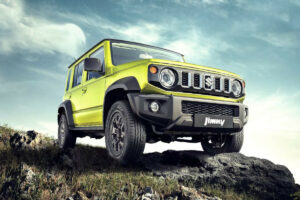 The price reveal for the Jimny is scheduled for June 7, 2023. This announcement will finally provide clarity on the pricing of the SUV.
The Jimny 5-door variant was showcased at Auto Expo 2023, generating even more attention for the vehicle.
Maruti Suzuki has already received over 25,000 bookings for the Jimny, indicating strong demand for the SUV.
The Jimny will compete with other off-roaders like the Mahindra Thar and the Force Gurkha in the lifestyle segment.
The Jimny will be available in Alfa and Xeta, with two gearbox options. Customers can choose between a 5-speed manual transmission and a 4-speed automatic transmission.
Powering the Jimny is a 1.5-litre petrol engine, capable of producing 103 BHP at 6,000 rpm and 134.2 Nm of torque at 4,000 rpm.
Maruti offers Suzuki's AllGrip Pro all-wheel drive system as standard on the Jimny, enhancing its off-road capabilities.
The SUV will be offered in various color options, including Bluish Black, Kinetic Yellow with Bluish Black Roof, Sizzling Red with Bluish Black Roof, Nexa Blue, Sizzling Red, Granite Grey, and Pearl Arctic White. These color choices provide customers with a range of stylish options.
These details should give you a good overview of the upcoming Maruti Suzuki Jimny, its features, and the current updates surrounding its launch.
Source: Autocar