Misano World Circuit sees HRC's Bautista in the sixth position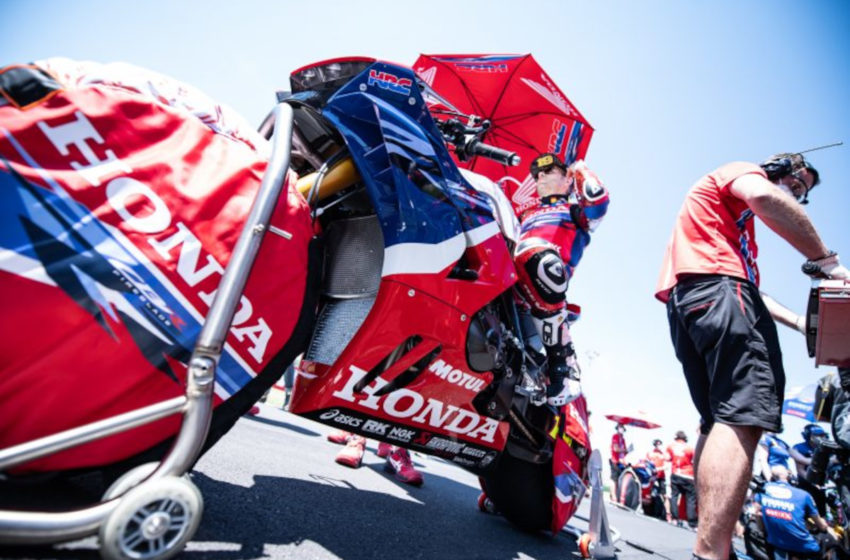 Alvaro Bautista's sixth-place finish in the first WorldSBK race at the Misano World Circuit is his best result this season. But it's not enough for the Spaniard, who wants more from Sunday's races. 
Leon Haslam is slowed by an electrical problem but crosses the line in the fourteenth position.
The Team HRC headed into the all-important Superpole phase with closed twelfth and thirteenth in the combined FP3 sessions. 
Thanks to an update to the championship regulation regarding the yellow flag. Alvaro Bautista completed at least one fast lap, cancelled his first one following a crash for Garrett Gerloff. 
Thus, the Spaniard set a best of 1'34.217 while Haslam's fastest time was 1'34.520. 
Which meant the Team HRC duo completed the session in ninth and twelfth position. Respectively, for a third and fourth row start for the weekend's first race.
As the race got underway at 2 pm local time, Bautista held ninth through the initial laps. Haslam was falling back a few places to find himself fifteenth. 
Both had made up two positions by the mid-race point, and the Spaniard continued to gain ground.
Battling with Sykes in the later stages to ultimately cross the line in sixth place and score ten critical points for the championship. 
Haslam, who suffered an electrical problem with his bike, could not progress and finished this first race weekend in fourteenth place.
Team HRC will be back on track tomorrow for the 10-lap Superpole race and the second of the weekend's 21-lap Superbike races.
Quotes
Alvaro Bautista 19
RACE1 P6
"Sixth is our best result so far this season, but it's not what we're aiming for, of course. 
We struggled a lot this morning's F, P3, and my feeling wasn't good, especially in braking.
We made some changes for the qualifying session to find more stability. We improved a little, and although the feeling wasn't perfect.
I could ride more comfortably. It was funny because after having my best lap at Estoril cancelled due to a yellow flag.
The same thing happened today with my first qualifying tyre when Gerloff crashed. 
Luckily, we now have a second tyre available, and so I could do a decent lap, trying not to go over the limit. 
Starting from the third row of the grid was good because we werableon to stick closer to the front, and our pace was good. 
But when I'm battling with other riders, it's challenging to change my line, and it's tough to overtake. All in all, it's been a joyous day. 
We collected many data and made some changes to the set-up that we must analyse. And then see if we can build on this to improve further tomorrow".
Leon Haslam 91
RACE 1 P14
"For me, it was a tough race. I made a good start, but I came together with another rider in the second sector of the track and fell a long way back. 
I then made a little bit of headway, but after a few laps, we had an issue with a sensor, and after this,, it was just really tough.
As we were losing nearly one second every lap. 
In the end,, we finished the race with just two points, which is obviously frustrating, but things will hopefully go better, and we will be able to score a better result".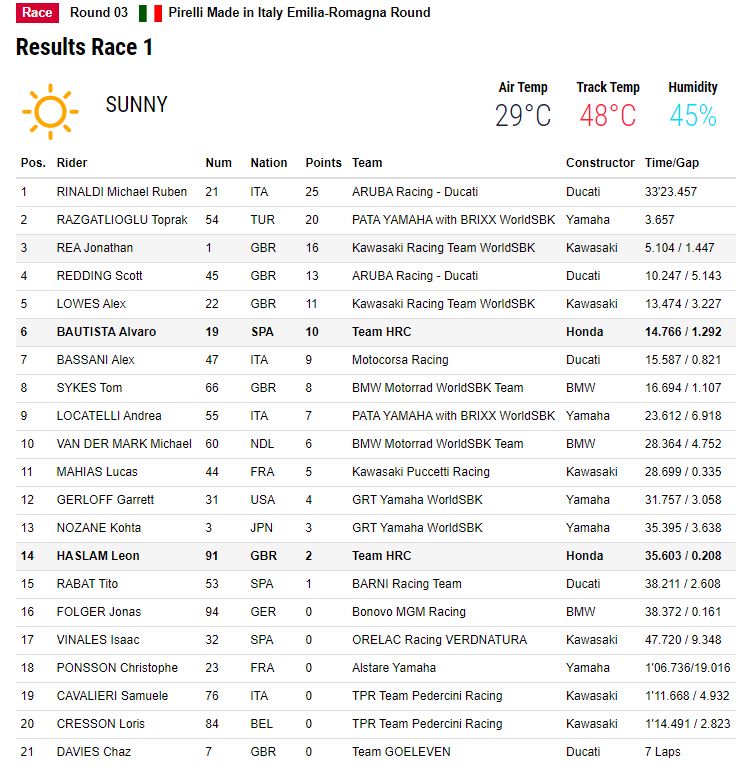 via HRC