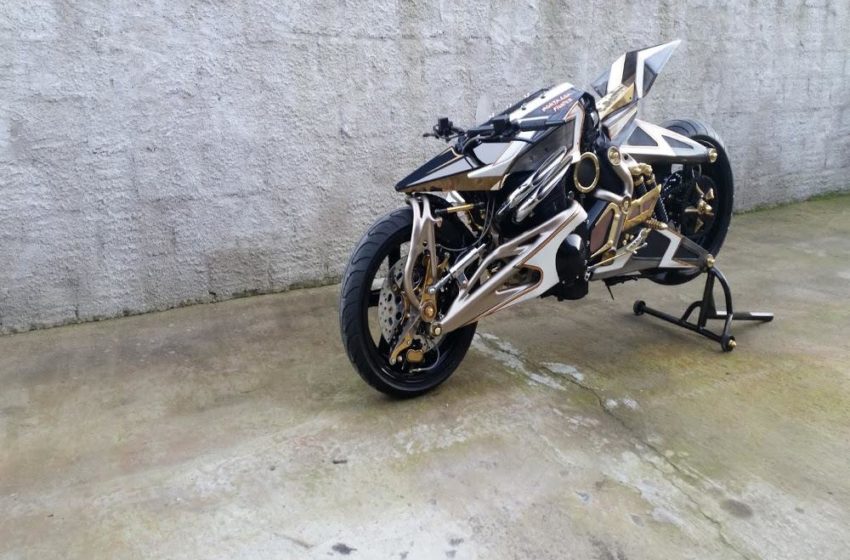 Mortagua Fighter : Motorcycle of Hades from Underworld
Started in 1995 by Carlos Rodrigues in Portugal his style of making custom motorcycle got famous when he came with Mortagua Fighter. Carlos works in Mortagua glasswork in Portugal.This is Mortagua Fighters 8th project and the motorcycle looks like a weapon owned by Hades, Dark Lord of Underworld. Powered by a 1993 Suzuki GSX-R1100 engine and the cues are very very sharp.
Carlos himself had build its bodywork and it took him 1.5 years to complete it.Electronics are been used from Suzuki and there are no changes. Paint job combines two colors gold and white and thick golden lines across the white paint area looks aggressive and gives a light tint to the entire motorcycle. Dimensions of tyres are 120-55 section tyre at the front and a 190-65 at the rear.
The man behind Mortagua Fighter.Carlos Rodrigues talks from Portugal for LivingWithGravity.
When did you start riding motorcycles?
Carlos : My first time was in 1993, with a Susuki GSXF 400 in driving school.
What was your first motorcycle?
Carlos : A Honda NSR 125, in 1993.
How long have you been building custom motorcycles?
Carlos : Since 1999.
What was your first custom build?
Carlos : One Suzuki RF 600.
Which custom motorcycle builders have inspired you?
Carlos : The builder I most admire is the Frenchman Lazarth, he has my style.
What inspires your builds, outside of motorcycle-related influences?
Carlos : I really like the concept car/moto world. This world between design and idea, leads me to free in the world of motorcycles.
What is the custom motorcycle scene like in Portugal?
Carlos : Portugal is one of the countries of the world with great activities with bike shows and also with custom events and motard shows. We have the biggest motard event, Faro rally, (motoclube de Faro).
Is this your shop?
Carlos : No, my garage is in Mortágua, the city where I was born.
Do you have a company name, or is it simply Carlos Rodrigues' MortáguaFighter 8?
Carlos : The name Mortagua-fighter is an artistic name, Mortágua because it was the city where I was born and Fighter because it is the style of motorcycles I build. My name is Carlos Rodrigues.
Should Mortágua Fighter 8 be written with the accent or Mortagua?
Carlos : Without accent, Mortagua-Fighter 8, number 8, because it is the eighth project.
What was the inspiration for Mortágua Fighter 8?
Carlos : Keeping my radical style I followed the construction to take this project in a very radical line and the concept style.
How long did it take to build Mortágua Fighter 8?
Carlos : Two years.
What the Mortágua Fighter 8 built for a customer, or was it your own creation?
Carlos : No, the projects are all built for me. I do not work for customers. I work in a glass shop, buildings are a hobby.
What were the biggest obstacles overcome when building Mortágua Fighter 8?
Carlos : My biggest difficulty is not having partners working in parallel with me, it takes me a lot of time to build these bikes.
What is "(disturbed cadaver)"?
Carlos : I really like heavy metal and I really like a band with the name Disturbed and a song from the same band with the name "Cadaver", hence Disturbed Cadaver.
What is it like to ride the Mortágua Fighter 8?
Carlos : It is a very rigid bike, but as it is a project for bike shows, it does not have much importance.
Where has the Mortágua Fighter 8 been on display?
Carlos : All my motorcycles are in my house.
What sort of reactions have you received for the Mortágua Fighter 8?
Carlos : This project was presented in January 2017. It was quickly accepted by magazines around the world. They all made great reports of this motorbike, perhaps due to its unusual style. All of them are waiting for the new project.
Do you consider the Mortágua Fighter 8 to be completed?
Carlos : Yes, it is finished. Now is to submit the ninth project.
Looking back, what would you have done differently when building the Mortágua Fighter 8?
Carlos : Money is very important, I do not have much money, if I had, I would have made with alloy materials and other noble materials.

---

Cover Pic Source : Mortagua-Fighter.Blogspot and Drivespark
Pic Source : YouTube